The History of The Tenor Narrated
The History of Aksel Schiotz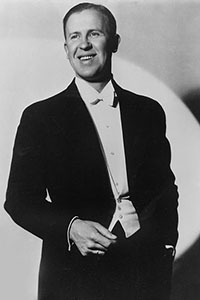 Born: 1906
Died: 1975
Danish tenor.
He was born in Roskilde near Copenhagen.
He studied modern languages and became a teacher. He had a fine tenor voice which he loved to display at parties and in church.
Mogens Wöldike, a choral conductor, made him a tenor member of the "Copenhagen Male Choir" and he was soon entrusted with oratorio solos.
He studied with Agnete Zacharias, Valdemar Lincke and John Forsell who was the teacher of Jussi Björling. He married in 1931.
He gave his first song recital in 1936. In 1938 he was discovered by the recording company His Master's Voice.
In 1940 Denmark was seized by Hitler. International activities had to be postboned. Because of his successful recordings, he became one of the best loved classical singers.
He appeared in opera and operetta and gave recitals all over the country. After the war he was invited to record "Die schöne Müllerin" and "Dichterliebe" with Gerald Moore.
He also appeared in the first performances of Britten's The Rape of Lucretia at Glyndebourne opposite Kathleen Ferrier.
He also sang film-songs and in musicals. In 1946 Aksel Schiøtz survived a tumor of the acoustic nerve which had to be operated, but it left the right hand side of his face partly paralysed.
He suceeded by sheer will-power to sing in a comeback recital in 1948. In 1955 he entered a new career as a professor at the universities of Minnesota, Toronto and Colorado.
He gave master classes in the USA and was regarded as an excellent teacher.