The History of Alexander Davydov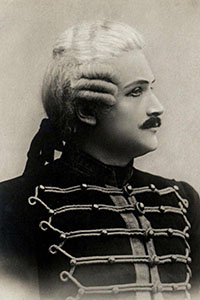 Born March 25, 1872 Poltava, Russian Empire
Died June 28, 1944 (aged 72) Moscow, USSR
Russian Tenor
Alexander Davydov, 1872 to 1944 was a popular Russian tenor, where after study with Camille Evora, made his debut in Kiev.
He made many appearances in opera and operetta until 1900, when he was called to join the Mariinsky Theatre is St Petersburg.
He possessed a light lyric tenor voice of soft timbre, who was also noted for his elegant phrasing.
His best roles were those of Herman and Petedam, Canio in Pagliacci, and Cinidal in the Demon, along with the rest of the lyric repertoire.
He also appeared in a number of performances of Wagner's ring and enjoyed considerable success in several other Wagnerian roles.
He finally retired in 1924.
He emigrated from Russia, and we find him in the 1934/1935 season, as manager of the Russian touring company in Paris, which centered around Chaliapin.
He returned to Russia in 1935 and taught there until his death in 1944.
Here he is in a traditional melody, Haida Troika.
Haida Troika / ( Trad ) / 19xx – Alexander Davydov

The History as it was Recorded