The History of The Tenor Narrated
The History of Alexander Davydov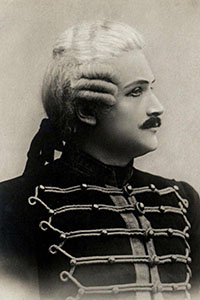 Born March 25, 1872 Poltava, Russian Empire
Died June 28, 1944 (aged 72) Moscow, USSR
Russian Tenor
Davidoff studied in Odessa and Kiev, joining the opera at Tbilisi in 1893.
His Moscow début was with Savva Mamontov's Private Russian Opera in 1896, and with this company in early 1898 he took the title role in the première of Rimsky-Korsakov's Sadko.
From 1900 to 1912 he sang at the Mariinsky in St Petersburg, appearing first as Hermann in The Queen of Spades, the opera with which he became most closely associated until increasing deafness brought his career to an end.
His voice, which was that of a lyric tenor, was heavily taxed by roles such as Otello and Canio, yet his contemporary, Sergey Levik, held that his special ability lay in bringing lyric qualities to such roles.
He also sang in Paris, where in 1934 he briefly became director of the Opéra Russe.
In 1914 due to progressing deafness Davydov was forced to quit opera but continued to perform, singing popular songs and romances. In 1924 he departed to France and was invited by Fyodor Chalyapin to become the artistic director of his opera troupe. In 1935 Davydov returned to the USSR. In his later years he taught vocals at Mariinsky Theatre (known at the time as the Kirov Opera and Ballet Theatre) and published memoirs on Tchaikovsky and Chalyapin, among many other musicians and composers he'd met.