The History of The Tenor Narrated
The History of Leonid Sobinov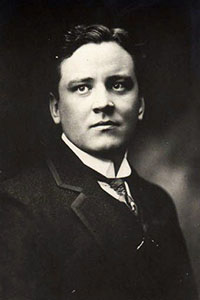 Born: June 7 1872
Died: October 14, 1934
Russian Tenor
Narration 1
Imperial Russia's most famous tenor Leonid Sobinov was born at Jaroslav on the Volga in May 1872. Like many other great stars, he started straight at the top, making his debut in Rubenstein's The Demon at the Bolshoi in 1897.
He immediately established himself as a leading member of the company, signalling the lead in Moscow's first performance of Boredin's, Prince Ega in 1898. Appearances in Faust and Eugene Onegin quickly followed.
All with enormous success. His first Italian opera was Rigoletto and he also tackled Wagners, Tannheusser at the same season 1899. His first appearances outside Moscow was at Odessa, which had long been a Nikolai Vignas, stronghold, but both he and Chaliapin scored great success there.
The 1900-1901 season was for conquering St. Petersburg, another Vignas stronghold. He appeared immediately and one of Vignas most popular roles, Lenzki in Eugene Onegin and scored a triumph. Even appeared in a double bill with Vignas himself this season, consisting of act two of Eugene Onegin, with Sobinov and Il Pagliacci with Vignas. Vignas was apparently worried about appearing with a relatively unknown and an experienced singers. He need not have worried.
Sobinov proved that he was more than worthy of appearing on the same programe as Vignas. He wrote at the time "that my appearances as Lenski has made me famous here", and indeed all the elements which marked an outstanding performance were present. A crowded hall, an animated audience, the sound of deafening applause and curtain call after curtain call. For his performance, Sobinoff received glowing press reviews, which spoke of his marvellous breath control, beautiful mezzovoche and delicate expressive style of singing. So, let's hear something then from that occasion, from Eugene Onegin.
Narration 2
Sobinov's favourite singer in St Petersburgh, was Angelo Masini, already mentioned earlier, and it is interesting to note, that his voice was in fact, often likened to that of Masini, especially his timbre.
The singers were acquainted with each other and often heard each other sing in performances. Masini of course, was much older than Sobinov and Sobinov used to refer to him as 'that little old man'. Recalling Rossini's performances in Rigoletto in Traviata in 1902, Sobinov wrote, 'Masini sang divinely with a voice beyond comparison'. Oh well.
Now Sobinov began to expand his repertoire, first Romeo, then Faust in Mefistofele, Villa Meister in Mignone with Tetrazzini, Lionel in Martha and also Verta. In 1904 comes the first meeting of a famous partnership, he sings in the Pearl Fishers with Russia's first soprano, the divine Niche Dan ova.
The critic, Kruglikoff writes 'It is difficult to say which sang better, every aria and duet was greeted with tumultuous applause and demands for an encore'. Sobinov was made for the part of Nadir. His romance with ravishing. Such poetic expressions, such tender phrases, one might hear such notes from the box of a first-class violinist, like an intimate human voice.
So, let's hear them then, and in the same Peril Fishers and while we're at it, let's remember the De Lucia and Ugi version heard earlier
Narration 3
1904 also saw Sobinov's long awaited debut at la Scala, in Milan. It was in Don Pasquale which the celebrated soprano, Rosina Storchio.
He received rave notices, from the press and critics and altogether, sang in 14 performances to full houses. Called back to sing in 1905 and 1906, he appeared in Traviata, Fradiavalo and Mano again with Storchio. In 1960 he also appeared at the Monte Carlo opera, then under Buinsburg famous reign. In the company of Storchio, Ruffo, Kurtz, Chaliapin, and Renault. Sobinov never greatly liked the Monte Carlo audiences, because, despite their elegance and aristocracy, 'they understood nothing', he wrote.
Now to Madrid, and a performance of Mano, which Spain's leading tenor idol and selmi, had sung a few days previously, and in the Pearl Fishers, which nobody had dared tackle, since Guarri's death, 18 years previously. Both met with great success.
The press reviews stating that he was one of the finest tenors ever to appear on the Madrid stage and that he must rank as one of the greatest tenors in the world. He was asked to stay on for a new production of Boito's Mefistofele and agreed and scored another great success.
The critic of the paper El Mundo, describes his performance of the epilogue. Sr Sobino's epilogue received a tremendous ovation. The exceptional beauty of his voice penetrated the inner most depths of one's soul. He sang with such experience and expressive sadness and poetic feeling, that the beautiful lines poured from his lips, like a bitter farewell to a life in which, only sorrow was real.
When Sobinov ended the aria, I felt myself touched to the depths of my soul.
Here then is the Giunto Sul Passo from Boito's Mefistofele.
Narration 4
In 1910, Sobinov signed a five-year contract with the imperial theatres of Moscow and St. Petersburg. For 40,000 Rubbles a year for thirty-two performances, divided between the two cities.
New roles were undertaken, the most important being in Rimsky Korsakov's Manite and Puccini's, la Boheme with Doshnanova.
In May 1911, Sobinov returned to sing in eight performances of Guinno's, Romeo and Juliet at La Scala, Milan. His partner on this occasion, was a Spanish soprano, Lucrezia Boeri. These performances were enormous and successful and the press notice, dated March 31st, 1911, reads 'there is no disputing the fact that the outstanding singer in this opera, which was conducted by Seraphine was Sobinov, always self-possessed and elegant, with marvellous diction and dramatic power in his high notes and always distinguished by the subtlety of his piano singing.
He showed himself to be one of the most exceptional interpreters of this role. Sobinov himself, wrote in a letter, that this was the greatest of his successes in Italy. In another letter, he writes, 'this old buried and forgotten opera, which the directors did not think would prove popular, turned out to be the highlight of the season.'
These performances of Romeo and Juliet, mark the end of Sobinov's appearances at La Scala. He would still sing Lohengrin and La Favorita there in 1914, but the outbreak of war put paid to this. Sobinov thus took his leave of Milan in one of his finest roles, that of the eternally youthful Romeo.
After his death, his Italian colleagues remembered him with the warmest love and affection. His former partner Rosina Scorchio said, 'they would never be an Alfredo like him in la Traviata' and she was happy to have shared with him, some of the highlights of his career. His singing teacher, De La Ponte, remembered him as an artist of unusual culture, who would spend hours rummaging through history books to learn about the melio, customs and costumes, in order to give an accurate representation to the role he was interpreting.
De Le Ponte also recalled the matchless subtlety and skill, with which he sang for example, the famous Sonio et Manio and Toscanini, who was highly critical at the best of times, spoke very highly of Sobinov and praised his musical talent.
From 1911 to the First World War, he sang in Moscow and Saint Petersburg, receiving the now customary adulation. During the war, he converted one of his flats in Moscow, into sick quarters and held himself personal responsible for its upkeep. And at his concerts, he deducted 25% of his fees in aid of the wounded.
Immediately after the revolution, he was appointed, Artistic Director of the Bolshoi theatre. And from then till his death, we find him strongly supporting the new regime, singing, producing, and directing all over Russia, working day and night to bring opera to the people of the new Soviet state.
On May the 24th 1933, he took part in a gala performance at the Bolshoi, to celebrate the 35th anniversary of his debut. He sang scenes from Eugene Onegin and Lohengrin, on which he would supported by Noshdaniva, Reisen, Piragov and the young Ivan Gavlovski, the tenor who in some ways, can be regarded as his successor.
He took ill in July 1934 and went to Germany for treatment and rest. Then onto Milan on business. On his return to Moscow, he wrote from Berlin that he longed to be home again to start work, and telephoned from Riga to say that he was happy and felt full of energy and vigour.
Unfortunately, he took a heart attack there and died on the 14th of October 1934. Of course, like all of the other singers, who have gone before, he is just a name to us, someone who made a few early and scratchy gramophone records. Yet at the time, he was a lot more than that to many people.