The History of The Tenor Narrated
The History of Stuart Burrows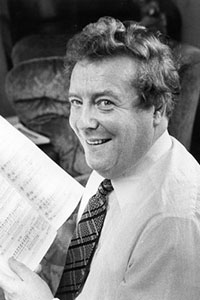 Born: 7 February 1933
Welsh Tenor
The Cilfynydd-born singer scaled the peaks of musical distinction during his lengthy career which saw him give up teaching to pursue a new life on the opera stage. He was of a unique pedigree, having been born in William Street, which was the same birthplace as fellow opera star Sir Geraint Evans, Welsh rugby international Glyn Davies and politician Lord Merlyn-Rees.
He began his working career as a teacher in Bargoed but his magnificent talent as a tenor soon brought him enduring fame and good fortune. His recitals included works by Beethoven, Berlioz, Schubert, Sullivan, Adams, Tippett, Tchaikovsky, Mallote, Mahler, Offenbach and Handel. He has earned worldwide recognition for being adept at oratorios, operas and specialising in the music of Puccini, Verdi, Donizetti and especially Mozart, earning him the title of "The King of Mozart".
It was a far cry from the days when he sang as a boy soprano from his bedroom window to neighbours on the street below. As a member of the congregation at the local Bethel Chapel he first performed as a soloist by singing "Bless This House".
He occupied the top rung of the operatic lyric tenor ladder for 20 years from the mid-1960s, particularly known for his fine performances of Mozart's works. Few people realise he could have been a professional rugby player before converting his career to the opera and concert stage.
In 1963, Stuart Burrows debuted with the Welsh National Opera as Ismael in Verdi's Nabucco. In 1967, his phenomenal performance during the Athens Festival brought him international acclaim. The well-crafted version of Igor Stravinsky's Oedipus rex was certain evidence of Stuart being one of the world's finest lyric tenors of all time. It was a performance requested by Stravinsky himself.
He performed in Don Giovanni in Brussels; Madam Butterfly in Vienna; in Milan, he played in Faust; he performed both in L'elisir d'amore and The Magic Flute in San Francisco; Die Entführung aus dem Serail at the Paris Opéra; in Buenos Aires, he performed in Tales of Hoffman at the Theatre Cologne and at the Théâtre de la Monnaie, Belgium; the Mozart Requiem at the Cardiff Festival of Choirs in Wales; Don Giovanni at the San Diego Opera; and many times with the Royal Opera including roles in Don Pasquale, Maria Stuarda and La sonnambula, and touring both Japan and the USA.
He made his debut with La Scala in Milan in 1978 singing the title role in Berlioz's La damnation de Faust. In New York, Stuart has been accompanied with the talents of Sir Georg Solti, Zubin Mehta, Seiji Ozawa, Leonard Bernstein, Eugene Ormandy, among others at the prestigious Carnegie Hall. He has also appeared in major roles at the Metropolitan Opera in New York City and collaborated with several other top flight orchestral organisations including the Academy of St Martin in the Fields, the Boston Symphony, the London Symphony Orchestra and the Royal Philharmonic Orchestra. He has also had several professional performances in the rarefied altitudes of Santa Fe, New Mexico.
Although well known for live and recorded performances, Stuart was no stranger to television. He has appeared on the small screen in Australia, North America and Europe, including a successful BBC television series called Stuart Burrows Sings which featured a variety of different periods and genres over an eight-year period.
The success of this musical review made it possible for more annual televised performances to follow. In 1981 he received an Honorary Doctorate from the University of Wales at Cardiff. A Fellowship was awarded to him in 1989 from Trinity College, Carmarthen where he also launched an International Singing Competition. The University of Wales at Aberystwyth presented him with an Honorary Fellowship and in 1992 the Eurotunnel granted him his own honorary plaque affixed to a Le Shuttle locomotive.
His work for other organizations is prolific, having recently established an international voice award in Carmarthen's Trinity College where he studied as a young man. He is also the president of a variety of charitable organizations throughout south Wales, devoting much of his time to raising funds for these worthy causes.