The History of The Tenor Narrated
The History of Gianni Raimondi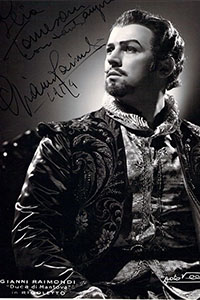 Born: 17 Apr 1923
Died: 19 Oct 2008
Italian tenor.
Les pinto was Gianni Raimondi, who was born in Bologna, on the 17th of April 1923.
He made his debut, at the Communally, the Bologna, in Rigoletto in 1947.
It wasn't long before he was appearing in London, Paris, and Monte Carlo.  And in 1956, he was heard in Traviata, and Lucia de Lammermoor with Maria Callas at the San Carlo in Naples.
His versatility enabled him to appear in some famous revivals, notably Rossini's, Armida in 1952, Moses in Egypt in 1958, Seme Ramirez in 1962, and in Donizetti's Anna Boolean, 1957 and Mercendanti's Elisa and Claudio in 1960.
Another feature, like Di Stefano, was his popularity in French opera.  Mignon and Faust being favourites.
And he was not afraid to appear outside the normal Italian tenor repertoire.
Smetana's Bartered Bride, and Glinka's A Life for the Tzar, being two examples.
From the Italian school, I've selected an Aria from the so-called belcanto school, Donizetti's Don Pasquale, and from the verismo period, Puccini's La Boheme.