The History of The Tenor Narrated
The History of Gianni Raimondi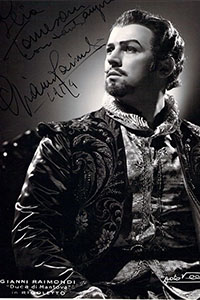 Born: 17 Apr 1923
Died: 19 Oct 2008
Italian tenor.
Italian tenor Gianni Raimondi was born on 17 April 1923 in Bologna, Italy, and studied voice with Gennaro Barra-Carcacciolo and Melandri in Mantua, both schools under the prestigious voice teacher Ettore Campogalliani.
He debuted in Budrio, Bologna, as the duke in Rigoletto in 1947 and went on to the Comunale of Bologna the following year for Don Pasquale, where he sang the part of Ernesto. He became popular within Italy, known for his good and brilliant top, as well as exquisite phrasing. He was chosen for the premiere of Valentino Bucchi's "Il Contrabasso" at the Teatro della Pergola in Firenze May 1954.
In 1956 he debuted at La Scala for the much celebrated staging of La Traviata with Maria Callas, conducted by Carlo Maria Giulini, where he established himself as one of the most appreciated house tenors. In 1957 he met Callas again at La Scala for Donizetti's "Anna Bolena." Here he was particularly successful in the Rossini operas "Mosè in Egitto" (1958) and "Semiramide" (1962), apart from his Rodolfo in La Boheme during the 1962/63 season, under von Karajan, where he replaced a Giuseppe di Stefano in vocal conflict.
1957 he made his American debut in San Francisco, where he sang one season, the year in which he also received his first successes in Wien. He had been invited by Herbert von Karajan to take part in the season's La Boheme at the Staatsoper, and they worked togehter for the tour with La Boheme (dir. Franco Zefirelli) to Moscow, Monaco and Bavaria in 1964, repeated in 1966, 1967, 1969 and 1971. He also worked with von Karajan for the La Boheme film directed by Franco Zefirelli in 1965, the same year in which he made his debut at the Met, as Edgardo in Lucia di Lammermoor. In the 1968/69 season he was yet again successful at La Scala, for another Lucia, under the baton of Claudio Abbado. From 1969 to 1977 he was engaged by the Staatsoper of Hamburg.
Of his recorded material his La Traviata for DGG with Renata Scotto and Ettore Bastianini, conducted by Votto (1963) stand out, along with a studio recording of La Favorita for RAI Torino in 1954 with Fedora Barbieri as Leonora. He also appeared on live recordings from La Scala with Maria Callas (Anna Bolena, 1957, Fonit-Cetra, licensed to EMI).
Gianni Raimondi may not have had all that a huge voice, but it was a thrilling voice of much beauty, with a solid and brilliant top, a warm, pastoso, gradevole (pleasing) and homogenous timbre, and he sang with style and elegance and exquisite phrasing.
Since quite recently, Gianni Raimondi was giving vocal classes in the small Italian city of Budrio, where he once made his operatic debut, some 18 kilometers east of Bologna.
He passed away in Pianoro just outside Bologna on 19 October 2008. He was 85 years old and the news of his death was announced by the La Scala theatre after the private burial of the tenor, as he had wished.
Written by Joern H Anthonisen