The History of The Tenor Narrated
The History of Jozsef Reti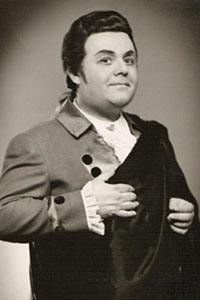 Born: July 8, 1925
Died: November 5, 1973
Hungarian Tenor
Two years after Konya, came Jozsef Reti who was to become established as an outstanding musical personality in his native land, until his untimely death at the age of 48, on the 5th of November 1973.
Reti was a most cultured individual and was equally at home in all spheres of vocal music, his last recording for example, was a Mozart operatic recital, placed in between performances of Don Pasquale at the National Opera, in Budapest, and a forthcoming Bach's Passion According to St John.
He was a noted leader singer and possessed a grasp of the songs of Schulte to Berg, and from 1964, taught at the list Academy of Music.
Here are two extracts from Reti's last recording, the Mozart recital, already mentioned.
The first is an aria from Act 1, of The Magic Flute and the second Ferando's Roust Kiev and Cavatina from Act II of Cossi Fan Tutte.
Fernando realising that his own unfaithfulness has been accompanied by that of his bride, expresses anger, then sorrow and regret.