The History of The Tenor Narrated
The History of Edoardo Ferrari-Fontana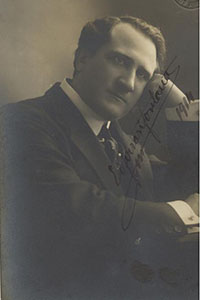 Born: Rome 8 Jul 1878
Died: Toronto 4 Jul 1936
Italian Tenor
The son of a surgeon, he studied medicine before taking up a consular post in Montevideo. While there, he drifted into singing, winning great success as an operetta baritone 1902-6 in South America and 1906-10 in Italy.
His grand opera debut (in Turin, 2 Mar 1910, as Tristan) was followed by appearances in the major houses of France (including the Paris Opéra), Italy (including La Scala), Spain, and South America, singing under the batons of such conductors as Mascagni, Nikisch, Saint-Saëns, Serafin, Toscanini, and Weingartner.
A star 1912-14 of Henry Russell's Boston Opera Company, he was heard 1914-15 at the Metropolitan Opera only as Avito in Montemezzi's L'Amore dei tre Re, a role he had sung in the premiere, 10 Apr 1913, at La Scala. Owing to failing health, his post-World War I appearances were few.
In his prime, his mellifluous tenor was especially admired in Latin countries in the Italian versions of Tristan, Tannhäuser, Die Walküre, and other Wagner operas. Early in 1926, Ferrari-Fontana and his second wife (his 1912 marriage to Hungarian contralto Margarete Matzenauer having ended in divorce in 1917) came to Toronto at the invitation of the Hambourg Conservatory. Soon afterwards he opened a voice studio where he taught until shortly before his death.
In 1935 he opened a second studio in New York and commuted there to teach. None of his pupils attained international recognition but several – notably Alice Strong Rourke, Daphne Walker, Randolph Crowe, and William L. Shelden – were prominent in the city's musical life during the 1930s and 1940s. Ferrari-Fontana founded the Music and Arts League of Toronto, which flourished ca 1927-36, and presented operatic concerts annually at Eaton Auditorium or Hart House.
The tenor's recordings are few: six sides for US Columbia in 1915, two for Italian Odeon ca 1915, and two for Edison 1916-19. Some recordings were reissued on The Record of Singing, vol 2 (EMI RIS 743, 1989).