The History of Edoardo Ferrari-Fontana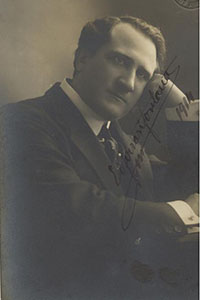 Born: Rome 8 Jul 1878
Died: Toronto 4 Jul 1936
Italian Tenor
It was Borgatti's sudden and unexpected removal from the scene, that gave rise to the opportunity for our second unusual tenor. Edoardo Ferrari-Fontana.
He had made his debut in Turin with some success and was asked to replace Borgatti in Wagner's Tristan owing to the latter's indisposition. He was an instant success and was engaged for the Cologne in Buenas Aires for 1911 and 1912.
He met and married the great contralto Margarita Matzenauer at this time, although this union was not fated to stand the test of time.
Just as Borgatti's great moment had been the creation of Anglia Shinai, now it was Ferrari-Fontana's turn and he was asked to create the role of Avito in Montemezzi's new opera, La More de triose, (The Love of Three Kings) at La Scala in Milan in 1913.
It was a memorable assumption, that she was able to repeat at other important centers, notably Paris, Monte Carlo and Buenos Aires. Remarkably and like his predecessor Borgatti, he also did not leave any records from his creative role.
So, we shall have to hear him first in a short extract from Pagliacci from a Columbia record.
And then just a few notes from a dreadful Italian song, but taken from an unpublished Edison record, just to show the difference between different recording processes.
Ul Tal Gioco / Pagliacci /1915 – Edoardo Ferrari-Fontana
Luna Cortese (unpublished) / (song) / 1918 – Edoardo Ferrari-Fontana
Ferrari-Fontana's North American career began in 1913, when he joined the Boston opera company. His Tristan causing something of a furor there. Of course, as I have already indicated, both Borgatti and Ferrari-Fontana sang their Wagner in Italian, and this limited their appeal in such roles, mainly to the Latin countries. But at the Cologne his Tristan and Sigmund were received with immense enthusiasm.
From the Italian repertoire, he also appears successfully at the Metropolitan in New York, at the Chicago lyric opera and also in Canada.
In 1926 he retired and taught singing in Toronto, finally dying there in 1936, only four days short of his 58th birthday.
Like Borgatti, he made few records, recording only for Colombian Edison.
We take his farewell with an aria from Vol Ferraris, The Jewels of the Madonna. The aria Madonna dei Dolori
Madona Dei Dolori (cr) / Madona – Edoardo Ferrari-Fontana

The History as it was Recorded