The History of The Tenor Narrated
The History of Felix Senius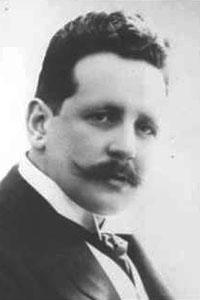 Born: 1868
Died: 1913
Russian / German tenor.
German tenor Felix Senius (1868-1913) was born in Königsberg but moved with his family to St. Petersburg, Russia as a child when his father was given a position as director of the commerce bank there. At the urging of his older brother, celebrated operetta tenor Rudolf Senius (1865-1924), Felix took up studies with famed baritone Ippolit Pryanishnikov (1847-1921). While working as a clerk in his father's bank, Senius first dabbled in singing charity concerts in St. Petersburg in 1895. After relocating to Berlin, the young tenor gave his first lieder recital in 1900. Senius also made his first appearance in oratorio that same year, with the tenor solo in Handel's Messiah.
By the middle of the first decade of the 20th century, Senius had become one of Europe's most successful concert and oratorio tenors. He appeared throughout Russia, Germany, Sweden and Finland. Senius was also quite popular in England, making an impact in such works as Debussy's L'Enfant Prodigue, Haydn's The Creation, Mendelssohn's St. Paul and Elgar's oratorios The Dream of Gerontius and The Kingdom. While in the Netherlands in April of 1907, Senius sang the tenor solo in Haydn's The Seasons with the Concertgebouw Orchestra and even took on the Verdi Requiem (as well as offering the Preislied from Die Meistersinger) at the Sheffield Festival in October of 1908. The busy tenor was Dr. Marianus in the premiere of Mahler's Symphony No. 8 in Munich on September 12, 1910, with the composer conducting. He also created the tenor solo in the premiere of Emil Nikolaus von Reznicek's Schlemihl: Symphonisches Lebensbild in Berlin in December of 1912 and sang the Evangelist in a revival of Bach's St. Matthew's Passion under Bruno Walter in 1913.
Although he never seems to have set foot on the operatic stage, Felix Senius was enjoying a major career as a concert and oratorio singer. Shortly after his 45th birthday, a banquet was given in his honor in the tenor's birthplace in Königsburg. Sadly, this well meaning gesture proved disastrous. After consuming a piece of tainted fish at the banquet, Senius contacted ptomaine poisoning and died a short time later.
Around 1911-1912, Senius recorded eleven sides for the obscure Anker label, including 2 duets with his wife, Clara Senius-Erler. This mere handful of discs, comprising less than forty five minutes of music, represent the entire recorded output of the tenor. As an example of the art of Felix Senius, here is Brahms' "Feldeinsamkeit" with Bruno Weyersberg at the piano.