The History of The Tenor Narrated
The History of Charles Hackett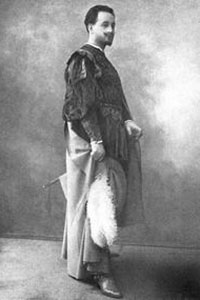 Born: November 4, 1889, Worchester, Massachusetts
Died: January 1, 1942, New York, New York
American tenor.
An exemplary Roméo in Gounod's once immensely popular Roméo et Juliette, tenor Charles Hackett achieved considerable popularity with several major companies without becoming a star of the first order.
Following initial studies in his native New England, he traveled to Italy for further study and made his reputation there.
When he returned to the United States in 1919, he was already a polished artist with successes at many of Italy's leading houses to his credit. If at times his dramatic fires burned on low flame, he was nonetheless appreciated by many connoisseurs for his finesse and unfailingly musical performances.
Although not born to a musically inclined family, Hackett conceived at an early age "fancies" for singing. A solo moment with his high school glee club and attendance at Castle Square Company performances in Boston further consolidated his determination to become a singer.
Hackett became a soloist with a Boston choir and, in 1908, was heard by the celebrated American dramatic soprano Lillian Nordica, who invited him to appear with her in recital and urged that he pursue vocal studies, first with Arthur Hubbard at the New England Conservatory of Music and later with Vincenzo Lombardi in Italy. After a successful 1914 debut at Genoa as Wilhelm Meister, he advanced so rapidly that by December 1916, he had made his first appearance at La Scala. As Carlo Hackett, he became the leading tenor at Rome's Teatro Costanzi and achieved great popularity in many other Italian theaters.
After several seasons meeting further acclaim in Argentina, Hackett returned to the United States to make his debut at the Metropolitan Opera in a January 31, 1919, performance of Il barbière di Siviglia. Deemed by one critic "a master of bel canto," Hackett was not heard by the doyen of critics, W.J. Henderson, until he essayed Alfredo in La traviata on February 6. On that occasion, Henderson enthused over Hackett's "mastery of mezza voce" and declared that he sang his diminuendi "with the skill of Bonci." By the time he sang the Duke in Rigoletto on February 14, he had become "Charles" once more.
Hackett sang for nine seasons at the Metropolitan, appearing from 1919 to 1921 and from 1934 to 1939 (at which point he retired). His dozen roles included Rodolfo and Pinkerton, as well as other works in the French and Italian repertories.
After being summoned back to La Scala in 1922 by no less a presence than Arturo Toscanini, Hackett joined the Chicago Opera Company on November 22, 1923, singing Roméo to the Juliette of Edith Mason. Later that season, his Juliette was Galli-Curci. When Hackett sang his Roméo for the final performance in the Chicago Auditorium (before the move to the new Civic Opera House), Mason was once more Juliette.
Hackett remained with Chicago for 11 seasons, during which he sang in the 1926 premiere of Charles Wakefield Cadman's A Witch of Salem. In 1926, Hackett also made his debut at Covent Garden singing his second-act Roméo to Nellie Melba's Juliette on the occasion of her retirement gala.
Later, during his solitary season in London, he sang Almaviva and Fenton, both "prettily" according to one critic. When he returned to the Metropolitan Opera in 1934, critics remarked on his still-youthful voice and figure.
The role of his re-appearance? Once again, Roméo.
~ Erik Eriksson, All Music Guide