The History of The Tenor Narrated
The History of Neil Shicoff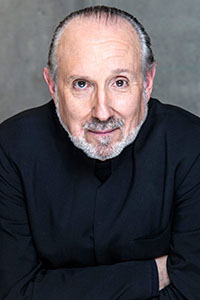 Born: June 2, 1949
American Tenor
Neil Shicoff is a widely-known American tenor. He has a strong, sweet lyric voice and an intensely dramatic stage presence.
His father was Sidney Shicoff, one of the most famous cantors in New York. Neil first sang in public at a wedding in his father's synagogue when he was eight, but severe panic attacks led him to stop making such appearances.
When he was fourteen, yelling at the umpire at a New York Mets baseball game, Neil realized how strong his voice was when the ump yelled back at him to shut up. He started taking lessons with his father, who died two years later. Neil says he inherited a nervous disposition, volatility, and paranoia from his father, and an obsessive perfectionism from his mother.
After failing a Juilliard School audition at eighteen, he entered Hebrew Union College as a cantorial student. He dropped out after three years, reapplied to Juilliard, and was accepted, with a Jennie Tourel Scholarship. He studied with Margaret Marshall. His official operatic debut (with orchestra) was in La Bohème at Juilliard.
He entered the apprenticeship program at the Santa Fe Opera in 1975, singing Paco in Falla's La Vida Breve in 1975. Also in 1975, James Levine called him to Cincinnati to sing in Ernani, substituting for Richard Tucker. He debuted at the Met in 1976 as Rinuccio in Gianni Schicchi. He was quickly engaged by the house to sing in Rigoletto, La Bohème, Rosenkavalier, and Werther, the latter one of his major signature roles. In 1978 he married soprano Judith Haddon, a fellow student at Juilliard. They adopted a daughter, Aliza Danielle, in 1983.
The next year Shicoff's mother died. This began several years of personal problems which heightened his performance anxiety and gave him a reason to drink too much, practice too little, and cancel performances too often. By the end of the 1980s, his wife filed for divorce, one of the longest and bitterest in operatic history. In 1990, singing at the Met, he found Werther's troubles merging with his own in his mind, and broke into uncontrollable sobbing, a public nervous breakdown. He insisted on finishing the performance, and managed to do so.
He fled America for Europe where he built a solid European career. He became especially famous for his portrayal of another operatic emotional wreck, Offenbach's Hoffmann. Some commentators call him the best Hoffman in history. He credits the film Ordinary People with showing him that he could fight his way back to emotional control. In 1993 he met his present wife, Dawn, with whom he had a son, Alexander. They were able to marry in 1997, when the divorce case was finally settled. In 1998, he was made a Kammersänger of Vienna. By then, he was taking heavier and more dramatic tenor parts. In 1996 he sang his first Peter Grimes (the only "modern" opera in his repertory) and added that tormented character to his four signature roles (the other is Lensky in Eugene Onegin).
He returned triumphantly to the Met in 1997 as Lensky, and again in 2000 as Hoffmann. Also in 2000, he cancelled a scheduled appearance at the Vienna State Opera Ball to protest the appearance of members of the newly-elected Freedom Party, which he regarded "sympathetic to Neo-Nazi ideas." Soon after that, he contracted a severe upper respiratory infection, causing cancellation of his first scheduled performance of Andrea Chénier and all other performances until autumn. At that time, he was scheduled to return to Vienna in February 2001 to take on his second modern opera, as Captain Vere in Britten's Billy Budd.