The History of Enrico Caruso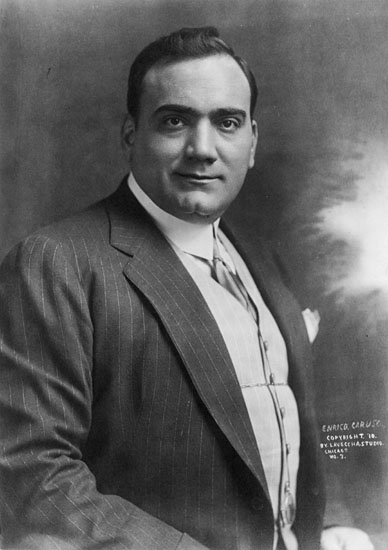 Born: 25 February 1873
Died: 2 August 1921
Italian Tenor
Around the turn of the century, three musical milestones took place that were to alter the shape of things to come. The first was the arrival of Rismo Opera, the second was the invention of the gramophone and the third was a combination of conductor and singer that would dominate and exploit both to maximum effect.
Italian verismo or realistic opera, burst onto the operatic scene in 1890, with production of Mascagni's Cavalleria Rusticana and things were never quite the same again. Basically, I suppose, it was the Italians answer to Wagner, already simulated by the example of the later Verde.
Gone were all the frills of the Bela canto era, the set piece aria and ensemble were retained, but no one would be allowed to step out of character. No rushing to the foot lights here, to regale the audience with a piece of florae Tourer or to show off a diminuendo al a Rabinei or Garrie. No, it was to be life in the raw, with all our loves, hates, passions, and emotions exposed. No cover up here.
The immense success of Cavalleria and the demand for more of the same was taken up by all the up-and-coming composers, Mascagni, of course Leo Cavallo, Giordano, Catalani, Julia and above all Pacini and a rush of new operas hit the stage in quick succession, Pagliacci, Andrea Chine, Fedora, Adriana le Cuvrea, La Ualle, Moni Lesko, Boheme, Tosca, Madame Butterfly and the like.
And all to great acclaim, although Butterfly was a first night failure strangely. Even with Storchio, Zena Tello and De Luca in the cast.
This was to be the new fashion and there would be no turning back.
I often wondered if we today, can really imagine, what musical life could be like without the gramophone.
Let us take a moment or two off, to think about this. Let us imagine for example, that Mario is scheduled to sing in London in, let's say Lucia de Lammermoor.
We are desperate to see and hear the world's greatest tenor. We have scraped and saved for this moment. How shall we obtain a ticket?
No telephone of course, so we must try the post.
Let's say we are very lucky and get a ticket, for the gods perhaps. The best seats would have been taken up weeks ago by the aristocracy, the Gentry and that social elite high society. Now we have to get to London, presumably by horse and carriage, and we have to find lodging for at least an overnight, this is going to cost us a fortune. But it's going to be worth it. Ah Mario!
Now what does Lucia de Lammermoor sound like anyway, we have never seen it on TV, (there is no TV) they have never heard it on records (no records) nor on the radio (no radio). Our Aunt has a piano and we once heard it played there on sheet music, some arias from the opera, or was it Puritane?
Anyway, we shall have to try and remember the tunes, for we will probably never hear them again, at least sung like this.
We hear Mario, we are overwhelmed, he was magnificent. And yet the people in the foyer at the intervals were saying that he was well past his best now.
Wonder what he was like 15 years ago. Anyway, we've heard him. What a pity we shall never hear him again. Ever.
This one memory will have to stay with us forever. And we notice when we were down, that Tamborlic was coming two months later, now what is Tamborlic like, we wonder. We shall never ever know.
The gramophone solves all these problems at a stroke, we can hear our favourite singers, at the beginning of his or her career, in the middle, or near the end, and we can hear him in all his best roles. Not only, can we study the style and technique, we can compare them instantly with all others, both past and present.
We can hear them whenever we wish, any day of the week, any hour of the day, and as often as we like. We can have ten encores of Adonne Mobile if we wish and for the opera itself, we can get to know every bar intimately. No need to wonder about the tunes, let's hear that tricky passage over again.
They may even get to the point of deciding that this or that conductor is not doing it to our liking, would you believe.
Such is the wonder of the gramophone. How fortunate we are, compared to those who have gone before us.
Enter our conductor and singer into this new situation. Arturo Toscanini had played the cello in the orchestra pit at the premiere of Verdi's Otello. He had advanced rapidly and was now the paramount force at La Scala, Milan. It was this genius who was to change the face of operatic practice and it was to establish the era known now as the age of the conductor.
When the conductors authoritarian influence was to dominate the operatic stage.
When the audience at La Scala demanded an encore from Giovanni Zena Tello, at a performance of Verdi's mass ball, and held up the performance until they got one, Toscanini resigned forthwith, yes resigned over an encore.
He was immediately engaged by the Metropolitan Opera New York and began a great reign at that house. When the darling of the met, Geraldine Farrar petulantly pointed out to Toscanini that "she was a star". His piercing eye stopped her dead. And she was told "Madam, the only stars there are, are in heaven".
We already know that Massine refused to record. Describing the new invention as a toy. And while Tomagno danced with delight round the horn, when he heard his own voice for the first time, we also know that Deresce was so disgusted with the results, that he refused publication and never made any further attempts.
If only some great star could be found to establish and popularize a new invention as a serious musical medium. The rest would surely follow.
Bella Figlia / Rigoletto / 1907 – Enrico Caruso
That was the voice of the great star. And this one did not exist only in the heavens, it existed for the whole world, through the medium of the gramophone record. The famous question is often asked, did Caruso make the gramophone or did the gramophone make Caruso? The answer is yes and yes again.
It may sound strange, but here we are, well through the fourth tape, and we're only now hearing the voice that made the gramophone, when in actual fact, Caruso was one of the very first singers to make gramophone records.
His fuesonaphones are attributed to 1901 stroke 1902 and certainly his numerous G&T's beginning 1902, when he was still in his 20s. As a recording artist therefore, he was before Tomagno and equal with De Lucia, both of whom were much older of course.
His voice took to the recording like a duck to water. And from the very beginning, his records were best sellers, later of course there were two established gramophone company, HMV victor as the number one in the business, as he had an exclusive contract with them from 1902 to the end of his life.
He was also the first tenor to fully exploit the nuveros repertoire, indeed he took part in five verismo creator roles. In the operas, Lerizienna, Adrana la Curvier, Fedora, Germania, and La Fenchu de la west, (the girl of the golden west) and he just missed Tosca, which he regretted ever after.
Yet he was initially trained in the old bell canto tradition, and he could quite easily compete with Bonci and De Lucia in that repertoire.
As we can now hear from this glorious recording of Angelo Casto e Bell from Donizetti's opera you Il Ducat D'alba
Angelo Casto E Bel / D-Alba / 1907 – Enrico Caruso
Sung in some in various towns, with some success, before he appeared at his hometown at the mighty San Carlo Opera House. Expecting a big reception, he was only mildly received. He must have been deeply hurt because he never sang in Naples again, even though he returned there to die.
His first notable success was in Palermo in Legia Condo, to be followed by the creation of Laures and Fedora in 1898.
In 1899 he appeared with great success, firstly in Buenos Aires at the Cologne, and then in Rome at the Constanza in Mascagni's opera, Iris. The story of his la Scala appearance in the 1900/1901 season with Toscanini and Donizetti's Elis De More is famous.
The house is bored and restless, the atmosphere is hostile, and then comes Caruso's big moment, Una Fortiva La Grima is interrupted at every phrase, by exclamations of admiration. It has to be repeated, despite Toscanini's aversion, he is compelled to grant it. And the public almost insists upon it being sung for a third time.
Caruso and Toscanini are received with acclaim at the curtain, and Toscanini whispers to the director, "my god, if this Neapolitan continues to sing like this, the whole world shall speak of him".
The now famous Verdi operas, all except Otello and Falstaff of course, and the new verismo operas we have already discussed.
Using the Metropolitan as his base, the same way Slezak used the Vienna opera as his base, he traveled far and wide throughout the world.
The gramophone was paying back it's debt. He had established the medium, and now it was carrying his voice the world over. And Everyone wanted to hear him. When tickets went on sale for a Caruso night, riot police had sometimes to be brought in to control the crowds. And the reports of his appearances are a repetition of the superlatives, the world over.
One or two points of particular interest, he appeared again in Covent Garden from 1904 to 1907, and finally during the 1913/1914 season.
Just looking at the casts, is mouth-watering, for example Fri, Jun 22nd, 1906, Covent Garden. Rigoletto is to be given with Caruso as the Duke, Melba as Guilda, Vakastini as Rigoletto, and Journet as Pa La Vachille.
During a visit to Russia, he takes a bad cold and tries to croak his way through Pagliacci, to no avail. And onto the stage watched a dignified figure in full evening dress. He will help out, there and then without changing, and so the audience hears Sobinov, instead of Caruso. Jubilation and pandemonium at the finish.
Another very strange fact. After his metropolitan debut in 1902, he sang in Italy only twice. Once at the Constanza in Rome, in Pagliacci in 1914 and once at the Dal Verme in Milan in 1915. And one of the best kept secrets, he fails in Budapest in Aida, his only known failure, but that's another story.
During his stay at the metropolitan, he is joined by a glittering array of great singers and fortunately for us, he recorded with most of them. Anyone that ever collected operatic celebrity records, will never forget those wonderful buff green blue and white labels, that used to adorn the HMV record catalogue.
I was always a poor French scholar at school, but my father used to say, "that if the catalogue was printed in French, I'd be top of the class in no time". You can gather from that, that I would pour over it for hours on end. And I can recall even yet, that it would take me three weeks to save up for a buff label at 15 shillings, and a month, for a green one, at 19 shillings.
The whites were 23 shillings, that meant five weeks hard slog. What were these coloured labels all about then, well, they were all duets, trios, quartets etc with more than one great singer involved.
Usually, Caruso and others. For their day, there was nothing to touch them, and today they represent an artistic peak of achievement both technically, as acoustic reproduction at its best. And artistically, in the calibre of the singers involved.
They were, and they are, the yardstick by which all other recordings of the music are judged. Many of them are classics of the gramophone and should be in the collection of every collector who calls himself a lover of fine singing. Of course, it is impossible to include them all or even a fair representation. So, what I have decided to do, is to play a snatch of this and that, just to whet your appetite. And it also gives me the chance to introduce some of those wonderful names that have kept cropping up from time to time during this survey.
Antonio Scotti, Alma Gluck, Frieda Hempel, Giuseppe de Luca, Johanna Ganske, Francis Alba, Marcel Giurni, and Tita Ruffo.
So just sit back now and enjoy Caruso and friends for the next few minutes.
Solenne w Scotti / Forza / 1907 – Enrico Caruso
Libiamo w Gluck / Traviata / 1906 – Enrico Caruso
La Riverdro w Hemphel / Un Ballo / 1915 – Enrico Caruso
Sleale Il Sergretto w De Luca / La Forza / 1915 – Enrico Caruso
O Terra Addio w Gadski / Aida /1910 – Enrico Caruso
Trio w Alda w Journet / I-Lombardi / 1912 – Enrico Caruso
Se Pel Ceil w Ruffo / Otella / 1914 – Enrico Caruso
When I was in Sorento on holiday, a few years ago. My wife and I arranged to meet some friends; we had made at the Victoria Immanuel Hotel in the centre of town. This turned out to be a very old and very famous hotel, still furnished in the grand manner of a former era.
To my great delight, one of the first things I saw in the spacious foyer, was a large photograph of Caruso, which I instantly recognized as the last picture taken of the great singer. It had been taken on the balcony of this very hotel. And I couldn't wait to have a photograph taken, on the exact spot where Caruso had stood. Adopting the exact pose of the famous photograph, as best I could, I just couldn't help feeling a moment of great expectation and excitement, waiting for the camera to click.
And now for the anticlimax. It turned out, that our new camera, was not working properly, and we lost some of our holiday photographs. Fortunately, most of the ones we really wanted, came out OK, except one, need I say more.
Caruso made 265 published side and this wonderful, recorded output contained not only examples from all his roles at the metropolitan and many arias from other operas, not in his repertory and many songs including the Neapolitan variety, for which he was justly famous.
The exception to the rule, was the astonishing lack of any record from Puccini's opera La Fontella, The girl of the golden west, which was premiered at the metropolitan in 1910, with Caruso, Destin, and Ommatea.
But we must have some verismo, after all, he was the leading exponent of the new genre and certainly some Verde for his Rigoletto, Trovatore, Mass Ball, and Aida were incomparable.
I have selected the wonderful vigorous and agile Di quella pia from Trovatore and a rare aria from LaBoheme, not by Puccini, but by Leon Cavallo Testa Adorata.
Di quella pira / Trovatore / 1906 – Enrico Caruso
Something about the character of the man, for it appears to have been unique.
His American wife, Dorothy sums it up.
"Enrico's nature was not only uncomplicated, was actually elemental. He was made in large blocks of essentials, his humanity was deep, his humor was broad, his faith was higher, his complete absorption in his own work, left him neither the time nor the desire to indulge in the usual and useless commentaries on events and people.
His manner was perfect, at the same time affable and impenetrable. Nor did he depend on others to advise, amuse, comfort, or inspire him, since he knew that his source was uniquely within him. His consciousness of being his own source was the force, which spurred him towards perfection.

He didn't preach tolerance, kindness, generosity, justice, resourcefulness, these requisites of wisdom with the elements of which he was made".
All through his life, he gave nothing but his best, to do less, he considered it, not just a failure, but betrayal. Even if it meant singing through a hemorrhage, which he did in a performance of Eli sir D'amore the year before he died.
And sensing he was dying, he returned to Naples, where he died on the 2nd of August 1921, aged 48.
And so, to Aida, Favia, Arte's tribute on the anniversary of his death.
The whole world pays tribute to the man's magic throat who spread more goodwill and happiness among people and all the League of Nations and UN put together, ever could.
And to the end of time, will be emblazoned on the pages of history, along with the greatest names of mankind, the name of that grand and lovable Neapolitan Enrico Caruso.
Testa Adorata / Boheme / 1911 – Enrico Caruso

The History as it was Recorded