The History of The Tenor Narrated
The History of Peter Schreier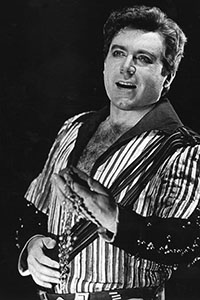 Born: 29 July 1935
Died: 25 December 2019
German Tenor
So, before we close, a quick look at some younger tenors, who have established or are establishing themselves, on the international circuit.  It must be remembered that the present recognised tenor superstars, best days are now behind them.  Pavarotti is 55, Damingo is in 50th year, and although Carreras is younger, his repertoire and his illness, have taken their toll.
No young tenor in his late 20s or early 30s, has yet shot forward to international and general popular appeal, anywhere approaching today's big three.
The German tenor Peter Schreier has been an established favourite for many years now, as he was born in Mison in July, 1935.
The son of a canter, he became a member of the Dresden opera in 1955, but continued his studies at Leipzig and then Dresden, from 1956 to 1959.
His debut in a main role, was in Fidelio in 1961, before joining the Berlin Stats Opera, as leading lyric tenor.
He sang at the Salzburg Festival and the Metropolitan Opera in 1967.  La Scala and the Cologne in Buenos Aires in 1968, and then in most European centres, appearing regularly in Vienna, Salzburg, and Munich.  In both opera and recitals.
By the mid-60s, he was acclaimed as a lively elegant and accomplished Mozart tenor.  Other popular roles included the Barber of Seville, Manon, Boris, Eugene Onegin, and in two of Richard Strauss's operas.
His record is the Aria, Dallas Sua Pace from Mozart's Don Giovanni.