The History of The Tenor Narrated
The History of Set Svanholm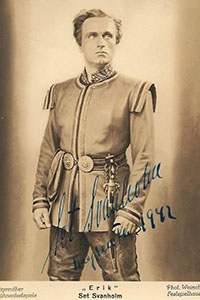 Born: 2 September 1904
Died: 4 October 1964
Swedish tenor.
Set Svanholm 1904 to 1964, the Swedish Heldentenor, began his musical life as an organist from 1922 to 1924.
Before studying at the Royal Conservatory in Stockholm, under the celebrated Swedish baritone, Don Fossil.
He began operatic life as a baritone, at the Swedish Royal Opera in 1930.
And it was 1936 before he made his tenor debut in Aida.  And subsequently took on, much heavier tenor, parts such as Othello, Sigmund, Parzival, and Tristan.
He sang at Salzburg in Vienna 1938.  Berlin, Budapest, and Milan 1941 and 42.  Bioroid in 1942.  I
n 1946 he visited North and South America.  Singing in Rio, San Francisco, and the Metropolitan Opera.
At Covent Garden he sang regularly, from 1948 to 1957.
He was director of the Swedish Royal Opera, from 1956 to 1963, and also taught singing in Stockholm.
Here he is, in part of the Rome Narration.