The History of The Tenor Narrated
The History of Set Svanholm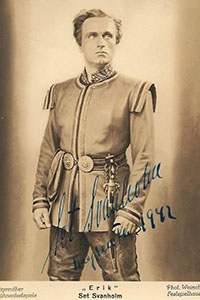 Born: 2 September 1904
Died: 4 October 1964
Swedish tenor.
Svanholm began his musical career at the age of 17 as a precentor, elementary school teacher, and organist.
He then studied at the Royal University College of Music in Stockholm as well as taking singing lessons from the famous baritone John Forsell, who also taught Aksel Schiøtz and Jussi Björling.
He made his operatic debut as a baritone (Stockholm, 1930), singing the role of Silvio in Pagliacci. He sang as a baritone for several years. Then in 1936, after further study, he debuted as a tenor, singing the role of Radamès in Aida. His first Wagnerian tenor roles (Lohengrin and Siegfried) followed in 1937.
Svanholm sang regularly at the New York Metropolitan Opera (1946-1956), the Vienna State Opera (1938-42), and The Royal Opera House in London (1948-57). He became the director of the Royal Swedish Opera in 1956, a post he held until 1963.