The History of The Tenor Narrated
The History of Ferruccio Tagliavini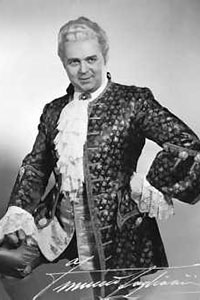 Born: 14 August 1913
Died: 29 January 1995
Italian tenor.
Narrative 1
I remember how disappointed I was with the Italian tenors who appeared just after the war.
And there were a great many. Do you remember them?
Binchy
Infantino
Mussini
Trivedi
Pennon
Mabou
Savarese
Podgy
Prandelli
Campari
Filipacchi
All recording one opera or another but none establishing an international reputation via either the opera house, films, broadcasting, or gramophone records.
One who did establish an international reputation was Ferruccio Tagliavini, born at Regio, Emilia on the 14th of August 1913.
Again, like so many in this survey, his voice was noticed at an early age.
His first studies were at Parma and then on to the Maggio Musicale Institute in Florence where he studied under one of our previous subjects Amadeo Basse.
He made a successful debut in October 1938 in Florence as Rodolfo in la Boehme, and soon followed with his la Scala debut in Elicia Damore in the role of Nemorino, suiting him to perfection.
For our first record of him, I have selected O Dolci Mani from Puccini's Tosca, which gives an instant demonstration of his best qualities
Narrative 2
Tagliavini was one of these unfortunate singer's, whose early career coincided with the Second World War.
So that during that time his appearances were restricted to Italy, Rome, and Naples, in particular, gave him great ovations.
During this time of course, the production of gramophone records was greatly restricted. When he should have been recording for Victory HMV, he was confined to the Italian Sceptre company, so that in his complete opera recordings, he is joined by leading Italian singers rather than by international stars.
Despite the war, he was able to make several films which helped enormously to expand his popularity.
If my own memory served me correctly, his performance in Rossini's Barber of Seville, at the old and much beloved Cosmo cinema in Glasgow, was the first opera film I ever saw.
Curiously I remember two young girls sitting in front of me, being attracted not by his voice, but by his legs.
Here is Tagliavini's version of Dal Labbro II Canto from Verde's Falstaff.
Narrative 3
No sooner had the war finished, then he was off.
1946, The Cologne at Buenos Aires and in 1947 the Metropolitan, New York. The returning GI's have reported a great new tenor and he was enthusiastically received, singing regularly there from 1947 to 1954, and again in 1961/62.
Covent Garden for certain, in 1950, with the Scala company, singing his popular Nemorino.
He made further London appearances in Tosca and the Pearl Fishers.
One of his most popular and successful records was that of E'La Solita Storia from Cilia's L'Ariesiana.
Narrative 4
Summing up Tagliavini's style and technique, Grove has this to say.
Essentially a tenore de gracia, Tagliavini excelled in the so-called Bel canto operas of Bellini and Donizetti.
And the lyrical roles such as Pearl Fishers, and Amancio Fritz.
He could spin out a sustained note until it became a mere thread of tone. And he sang florid passages more accurately than was usual in the post war period.

But he also relied on abrupt transitions between fortissimo and pianissimo, to a neglect of the intermediate shades and in later years permitted his louder tones to develop a harsh quality.
It would be nice I think, to conclude with something from his famous complete recordings of Rigoletto and La Somnambule. So, here are two samples where he is joined by that fine Italian coloratura soprano Lena Pagliughi.