The History of The Tenor Narrated
The History of Ferruccio Tagliavini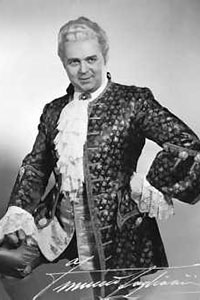 Born: 14 August 1913
Died: 29 January 1995
Italian tenor.
Tagliavini was hailed as the heir apparent to Tito Schipa and Beniamino Gigli in the lyric-opera repertory due to the exceptional beauty of his voice, but he did not sustain his great early promise across the full span of his career.
Tagliavini studied in Parma with Branducci and in Florence with Amedeo Bassi, a well-known dramatic tenor of the pre-World War I era. It was also in Florence that he made his professional debut in 1938 as Rodolfo in La bohème.
He swiftly gained recognition as one of the leading tenore di grazia of his time in operas such as Il barbiere di Siviglia, L'elisir d'amore, Don Pasquale, La Sonnambula, Lucia di Lammermoor, Rigoletto, La Traviata, Manon, Werther, L'amico Fritz and L'arlesiana.
Debuts at many of the world's major opera houses ensued. They included: La Scala, Milan, in 1942; the Teatro Colón, Buenos Aires, in 1946; the Metropolitan Opera, New York City, in 1947 (as Rodolfo in La bohème); the San Francisco Opera in 1948; the Royal Opera House, Covent Garden, London, in 1950; and, finally, the Paris Opéra in 1951.
During the 1950s, Tagliavini took on heavier roles such as Riccardo in Un ballo in maschera, Cavaradossi in Tosca and Faust in Mefistofele; but the quality of his voice suffered as a consequence.
Tagliavini retired from the stage in 1965. He continued, however, to give recitals until the mid-1970s. He left behind an impressive discography. The finest of his recordings are those that he made of operatic arias during his heyday in the 1940s. In them, one can fully appreciate his remarkable skill at soft, or mezza voce, singing. He also made a few opera films, notably Il barbiere di Siviglia in 1946 with Tito Gobbi and Italo Tajo.
Tagliavini married the soprano Pia Tassinari in 1941. He made several recordings with her and they appeared together often on stage. There is a recording available of them singing Massenet's opera Werther.