The History of The Tenor Narrated
The History of Giovanni Zenatello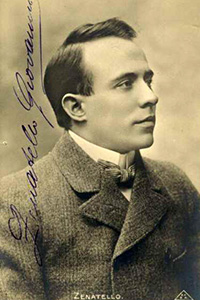 Born: 2 February, 1876 Verona
Died: 11 February, 1949
Italian tenor.
Zenatello showed musical promise from a young age. His singing teacher in Verona originally tried to train him as a baritone, but he never felt comfortable in this range and later switched to the higher tenor register. Nonetheless, it was as a baritone that he made his professional debut at Belluno in 1898. His tenor debut (as Canio in Ruggero Leoncavallo's Pagliacci) did not come until the following year, at Naples.
Zenatello's operatic career gained momentum during the early years of the 20th century, and on February 17, 1904, he created the role of Pinkerton in the world premiere of Puccini's Madama Butterfly at La Scala, Milan. La Scala was Italy's leading opera house, and he remained a member of its company of singers until 1907. He also sang at the Royal Opera House, Covent Garden, London, in 1905-06, 1908-09 and 1926; at the Manhattan Opera House in 1907-1910; and with the New York Metropolitan Opera company, on tour, replacing Enrico Caruso, in 1909.
He sang often, too, in South America and Mexico and various cities of Continental Europe.
Zenatello's voice had matured into that of a clarion-voiced dramatic tenor during his La Scala years, and he succeeded Francesco Tamagno (1850-1905) as the world's greatest exponent of Giuseppe Verdi's Otello. He performed this extremely taxing role more than 300 times during his career and recorded highly acclaimed extracts from the work.
After a final stage appearance (in New York City) in 1933, Zenatello retired from opera and taught singing. Lily Pons was one of his pupils. As to his private life, he lived with the Spanish mezzo-soprano Maria Gay from 1906 until her death in 1943. They were often described as husband and wife although they may never have actually married.
In 1913, Zenatello was instrumental in having the Verona Arena, built originally by the ancient Romans, restored and turned into a world famous open-air venue for opera performances. That same year the arena was used to mount a grand production of Aida, marking the centenary of Verdi's birth. In 1947, Zenatello arranged for a promising young soprano named Maria Callas to appear at the arena's Summer Festival in Amilcare Ponchielli's operatic masterpiece, La Gioconda. This appearance would give Callas' career an invaluable kick-along in Italy and help set her on the path to future stardom.
Zenatello died in New York City in 1949, aged 73.