The History of The Tenor Narrated
The History of Giovanni Zenatello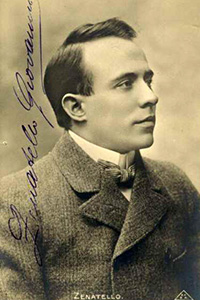 Born: 2 February, 1876 Verona
Died: 11 February, 1949
Italian tenor.
Narration 1
The celebrated Italian tenor Giovanni Zenatello was born in Verona, on the 22nd of February 1876.
He studied singing in his native city and made his first appearance, not as a tenor, but as a baritone. Singing such roles as Silvio and Antonio in Pagliacci and Alfio in Cavalleria Rusticana.
Suddenly in 1899, the Canao in Pagliacci took ill and Zenatello was asked to replace him at short notice. He managed to please the Naples public, never easy at the best of times, and never again reverted to the baritone register. The next three years were spent making a reputation in the Italian cities.
Other tenors doing the round with him in those days where, Anselmi, Bassi, Bonci and Bargatti. At last, la Scala in 1903, and an unusual debut in the damnation of Faust, by Berlioz. Under the watchful eye of Toscanini.
It was so popular there, that there were no less than 24 performances during the season.
After taking part in the premier of Somalia's Coccinea on the 22nd of January 1903, he next appeared in Verde's Baled Maschera, the masked ball, and we know what happened then, don't we?
The audience demanded an encore from Zenatello, held up the Opera, and a furious Toscanini walks straight out of the theatre.
Surmani took over and saved the performance, but Toscanini did not conduct again at La Scala for another three years. Now of course, the world was his oyster, after the Scala season straight off to the Cologne, Buenos Aires, and then back to a Scala, for the world premiere of your Jordanov's opera, Siberia in December 1903, with Zena Tello, Storchio and Da Luca, Campanini conducting.
The second world premier that season was Puccini's Madame Butterfly, again with Zennatello, Storchio and Da Luca, Campanini conducting, and it was a complete flop receiving only one performance.
The first Covent Garden appearances in 1905, are interesting, not only because of the wonderful casts available in those days, but because it gives some idea of the work you were expected to undertake, to keep your name, before the public, as a major star.
He sang in three performances of Mass ball with Bonascenio and So Marco.
Two performances of Manolescu.
Two performances of aida with Bononcini Vacherie, Desece, DeRose and Dedour.
Eleven performances of, the now highly successful Madame Butterfly with Ghia Ketti and Somarco.
Two performances of Andrea Shine au
Two performances of Mephistopheles
Two performances of Faust with Melba, Battistini and De Dua,
and in addition, there was a gala concert and a royal command performance at Windsor Castle.
From London, it was the straight back to La Scala, for the premier of Catalinas new opera L'oralie. And in the same season another premier, this time Franketie's opera, Filial DiOrio, which was given its first performance on the 29th of March 1906.
He also appeared in Tchaikovsky's Pei dam this season, an unusual role for him. Then back to Covent Garden for performances of Butterfly, Carmen, Boehme, Tosca, Faust, Fedora, and Adriana Lacourciere, his companions including Strat Chiari, Melba, Sammarco, Kirbiloun, and de Cisneros.
It was in the 1901 la Scala season, that a famous partnership was born. Zenatello sang Carmen with Maria Guy, a celebrated Spanish metro-soprano, who he was later to marry. More of that later.
It proved a winner and received 14 performances.
Now with South Americas turn again, Argentina and Brazil were to be visited. Already news of the Zenatello/Guy partnership had reached there, and excitement was at fever pitch, and I do not use these words idly.
We today, cannot imagine just how popular opera and the great operatic stars were in those days. And what excitement and anticipation, the news of their forthcoming appearances generated.
In Sao Polo in Brazil for example, Zena Tello/Guy Carmen was so popular, that an extra performance had to be specially arranged. The crowds began to gather at 4:00 AM and no fewer than 8000 people turned up at the box office.
By the evening, the crush was so great, and several people were killed and many injured.
At the Manhattan opera in New York, Hammerstein had just lost his star tenor, Alessandro Bonci to the Metropolitan, and was frantically searching for a suitable replacement. We know already that Bassi, Constantino and Dalmorez was engaged and now Zenatello was added to the list.
His Manhattan debut took place on the 4th of November, 1907 in L'achia Conda, opposite Nordica, Cisneros, Gervo Riache, and Cona and DaDua. And needless to say, he was an immediate success.
Other parts that season included, the lead in the Mass ball, Traviata, Lucia De Lammermoor, Pagliacci and Siberia.
Here is a memento of his debut then, the lovely Cielo E Mar from La Giaconda.
Narration 2
Boehme, Aida, and in an outstanding performance of Mierbierres' les uginoff with the all-star cast of Donatello, Destin, Tetrazzini, Scotti, Nevett and Vani Marco. But the event of greatest importance that season, was his very first Otello.
His partners on this famous occasion being Melba, Edna Thornton, John McCormick, Scotti, and Vani Marco. This role was to become inseparable with his name, and he sang it over 500 times in his career, an astonishing fete considering that Caruso never sang it at all, considering that it might do irreparable damage to his voice and Domingo refused to consider it before he was 40.
For most other tenors, it was a role to stay well clear of.
Back at the Manhattan for 1909, he sang in Tosca and Boehme. And we notice now that the Puccini operas are appearing in this survey more and more frequently. As the verismo singers take over from the older generation. Then his first American Otello with Melba and Sammarco, and that doyen of critics, WJ Henderson writes of this performance, "Zenatello has precisely the right kind of voice for this role.
A hard brilliant appealing tenor with far reaching high notes, the oath of duet was greeted by such a storm of applause that is rarely known in an American Opera.
Narration 3
That duet was sung with Amato, by the way, and not Sa Marco. Although Zenatello never sang as a regular member of Metropolitan Opera, he did sing in some performances with them, as a result of Caruso's illness in 1909.
He also returned to Covent Garden that year, which were to be his last appearances there until 17 years later. The last season of the Manhattan 1909/1910 was to see Zena Tello sing in Aida, Pagliacci, Tosca, and a very strange venture into Wagner's Tannhauser. Which would you believe, was sung in French?
After some appearances in South America again, where he sang with Russ, Krushinski and Stratchi, he appeared in a performance of Madame Butterfly with his original partner Rosina Storchio, much to the great delight of the San Polo audience, no death are reported on this occasion. Then with the Manhattan closed, it was firstly with the Boston opera company, where he met up again with Maria Guy and then they both joined the Chicago lyric opera in the 1912/1913 season. Where he sang in Manolescu, Aida, Trovatore, Jewels of the Madonna, and Pagliacci.
He married Guy at the end of the season, and they left for Italy, taking part there in a great occasion, the inaugural performance of the Verona Arena, Opera was aida with Zenatelllo, Guy, Mezzanine, and Dunneza.
Narration 4
His re-entre at La Scala, was also an Aida, which during the months of October to December 1913, received 12 performances. Another opera crazed South American city was Havana, in Cuba. And all the great stars made a point of appearing there. Zenatello sang in four operas in 1915, singing with Claudia Muzio, Tito Ruffo, and of course Maria Guy.
He was with the Boston Opera company for season 1915/1916 and I certainly would love to have been present at the performance of Tosca, which boasted Zena Tello, Fernsten and Baklinov.
1917 was spent touring Mexico, enthusiasm was so great, that the final performance of Carmen, with Maria Guy had to be held in the Mexico City, Bullring, to accommodate the crowd.
The next two years were spent in Spain and Portugal, that he appeared in all the leading theatres including the Veceo in Barcelona, the Real in Madrid, and the San Carlos in Lisbon. From 1920 to 1925, Zenatello spent his time in Europe, appearing in Verona, Venice, Genoa, Vienna, Berlin, Moscow, and Leningrad.
In 1926, he returned to the Constanza in Rome, where he sang Otello, nine times and in Carmen, three times with Guy. After 17 years absence, he returned to Covent Garden that same year, 1926, at the age of 50. He sang Otello only, the first performance taking place on the 1st of June 1926.
Frances Toi writing in the Morning Post, remarked that his performance was dignified and moving, but this voice sometimes failed him, and the tone sounded white throughout. While Victor Golance, went so far as to say, that opera goers too young to have heard Zenatello's piercingly clean, ample, and rounded e'salpatti with his grace, note glory, sung to thrilling perfection, can have little idea of what that music can mean. Well, we are all too young of course. But by the greatest good fortune, one of the very first ventures of the new electrical recording system was to try out the new process, at a live performance and Zenatello's London appearance proved the ideal opportunity.
So, we are able to hear Zenatello's Ensultate, straight from a national performance from Covent Garden in 1926.
And very short, tho it is, it is indeed a most memorable experience. And for good measure, we shall follow that with the death of Otello, taken from an electrical HMV of 1928, when Zena Tello was 52
Narration 5
Back in Italy, Zenatello opened in 1926/27 season at the Dalzere in Milan. But his career was now almost at an end. And after performances in Philadelphia in 1928/29, he was obliged to retire through ill health. He had always taken a particular interest in the Verona arena, since the first performance there, in which he had taken part. And during 1927 to 1929, he acted as impresario there. 20 years later, he was to secure Maria Callas, her first important Italian engagement at the Verona arena, on the 3rd of August 1947 in MA Giaconda.
For some years after his retirement, he taught singing in the USA, the late pawns being among his pupils. In addition to his musical activities, he was an ardent mountaineer and a very good horseman.
His beloved Maria Guy died in 1943, and this was a blow from which he never really fully recovered.
He died quite suddenly in New York on the 11th of February 1949.
We know already, what a bombshell Cavalleria Rusticana caused, when it heralds in the age of the Varismahova. This small part in the success, was a performance at the premiere of two great singers, a man and wife team of Roberto Stamnoi and Gemma Bellincioni, who we had mentioned in our very first tape.
Unfortunately, Stamnoi died before the gramophone was invented and I have often wondered what they must have sounded like together, to have caused such an effect on the public at that time.
Without doubt, Zenatello/Guy partnership exerted the same dramatic force as these earlier singers. I think that has been proved in the various reports I have recited earlier and if any doubt remains, then there is conclusive proof in the very last record that they ever made.
In 1930, their final appearance before the microphone, was in the finale of Bezzi's Opera, Carmen, and despite their age and the inhibiting surroundings of adult studio, we catch a rare glimpse of creative power at work, as the two great singers lose themselves in the drama just one last time and for posterity.