The History of Anton Dermota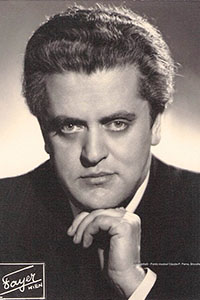 Born: June 4, 1910
Died: June 22, 1989
Slovenian tenor.
The company that assembled at the Vienna State Opera after the Second World War, was showing signs of unusual brilliance.
They were not to know it then, but it was to become as legendary as the Mallor regime that has been much mentioned during our survey.
The new names included Elizabeth Schwarzkopf, Lisa dela Casa, Senna Eurinak, Lubia Vellitch, Ingrid Siegfried, Hilda Goudon, Eric Coontz, and the tenor Anton Dermota.
Dermota, a Yugoslav, was born in Kropa, Slovenia in 1910.
He studied the organ and composition at Ljubljana and then singing with Elizabeth Rado in Vienna.
He made his debut in Vienna in 1936, in The Magic Flute.
A milestone for him, came that same year when at 26, he first met Bruno Walter, the first of several important conductors that were to greatly influence his life's work.
But it is to Weber's opera, Euryanthe, that we turn it to present his introduction.
Here is Adolar's Romance.
Adolar's Romance / Euryanthe / 1944 – Anton Dermota
Walter engaged him to perform the Mozart Requiem in Paris. A year later in 1937, whilst just a beginner at the Vienna state opera, he appeared in Don Giovanni, with Pinza as the don at the Salzburg festival under the baton of Karl Bohme.
His next Mozart role was Tamino in the Magic Flute, this time under Hans Knappertsbusch and then Belmonte in the seraglio under Josef Krips.
And this became part of that wonderful ensemble at the Vienna state opera that I have already mentioned.
He was to remain there for the rest of his career, although of course, he did make guest appearances in most of Europe's leading opera houses.
He was popular in concert and reader recitals, in which he was generally accompanied by his wife.
When the Vienna state opera was reopened in November 1955 (it had been badly damaged during the war) Dermota was given the honour of singing Florestan in Beethoven's Fidelio, under Karl Bohme.
A role he had already sung under Erich Kleeberg at the Cologne in Buenos Aires.
Here he is in another rare piece, Sylvain's Romance, from Lou Maillarts opera The Bellringers of Eremiten.
Sylvian's Romance / B-Eremiten / 1944 – Anton Dermota
Dermota's repertory was larger than one would normally associate with an artist renowned for his Mozart.
He undertook many Italian roles and the more lyrical German parts.
He sang the title role in Pfitzner's Palestrina and Lensky in Eugene Onegin, and in many records include some unusual material, as we've already heard, as well as the more popular arias, many of which he sang in the original language.
But we must take our leave of him in his beloved Mozart.
Don Giovanni. Dalla Sua Pace
Dalla Sua Pace / D-Giovanni / 1944 – Anton Dermota

The History as it was Recorded