The History of The Tenor Narrated
The History of Jacques Urlus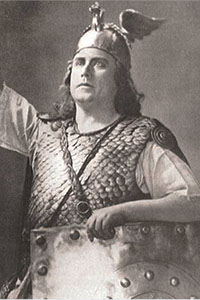 Born. January 6, 1867 in Hergenrath, near Aachen
Died: June 6, 1935 in Noordwijk, Netherlands
Dutch tenor.
Jacques Urlus was a Dutch dramatic tenor. His records of the music of Richard Wagner are considered to be among the finest ever made.
Urlus spent his early years in Tilburg and Utrecht where he worked in a steel mill and sang in a local choir.
When doing his military service, his voice was discovered by an Officer who offered to cover the costs for his vocal-training which, Urlus to his regret, was unable to accept since it would have left him without any regular income.
1892 was the turning point when Urlus met the director of the Dutch National Opera House. Without having received any regular vocal training he made his debut in Amsterdam, as Beppe in I Pagliacci on September 20, 1894.
Afterwards he was taught interpretation by Cornelie van Zanten, Anton Averkamp and Hugo Nolthenius.
As far as his vocal technique was concerned, he was largely self-taught!
In 1898 Jacques Urlus was invited to Bayreuth to restudy his repertory of Wagner operas in German (he had previously sung all his roles in Dutch), but he left Bayreuth prematurely and Siegfried Wagner did not re-engage him until 1914! Nevertheless, by the turn of the century he had become the leading heroic tenor at the Leipzig Opera House where he was contracted until 1914. During this period his fame started to spread. He appeared in Berlin, Vienna and London. In 1912 he made his debut as Tristan at the Met (the first performance was a nightmare for him because he had to sing despite a severe cold). In the following performances he was tremendously successful and also appeared as Adolar, Samson and Tamino.
He sang all his roles in at least three languages; Dutch, German and the actual original language! He was among those few Wagner singers who were able to preserve their international fame throughout the War years. In 1922 he returned to the United States with Hurok's German Opera Troupe, his comeback at Covent Garden took place in 1924.
At the age of 63, he appeared for the first time at the Teatro Liceo in Barcelona, as Tristan!
His performances at the Amsterdam Opera House were celebrated gala-events. He was one of the first singers at the Zoppot Wagner Festival where he was heard as Tristan opposite an outstanding cast including Helene Wildbrunn, Margarethe Arndt-Ober and Otto Helgers.
In Berlin he was not only celebrated as an opera singer but also as an accomplished concert singer.
He appeared in concerts conducted by Willem Mengelberg, Arthur Nikisch and Erich Kleiber among others.
When Jacques Urlus died in Noordwijk the Dutch Nation mourned for him like for a national hero.