The History of The Tenor Narrated
The History of John McCormack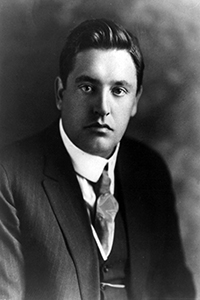 Born: 14 June 1884
Died: 16 September 1945
Irish tenor.
Still considered to be the standard by which all Irish (Celtic) tenors are measured, John McCormack had a long and much-honored career on the recital stage, the opera house and radio. His Victor and HMV records sold in the hundreds of thousands, and he even found his way into two films.
Born in 1884 to Scottish parents in the mill town of Athlone, Ireland, young John showed an early interest in music. When he fetched the coveted Irish singing prize in 1903, he knew where his future was to be. After studies in Italy he first sang in opera in 1906. In 1907 he became the youngest leading tenor at London's Royal Opera at Covent Garden, singing with the likes of Melba, Tetrazzini and others. He later ventured to America where he sang with the Hammerstein Manhattan Opera in 1909 and then sang periodically with the Metropolitan Opera, from 1910-18.
By 1912 he had become a major name on the recital stage, which was to be his natural habitat for the next 25 years. He sang all over the world, in large cities and small towns, and his Victor records only enhanced his fame. He numbered the most-famous musicians of his day as his friends and was known in many society and artistic circles as a jovial racounteur and loyal friend. The Vatican honored him with a peerage and title of Papal Count in 1928; Holy Cross gave him an honorary doctorate in 1917; the French government gave him the Legion of Honor in 1924 and Notre Dame honored him in 1933. Hollywood beckoned and he made a sound film entitled Song o' My Heart in 1929/30. He retired from the opera stage in 1923 and the recital stage in 1938. For many years he maintained homes in the USA and Ireland, notably Moore Abbey.
John "Count" McCormack died in September, 1945, in Ireland, of respiratory problems.