The History of The Tenor Narrated
The History of Francesco Vignas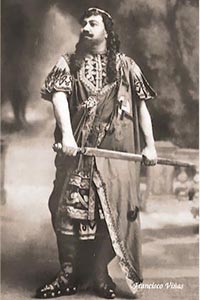 Born: 27 March 1863, Moià nr Barcelona.
Died: 14 July 1937, Barcelona
Spanish tenor.
Narrative 1
The greatest prize a singer can achieve in Spain, is to win the Francesco Vignas singing competition. This treasure prize is named in honored memory of one of Spain's most famous singers Francesco Vignas 1863 to 1933.
The very first time I ever heard of this singer, was through a comment by PG Hurst, in the old collector's corner of the gramophone. Which stated that when he, Hurst, had heard of Vignas at Covent Garden as Don Jose in Carmen, he thought him even better than Caruso had been. Knowing Hurst to be a devoted and keen Caruso admirer, this raised an eyebrow.
Hurst went on to describe a large find of rare records and continued, but perhaps the gem of the parcel was a chelish aida by Francesco Vignas, which I unhesitatingly rank as incomparably the very finest at the gramophone has yet shown us. This is a tall claim I know, but I doubt whether I've heard anything so completely satisfying.
Beside it, Zenetello's fine rendering seems simply amateurish and Carusos portamentos and vertimsimos almost vulgar. Yet this is no miniature performance but is full throttled and noble. Where it shines it so brightly, is in the absolute sincerity. The minute care with which every note and every phrase is weighed. A complete absence of any advantageous age and a tambre which despite the singer's Spanish origin is more Italian than the Italians. This is great singing in the strictest sense and a gem to be prized.
Narrative 2
After making a few early G&T's, Vignas recorded for the Italian phonotapaya company. Based in Milan, the debt owned by collectors to this small but progressive company, is enormous. Not only did they record most of the leading artists who appeared in Italy during the early part of the century, (some indeed recorded for no other company,) but they also recorded scenes from rare and unusual Operas, which were not part of the general repertoire.
When I was a younger man, the phonotapaya catalogue, which I possess, contained the most mouth-watering items imaginable. Little did I ever think that I would ever get to hear, let alone possess, most of them through the medium of the long-playing record. Here is just such a rarity. The vigorous Sopra Berta from Mierbiere's the Prophet, recorded on phonotapaya as was last cellist aida in 1907.
Narrative 3
Vignas was the first Spanish tenor to become a celebrated Wagnerian. So it is perhaps, appropriate to close by hearing him sing The Prayer from Tannhauser. It will also give us the chance, to hear him, from his last set of records made for Phonotapaya in 1914, when the singer was in his early 50s. This was seven years after the two records already heard. You will be hard put to notice any deterioration in the voice, a remarkable tribute to a man, who had been singing all over the world during that period.