The History of The Tenor Narrated
The History of Francesco Vignas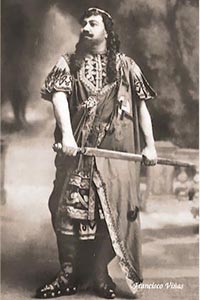 Born: 27 March 1863, Moià nr Barcelona.
Died: 14 July 1937, Barcelona
Spanish tenor.
Viñas possessed a powerful, heroic-tenor voice that was beautifully focused with great warmth, which made him well suited for a wide range of roles including Wagner in Italian. Viñas (1863–1933) began his studies at the Conservatory in Barcelona, where he made his début in 1888.
He quickly rose to great success in Italy and soon was engaged at opera houses around the world. He was especially loved at La Scala and was a popular member of the Metropolitan Opera from 1893–1897.