The History of The Tenor Narrated
The History of Miguel Villabella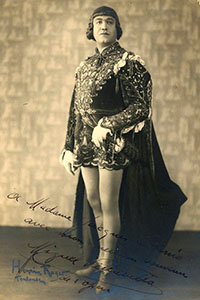 Born: 1892
Died: 28th June 1954
French tenor.
He was born in Bilbao.
His father, a well-known baritone throughout Spain, did not encourage Miguel to follow in his footsteps. Miguel was sent to study business and upon graduation he went to Paris as a business apprentice.
One day he was overheard singing in the street by none other than Lucien Fugère who immediately offered to give him lessons. After a few months he returned to make his professional debut at a concert singing a selection from Rigoletto (1927).
He returned to Paris and sang in military hospitals for wounded French troops. While in Paris, he continued his studies with Fugère and Isnardon (the teacher also of Rogatchevsky). He made his debut at the Opéra-Comique in 1920 as Spoletta.
He was successful in the title role of Messager's Fortunio and soon became one of Paris' most admired singers. This popularity led to further engagements both the Opéra-Comique and the Grand-Opéra.
He appeared in a variety of operas such as La Bohème, Le Roi d'Ys, Così fan tutte, La Traviata, Carmen, Les Pêcheurs de Perles, Roméo et Juliette, Tosca, Lakmé, Le Barbier de Séville, Manon, Mireille, La Dame Blanche, Faust, Werther and Rigoletto.
He retired in 1940 and continued to be active as a teacher in Paris until his death.