The History of The Tenor Narrated
The History of Franco Corelli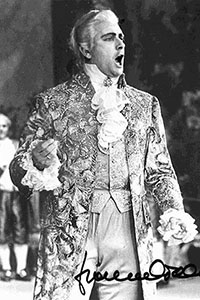 Corelli, Franco
Born: 8 April 1921
Died: 29 October 2003
Italian tenor.
He was noted for his charismatic stage presence and physical attractiveness as well as his powerful voice.
Throughout the 1960's, Corelli's position as one of the greatest Italian tenors in the world was secure. With his unusually dark vocal color and baritonal lower range he infused even the warhorses of Neapolitan songs like 'O Sole Mio' with freshness and authenticity, while his huge and electrifying top notes moved audiences to roaring delirium.
He was a galvanic stage animal, and a very handsome man. In Italy, he was called "Golden Thighs." Every Corelli performance was a little like a bullfight.
Despite his virile, heroic stage presence, Corelli suffered from terrible stage fright. Corelli retired from the stage in 1976 at the young age of 55. At the time, there was much regret that he had never undertaken the role which many believed would have been his greatest, Verdi's "Otello," which he was rumored to be preparing.
In light of his crippling stage fright, the huge demands of this role may have scared him into retirement a little early, but by the mid-70's the voice was in decline, no longer backed by the sheer animal strength that had, in a sense, created it.
Fortunately Corelli left many commercial recordings and many more live ones. Among the greatest are the title part in Donizetti's "Poliuto", several "Trovatore" performances, and, with Tito Gobbi, a wonderful performance of Puccini's wild-west opera, "La Fanciulla del West".
In purely vocal terms—and in terms of his tremendously exciting stage presence—he has not been equalled by any tenor.