The History of Franco Corelli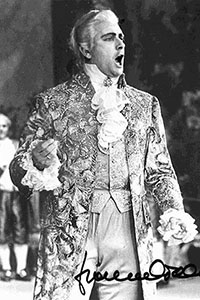 Born: 8 April 1921
Died: 29 October 2003
The Italian tenor Franco Corelli was born in Ancona on the 8th of April 1921.
He studied at the Lessie Musicale Pesaro, and made his debut in 1951, at Spoleto in Carmen. Appearing subsequently in various Italian theatres.
In 1954 he sang at La Scala for the first time, he was immediately successful. An enormous favourite there, returning regularly until 1965.
He was first heard at Covent Garden in 1957, at Berlin in 1961, and at the Vienna State Opera in 1963.
After his debut at the Metropolitan, in 1961, in il Trovatore, he was heard there regularly a year after year.
The last major appearances appear to have been at the Paris and Vienna operas in 1970, and the open air, Verona arena in 1970 and 1972.
Here he is, in part, of the great duet from Verdi's Force of Destiny, where he's finally goaded into a dual, despite all efforts to keep to his religious vows.
This extract also gives us the rare opportunity to hear that mighty baritone Jan Jacob Golgi, whose short career left us with so few records.
Duel Scene w Guelpi / Forza / 19xx – Franco Corelli
In her book, "Galina", Galina Vishnevskaya, gives a vivid account of his magnetic personality and the stunning power of his voice, when she sang at the famous Scala production of Puccini's Turandot, along with Corelli and Brigitte Nielson.
Well-illustrated in this 1966 recording.
Non Piangere Liu / Turandot / 1966 – Franco Corelli
John Steane, discovering his recordings in the great tradition comments.
Another of those best voices is certainly Corelli's.
It is perhaps, the most distinctive and exciting of its time since Lauri Volpi. Who may resemble in several respects.
The repertoire is similar and more notable in recordings, is a likeness of timbre and vibrancy.
Corelli was unusual among modern singers, in having a quick vibrato, less prominent in later years, as with Lauri Volpi, Bonchi and Delucia.
But quite marked in his first records and adding a rare dramatic flavour.
It was a voice, that in opera house, one would drink and want more of.
Quite so.
And I think we can hear a chorus of approval from this final extract, one of those rare and wonderful moments, when we can actually enter the theatre and listen in to the performance.
In this case, at La Scala on the 7th of December 1960.
Donizetti's Poliuto is being presented with Maria Callas, the great Diva's last role there.
Corelli is the hero, and we hear him in a short extract direct from the stage, and people like us, listening week after week, month after month, usually alone, to our treasured records, and perhaps wondering if there's anyone left out there still enjoying the sound of a fine voice bringing forth, are hardened to discover that we are not alone after all.
Sfolgoro Divino / Poliuto / 1960 – Franco Corelli

The History as it was Recorded