The History of The Tenor Narrated
The History of Jussi Bjorling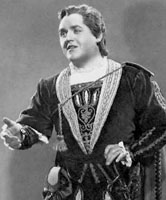 Bjorling, Jussi
Born: 2 February 1911
Died: 9 September 1960
Swedish tenor.
Jussi Bjorling was one of most nighly regarded opera singers of the 20th century. Björling was the only non-Latin tenor to rival the Italian dominance of the opera world.
Björling was born in Borlänge. He studied singing with his father, an accomplished vocalist, and made his debut public appearance at the age of five with the Björling Male Quartet. The group performed in concerts throughout Sweden and the United States for ten years.
Björling made his professional operatic debut as the Lamplighter in Manon Lescaut at the Royal Swedish Opera in Stockholm in 1930. This was soon followed by Don Ottavio in Mozart's Don Giovanni, Almaviva in Rossini's The Barber of Seville and Arnoldo in Rossini's William Tell. This in turn led to engagements in Europe, Chicago, and Buenos Aires. Björling made his American concert debut in a Carnegie Hall in 1937; the following year, he made his debut at the Metropolitan Opera as Rodolfo in La Bohème.
Björling went on to become one of the principal singers at the Metropolitan Opera during the 1940s and 1950s (with an interruption during World War II). He sang nearly every tenor role in the French and Italian repertoire. Björling also sang in the concert hall. In December, 1940, Arturo Toscanini invited him to sing the tenor part in Beethoven's Missa Solemnis, a recording of which exists.
Björling was much admired for the silvery tone of his voice, his innate musicality, and his seemingly effortless technique. His main weakness was considered his limited acting abilities.
On March 15, 1960, Björling suffered a heart attack before a performance at London's Royal Opera House, Covent Garden; although he performed that night, he was fatally weakened, and he died six months later in Sweden at age forty-nine.