The History of Jussi Björling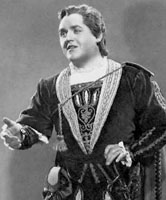 Born: 5 February 1911
Died:  9 September 1960
Swedish Tenor
Johann Jonathan Björling, Jussi to opera lovers, the world over, was born into a family of great musical talent.
His father was a tenor, who had sung Rodolfo in la Boheme, at the Metropolitan Opera house at the turn of the century.
His mother, a pianist, and his two elder brothers, also tenors.
He received his first singing lessons at the age of five, and toured America from the age of six with his father and brothers, as a member of the Björling male voice quartet.
He studied at the Stockholm Royal Conservatory of music with Joseph Hislop and graduated with a comprehensive musical education and made his first stage appearance in Manolescu in July 1930, in a minor role.
His debut in a major role, was the following month as Donatello in Don Giovanni.
Carefully nurturing and husbanding his voice in these vital every stages, he sang only in Scandinavian until 1935, when he made his first important foreign visit, singing Radames in Aida, at the Vienna state opera, with Da Sabbatia conducting.
Although he sang in Swedish, whilst the rest of the cast sang in Italian, a brilliant start to an international career was made.
So, to our first record, which I am sure, will need no introduction.
La Donna E Mobile / Rigoletto /19xx – Jussi Björling
His Covent Garden debut was in the summer of 1938, as Manrico in Il Trovatore.
And the same year saw his debut at the Metropolitan Opera, where he was to sing regularly until his untimely death on the 9th of September 1960. And what a great Metropolitan career it was, he began with La Boheme on November 24th, 1938, and continued with il Trovatore.
This was to be a Björling warhorse, just like Lauri Volpi. And the later performances with Milanoff and Warren have become legendary.
To commemorate the 25th anniversary of the death of Puccini, the metropolitan brought out a new production of Manolescu, the second night of the season of 1949/1950, and Björling was a Degree.
He was also chosen to help inaugurate the regime of Rudolf Bing in 1950, with the first Don Carlo to be heard in New York for more than a quarter of a century.
Robert Merle was a Rodrigo on that occasion, and this recording dates from that very season.
Dio Che Nell Alma w Merrill / D Carlos / 1950 – Jussi Björling
Björling was a prolific recorder and he left over 300 discs.
His first record was made during his student days, when to eat out his money, he sang vocal rephrase with a dance band, under the name of Eric Oda. His first record as Jussi Björling was "For You Alone".
Most of his early records from 1930 to 1935 were in Swedish and consisted mainly of Swedish Folk songs and ballads.
As his career developed, he began in 1936 to make original language recordings for the international market.
His recording career lasted right up to the time of his death, and so spanned the early electrical 78 days and into the age of stereo LP recordings.
Here is a 1938 recording of Cujus Animam, from Rossini's Stabat Mater.
Cujus Animam / S/ Mater / 1938 – Jussi Björling
Björling was a man of surprising contradictions. Unquestionably a superb artist with impeccable style and taste, he could be difficult at times.
The mere physical effort of getting him onto the stage, or into a town, or for that matter, to travel – put managers through hell.
But once on the stage, or in the recording studio, he never cheated. His methods were invariably scrupulously legitimate.
He loathed rehearsing, (so did many other famous singers of the past, by the way) and never vocalized before going onstage.
While his natural taciturnity made interviews with him, almost impossible.
Like many great artists, he hated travel. And this, probably accounts for his long stay at the Metropolitan and his rather rare visits abroad.
Yet despite his temperament, he seems to have remained a man of genuine modesty.
For his next recording, I have chosen a personal favourite of mine.
Ingemisco from Verde's Requiem Mass
Ingemisco / R/Mass / 1938 – Jussi Björling
I have already commented on Björling's reluctance to travel. So, it was a very special event, on the night of 26th of November 1952, when he appeared at St. Andrews Halls in Glasgow.
My center balcony ticket cost me 10 and sixpence, and I am looking at the programme as I write.
Three operatic items including Ingemisco and eight songs. That was the official programme.
Fortunately, he sang nine encores including a spellbinding "Jeanie with the Light Brown Hair". That brought the house down.
Of all the many famous singers I have seen, Björling's voice was only one of two, the other being Russian baritone Andre Ivanov, that seemed smaller than their records suggested.
Criticism was sometimes leveled at Björling's records, that they were unfailingly loud, and a little soft singing was in evidence.
Well, that may perhaps be so. But on stage, he revealed a beautiful lyric tenor voice, but one loaded with overtones which gives one the impression of vibrancy and power.
When recording, these overtones always make the voice seem bigger and stronger than it really is.
Thinking back, I recall how astounded I was, at the lyric quality of the voice, beautifully clear and resonant and although, not large, a voice of great carrying power, whose softest tones could be heard with clarity all over the hall.
To conclude then, I should like to try and give an illustration of exactly what I mean.
Compare the sounds heard in two songs, the first "I Bless Every Hour" sung in English and then Tosti's wonderful "L'Alba Separa da la Lucia Ombre".
Surely Irvin Colladen was right when he said that Björling will linger long in memory, as one of the shining examples of operatic artistry produced between 1930 and 1960.
There was a shine in his sound from the first, and he was musically exemplary in everything he did.
He had a beautiful gift and he used it not only well, but wisely.
I Bless Every Hour / (Sjoberg} / 1952 – Jussi Björling
L'Alba Separa / (Tosti) / 1948 – Jussi Björling

The History as it was Recorded