The History of The Tenor Narrated
The History of Léon Escalaïs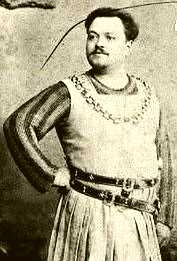 Born. August 8, 1859
Died: August 25th, 1940 Aude Cuxac
French tenor.
Born Léonce-Antoine Escalaïs, he commenced his vocal studies as a young man at the Music Conservatory of Toulouse, where he won prizes for singing and opera performance. He continued his studies at the Paris Conservatory with two well-known teachers of the day, Crosti and Obin, prior to making his professional debut at the Théâtre du Château (Paris) in 1882, in Sardanapale by Jean-Baptiste Duvernoy.
Escalaïs was offered a contract by the Paris Opera, which he naturally accepted. His first appearance with the Paris Opera at the Palais Garnier occurred in 1883, as Arnold in Guillaume Tell. Two years later, he sang for the first time at the Théâtre de la Monnaie in Brussels, and he made his debut at La Scala, Milan, in 1888. He left the Paris Opera in 1892 after a dispute with management and accepted engagements in Dijon, Lyon, Marseille and Italy. Among the taxing roles which he undertook were Eléazar in La Juive, Robert in Robert le diable, Raoul in Les Huguenots, Vasco in L'Africaine and the title parts in Le Cid and Sigurd.
Between 1892 and 1908, Escalaïs sang more often in Italy than he did in his native land. He added to his repertoire such Verdi roles as Manrico in Il trovatore, Radamès in Aida and the title part in Otello.
Escalaïs rejoined the Paris Opera in 1908. The following year, he sang as a guest artist at the New Orleans Opera House. These would be his only performances in the United States. He retired from the stage in 1912 while still in good voice and was appointed to the Legion of Honour by the French Government in 1927. In retirement, he gave private singing lessons. One of his students was José Luccioni, an outstanding dramatic tenor of the 1930s and '40s. Escalaïs died in Aude Cuxac during the Second World War, aged 82.
Despite the great tenor's many successes during his career, he had been handicapped on stage by a short and dumpy physique, which was often at odds with the heroic stature of the characters he was called on to portray. But the quality of his voice made up for any physical drawbacks. It was a clarion instrument, intensely bright in tone, with gleaming high notes and remarkable agility. This type of tenor voice no longer exists, which makes the recordings that he cut in Milan in 1905–06 of considerable interest to musicologists and vocal students. These recordings, made originally by Fonotipia Records, are available today on CD reissues. Both the Preiser and Symposium companies have released CDs devoted to Escalaïs.