The History of The Tenor Narrated
The History of Tino Pattiera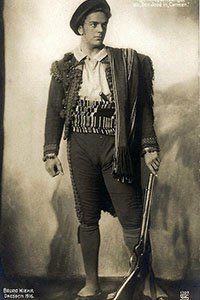 Born:27 June 1890
Died:24 April 1966
Italian Tenor
Narrative 1
They called them Caster and Pollocks, the inseparable twins.
They lived together, they studied together, helping and criticizing one another, in the preparation of roles, and finally they gave a concert together, with one conducting and the other singing. And both are included among the eight famous tenors, we're at present discussing.
The conductor of the concert was the Austrian tenor, Richard Tauber and the singer was a Yugoslav Tino Pattiera.
Firm friends then and for the rest of their lives. And very different lives they became, as we shall see.
Lets study these friends together then and follow them through their careers from the start.
Tino Pattiera was born in Cavtat, a small but very pleasant seaside village not far from Dubrovnik or Aragusa as it was called in 1890, when Tino was born, the fourth of eight children.
He went to school in Ragusa, and it was while traveling home alone on the weekend coach, during a rain storm, at the age of 15, that he passed the time singing and experienced so much pleasure, as suddenly, he had a desire to become a singer.
At Zagrib University he was heard by a musician, while singing along with other students, and was told that he had gold in his throat and was urged to take up singing seriously. Tino didn't need to be told twice.
He travelled to Vienna for study, despite his father's protests and found a good teacher, and a sponsor, an elderly Countess greatly interested in the opera.
His mother also backed him to the hilt and actually opened a small tearoom in her own home, to help to pay for his studies.
After two years, in the spring of 1914, he auditioned for a leading agent and received the unbelievably good news, that Dresdin wanted him. The attendant there, Count Zibar, being quick to spot a new talent, when one appeared on the scene.
But again, those dreadful shots in Zarayevo which had so affected Ansel's career, took their role, and Tina was required to enlist. The country was at war.
After 18 months duty, the Dresden opera managed to obtain his release and so it was, that in March 1916, Tino Pattiera made his debut right at the top in Dresden, as Monrico in Il Trovatore, with no less than Margarita Zimms as his partner. Burian's successor had arrived.
Let's introduce him now with another of his Dresden colleagues. Michael Bohnen, La Boheme.
Narrative 2
The King of Saxony was greatly pleased with his new tenor find, Tino Pattiera and before he was dethroned by the revolution of 1918, appointed him a Kamasanger.
Art survived the difficult war years, German defeat, and the following economic misery.
The opera was there, and the public streamed in whenever the names of Pattiera or Tauber were on the programme. For Pattiera during this time, Dresden had become his base, the home of his choice.
He was vaunted in this city, known to all as their Dino, even to the street cleaners who never went to the opera. Panic set in when Dr Felix vein Gardner of the Vienna state opera, got him to sign a contract for 20 evenings in the season. And the Berlin state opera wanted him too, but he was inexhaustible, he sang just as he had planned in the coach going home, to little Cavtar, and was happy to give people pleasure in doing so.
From 1924 to 1929, he was engaged with Berlin and Dresden at the same time and often raced at night, in his fast car, from one city to the other.
In 1921, things became really serious. Chicago had got wind of the new find and the engagement was to last until 1923, the Dresdner's were worried.
His debut was in Tosca on the 15th of November 1921, with Raisa and Baklanoff, then in Aida with Raisa and Rimini, and finally Boheme with Galli-Curci, alternating with Claire Tucks.
He was successful in Chicago. He was also good financially, but money was never a deciding factor with him. The atmosphere of the United States did not agree with him. Like his Dresden predecessor Karl Burien strangely.
And the yearning for Dresden was all the stronger, as in 1921, he married the young Hedwick Countess Schaffgotsch, a niece of his Vienna benefactress.
Naturally all Dresden gave the returning singer a jubilant welcome and were pleased that he renounced a second year in Chicago.
Here are some press reviews of his Chicago debut:
The new singer has a voice that places him in the front rank of the lyricists, even if his voice were not what it is, he would be a valuable acquisition to the Chicago organization.
For none of us is so completely lost in the contemplation of the music side of opera, that we do not experience a thrill of pleasure, when we find a singer, either man or woman, who has the physical charm that enables us to visualize him in Herwig mold.
The newcomer, Pattiera, is physically the handsomeness and most striking Mario cava Dose ever seen in these parts. His voice is soft and gracious, smooth in the lyric passages and of a glowing intensity in the dramatic.
Even his singing of the famous Aria, who had followed the standard now set for it, showed an individuality and youthful sincerity, which deserved the storm of applause, which answered it.
Narrative 3
Now firmly established as an operatic hero, Pattiera sang all over Europe, from his Dresden headquarters as a guest artist.
The Italian operatic Renascence, taking place in Germany at this time, stems largely from Fritz Bushes regime in Dresden. And he was to be found singing in Konigsberg, Vienna, Berlin, Hamburg, and Budapest, all during the 1920s.
He was a member of the Berlin state opera from 1926 to 1930, singing in Cavalleria Rusticana, Pagliacci, Rigoletto, Aida, La Fordidel Rostino, Trovatore, Othello, Boehme, Carmen, Mass ball, Fradiavalo, Andrea Chinais and Ariadne there.
And he was a guest artist at the Vienna state opera in seasons 1920, 1923, 1924, 1926 and 1932. The baptism of the young Yugoslavian Prince in 1923, gave him a rare opportunity to return home, to sing at a festival in Belgrade, and a chance to visit his parents in Cavtar.
Like his friend Richard Tauber, he deviated occasionally into the world of operetta, (Vetal student in Berlin for example) and as he was extremely handsome, the budding film industry came after him.
Fradiavalo was made, but Tino didn't like the medium, although he was to make another two films, Vetal Student and A Night in Venice.
All during this time of course, he was still singing regularly at Dresden.
Here is the review of Andrea Chinai at Dresden in January 1925.
After the performance at the invitation of the general intendant, we met the amicable Maestra Giordano for a short sociable exchange of opinions. The composer declared in due course; he could hardly remember having experienced such a capital performance of his work. This was certainly more than the customary few polite words.
The performance was really a perfect ensemble achievement, and at the same time, rich and individual distinguished factors. One says Chinai is made to offer Pattiera yet another large fine challenge. And in fact, he has portrayed his poetic hero with ideal command of style, gentile and warmly felt in acting, and was consummate shading in singing.
Further, he added Mayte Zina Mia, Amanda Lena at his side, whose true belcanto would have charmed the most spoiled Italian, without counting the captivating grace of her appearance in acting. And Plaska from great artistic experience, created his Gerard with a really vehement power of expression.
The teamwork of these three artists alone, made this an evening never to be forgotten.
Narrative 4
Tino Pattiera had three other outstanding roles near the end of his career at Dresden.
Ovaro in Verdi's Force of Destiny with Schicksals and Liszt, Hermann with Pete Dam with Zinemaia and Tannhauser, in which he was directly compared with Bourian and Slezak.
Time was now running out for our singer. The Second World War found him still at Dresden, and when he became ill, after having to wait repeatedly in bitter cold for tram cars, (his petrol allowance kept running out) he quietly resigned from the stage.
He went to Prague where he was well known and had many friends and when it was known that he was giving instructions, so many pupils turned up, but some had to be turned away. This kept him busy all during the war.
As a known German artist, he must have dreaded the arrival of the Russians. He could not return to Dresden, everything he owned there had been burnt to a cinder, during the notorious allied blitz of the city on February the 13th 1945.
He received a call from the Academy of Music and acting in Vienna, and the circle was complete. In Vienna, he had studied and as professor, he returned.
In between, lay 35 years behind the floodlights, a dream come true for the little Yugoslavian boy. However, things were tough in immediate post-war Vienna and as he grew older, his health deteriorated.
Unfortunately, his fortune was frozen in Slovik, occupied Germany. And had a struggle to make ends meet. On his 70th birthday, he was awarded a pension by the German Federal Republic, which helped.
He was now retired and spent most of his days playing cards, with his cafe friends. He often cursed this passion, to which he was hopelessly addicted, in mitigation he would recite his father even on his death bed played cards with his friends.
And he was a great football fan, never missing a match of Vienna Rapid.
It was only after 10 years in Vienna; he was able to visit Cavtar once more and what a sorry sight greeted him. Instead of a large and happy family, he found his brothers and sisters in strange circumstances and people had been quartered in his parents' house, who took little care of his property.
He had greatly altered and extended the house for his parents.
At every step he took in the village, he recognized his furniture and carpets. Things had been very rough indeed in Yugoslavia. He was glad to return to Vienna and was happy there until 1966, when he suddenly booked a flight to Cavtar, there on the 21st of April, one of his sisters died.
And three days later, on the 24th, Tino Pattiera himself died aged 76.
He was not a prolific recording artist, like his friend Tauber.