The History of The Tenor Narrated
The History of Luciano Pavarotti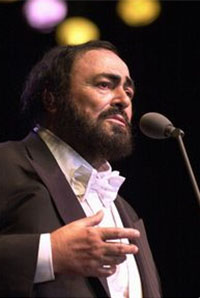 Born: 12 October 1935
Died: 6 September 2007
Italian tenor.
Narrative 1
Glasgow, European City of Culture for 1990, what excitement, Pavarotti was to appear on the 16th of May.
The scramble for tickets began in October 1989, and unless you got your name in early, you stood little chance of obtaining one.
I applied immediately and was fortunate enough to get a couple.  Delivered in February.
What's in a name? Everything it seems.  I had heard Lori Volpi, Skeepa, Vina Gradov, Bergonzi, Distefano, Anjzhaparidze and others with room to spare, now you might have to pay £300, to get a black-market Pavarotti ticket.
Such is the power of media produced hype, for Pavarotti is one of the few singers to break through the undefined, but real dividing line, between purely operatic fame and mass appeal.
Pavarotti was now 55 years of age, but I must say, he was in splendid voice.
One finds that, as a singer gets older, he usually develops more bad habits.  Pavarotti is perhaps exaggeration; the accents are heavier and become more pronounced.
Otherwise, the silvery timbre, the honey messa di voce, the long-held notes are all still there.
King of the high C's, he liked to be called.  Well, no high C's here, in Glasgow.
And indeed, it is interesting to note, that in the much-publicised World Cup televised tenor concert with Domingo, Carreras, and Pavarotti, on the same platform, none managed to produce the much-vaunted note.
Altogether Pavarotti sang eight arias and three songs, in the official programme, we had to stamp and applaud, long and loud for our encores, four in all, ending with a superb Nessun Dorma.  Like all the other concerts, a night to remember.
Here he is, in Donizetti, the composer, Pavarotti thinks best for his voice.  The Daughter of the Regiment.
Narrative 2
Luciano Pavarotti was born in Modena Italy in 1935, of poor parents. However, his father, a baker by profession, was an avid opera fan and a tenor himself. And he owned a collection of gramophone records.
Mostly of all the great tenors of the past, and of his day. So young Pavarotti got to hear the opposition at an early age.
For his father would compare his rendition of any piece, with that of an older singer.
Yes, but not as good as Caruso's version.
Yes, but have you heard Lori Volpi's.
Fine, but Guile's is better.
Pavarotti parodied these comparisons, when he sent a telegram to his father, on his Metropolitan debut. Fabulous reception at the Met last night, but not as good as Caruso's.
Immediately his father discovered, his son had a fine voice, he introduced him to the local choirs that he himself was a member of.
One of them, the Rossini chorus of Modena, won first prize at the international choir festival, at the Longolin in Wales in 1955, when Luciano was 20.
It was the proudest day of my life, states Pavarotti, and sights this event as a catalyst that decided him to become a professional singer.
His first lessons was with a well-known local teacher, Arrigo Polo, six months of relentless scales and exercises followed, to good effect, for Pavarotti began to feel his voice much more secure.
One of his teachers pet hates, was the use of bad portamento, the habit of sliding into a note, rather than hitting it directly. And as a result, Pavarotti has avoided this all through his career.
His next teacher was Itori campo Galgiani, a celebrated professor who had taught Bargonzi, Tebaldi, and Scotto among others.
He was with Campo Galgiani for five years, the first two of which, he shared the thrice weekly journey from Modena to Mantua, with another pupil, Marella Frene.
It must be said here, that during his last two years of study, Pavarotti was in a state of acute depression, because of a lack of professional openings.
He had been studying for six years and living at home, because this was the only way he could afford his lessons. A part time job as an assistant schoolmaster, which he hated, at a salary of only £5 a month, was soon replaced by a somewhat better one as an insurance salesman, which at least provided him with some pocket money.
His anxiety about his future, brought on a form of vocal disease and he had to live in total silence for two weeks, to disperse a fibroid module in his throat.
He was then encouraged to enter a singing competition in Reggio Amelia, which he won and more importantly, guaranteed him a chance to make his operatic debut.
And so it was, that in April 1961, Luciano Pavarotti made his debut, at Reggio in Puccini's, la Boheme.
In 1972, he recorded opera for Decca, under Von Karajan, his Mimi was his travelling companion of those early lessons in manta, Marella Frene.
Narrative 3
Now came the usual appearances in the provinces. Culminating in a Rigoletto, at Palermo, under Serafin, and appearances in Amsterdam and Dublin.
Dublin turned out to be an important turning point in Pavarotti's career.
For a performance there, was attended by Joan Ongpin, then artistic administrator of the Royal Opera, Covent Garden, who was searching for a young Italian tenor to cover for Giuseppe Distefano. Who at that time, had a history of last-minute cancellations.
She approached Pavarotti and offered him the final performance of la Boheme if he would cover DiStefano for the rest.
Pavarotti agreed and was given his big break, when Distefano appeared in the premier and called off on all the rest but one, and he didn't complete that.
Pavarotti sang in the rest and scored a triumphant success. This was to be a favourite Pavarotti role, and he chose it for his debuts at la Scala, 1965, San Francisco 1967, the Metropolitan 1968, and the Paris opera 1974. This success at Covent Garden, marked the beginning of Pavarotti's International career.
He was engaged to sing in In Dominio at the Glenburn Festival, which turned out to be a huge success. And was asked, by Joan Sutherland, if he would join her and her husband, the conductor, Richard Boyajian, in a 14-week tour of Australia, in 1965.
In the event Sutherland and Pavarotti first sang together in Miami, his American debut. Which proved so successful, that he remained thereafter a faithful visitor to the Miami operas annual winter season.
And so, was formed, that wonderful partnership, that was to thrill the world for years to come.
Narrative 4
After his Australian success, Pavarotti was now ready for his push to the very top of his profession.
La Scala and Vienna in 1965. Further appearances with Sutherland in Traviata and Somnambule at Covent Garden and in 1966, the la Scala revival of Bellini's il Caviletti, Ae a mondecke, Romeo and Juliet, where Pavarotti sang Tabaldo, a part traditionally taken by a mezzo soprano, in what is known as a trouser role, where a female plays the part of a male.
A common occurrence in early operas. His San Francisco and Metropolitan debuts have already been mentioned.
Then there was a historic performance of Verdi's Requiem at la Scala in 1967, under Van Karajan to commemorate the 10th anniversary of Toscanini's death. A role that helped Pavarotti achieve international stardom, was Tonoi in Donizetti's opera, the Daughter of the Regiment, la fille du Regiment, which he first sang with Sutherland at Covent Garden in 1966 and then at the Metropolitan Opera in 1971.
Certainly, most tenors would steer well clear of this role, or else they might find themselves singing, A
h! Mes Ami, quel jour de fete, which contained no less than nine high C's within a single line.
Narrative 5
Pavarotti, like Krauss and Vanzo, was very careful in his choice of roles.
Nothing was considered that might cause damage to the voice. During the sixties, he concentrated on the more lyrical operas, Somnambule, Favourite, Eliseev Damore, Palliate, Rigoletto, Butterfly, Boheme, and the Daughter of the Regiment.
He refused Tosca on Distefano's advice, because the dense orchestration of this opera would have compelled him to push and force his voice, to a then, dangerous degree.
When asked which is his favourite composer, he replies, I like Verdi best, but my voice likes Donizetti.
During the 70s, Pavarotti began a gradual expansion into spinto roles.
Around 40, he tackled Louisa Miller, 1974, Trovatore 1975, and Giaconda 1979. The first spinto role he sang, which became his greatest favourite, was Ricardo in Verdi's the Masked Ball, first at San Francisco in 1969 and then a stupendous success at the metropolitan.
Into the 80's came Aida, again at San Francisco for the first time in 1981 and Turandot.
So, for his two spinto arias, I've chosen the Ma Se M'e Forza Perdette, from his favourite spinto role, Ricardo in Verdi's opera, the Masked Ball.
Then in an aria, Giordano's Andrea Chinai, I too, once was a soldier, he tells his accusers, at his trial before the dreaded committee of public safety.
All to no avail of course because Robespierre himself signed the death warrant. For this was a true story.
Narrative 6
Most unexpectedly perhaps, Pavarotti considers Mozart to be the greatest composer of them all.
His great success at Glenburn, in in Domineo, led him to choose this opera for the opening of the Metropolitan season of 1982/83 and he sang it at the 1983 Salzburg Festival.
Like all Pavarotti's adventures, his expansion into recitals began slowly. They were greeted with so much acclamation, that his agent felt the time had come to try for the jackpot.
A nationally televised solo recital, live from Metropolitan and relayed at peak viewing time.
Pavarotti was terrified and described it as the single most nerve-wracking occasion of his career.
It was a great success of course, and so the legend began.
Soon the huge frame was seen, handkerchief in hand and concerts held in baseball grounds, football stadiums and the great arenas all over the world.
And so, we are back to Glasgow 1990, just another concert for the man everyone wants to hear.
Mention Vanzo, and you'll be lucky to sell a ticket, mention Pavarotti and you might be injured in the stampede.
And the programme alone will cost you £5 pounds, once his total month's pay as a part-time schoolteacher.
After his performances, he likes nothing better, than to eat. He does a lot of cooking himself, for he is an excellent cook.
No one seems to have yet dared to ask him his weight, and it has never been recorded.
He freely admits that overeating is his great weakness, for despite being a strong-minded person, he seems unable to rise from the table.
In an interview when asked if he would change anything, if he could, after such a long and successful career and phenomenal popularity, he sighed 'Just my size'.
Never mind Luciano, we love you just the way you are.