The History of The Tenor Narrated
The History of Luciano Pavarotti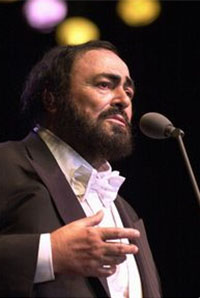 Born: 12 October 1935
Died: 6 September 2007
Italian tenor.
Pavarotti was born in Modena, Italy, on October 12, 1935, the first child and only son of a baker.
As a boy, sports occupied much of his time. In fact, he earned his first local fame as a member of the town's soccer team, excelling at the game he has followed passionately ever since. He first sang in the Modena chorus with his father, a fervent lover of opera and gifted amateur tenor. When the chorus won first prize in an international competition, the youngster was hooked.
His debut came on April 29, 1961, as Rodolfo in La Boheme, at the opera house in Reggio Emilia. That success led to engagements throughout Italy and the World, where he conquered audiences in Amsterdam, Vienna, Zurich, and London. His American debut came in February 1965, in a Miami production of Lucia di Lammermoor with Joan Sutherland, the beginning of what would become their historic partnership. Debuts in La Boheme, at La Scala, San Francisco, and New York won the hearts of fans around the world.
But it wasn't until February 17, 1972, that the Pavarotti phenomenon was born, in a production of La Fille du Regiment at New York's Metropolitan Opera. Responding to Pavarotti's aria containing nine effortless high Cs, the audience erupted in a frenzied ovation, and the young tenor's reputation soared into the stratosphere.
Long associated with London/Decca Records, his recordings are consistent best sellers, and include collections of arias and recital programs, a live concert from Carnegie Hall, and anthologies of Neapolitan and other Italian songs. The most recent is Verdi's Il Trovatore.
His frequent television appearances in performance as well as in documentaries and on talk shows continue to add to his musical renown. His performance as Rodolfo thrilled America in the first Live from the Met telecast in March of 1977, which attracted one of the largest audiences ever for a televised opera. And from that same stage, he and Plácido Domingo together celebrated their 25th anniversaries with an Opening Night Gala performance in the fall of 1993.
He consistently draws record-breaking audiences to sold-out arena concerts in many countries and shares his music with huge audiences in the great public parks of the world. His televised concert in London's Hyde Park, in the presence of Charles and Diana, the Prince and Princess of Wales, was the first concert in the history of the park featuring classical music and drew a record attendance of some 150,000 people. In June 1993, more than 500,000 fans gathered to enjoy his performance on the Great Lawn of New York's Central Park, while millions more around the world watched on television. The following September, singing here in the shadow of the Eiffel Tower, he thrilled the hearts of an estimated 300,000 music lovers.
Maestro Pavarotti is also dedicated to the development of the careers of young singers, and conducts standing-room-only master classes at conservatories around the world. In 1982, he initiated an ongoing international vocal competition culminating with prestigious final performances in Philadelphia. The second competition in 1986 coincided with the 25th Anniversary of his career. To celebrate, he brought the winners of that competition to Italy for gala performances of La Boheme in Modena and in Genoa that resulted in his historic visit to China, chronicled in the film Distant Harmony.
In 2002 Pavarotti split with his manager of 36 years Herbert Breslin. The breakup, which was acrimonious, was followed in 2004 with the publication of a book by Breslin entitled The King & I, seen by many as sensationalist and largely critical of the singer's acting (in opera), his ability to read music and learn parts, and of his personal conduct, although acknowledging their mutual success. In an interview in 2005 with Jeremy Paxman on the BBC, Pavarotti rejected the allegation that he could not read music, although acknowledging he sometimes had difficulty following orchestral parts.
He received Kennedy Center Honors in 2001 and currently holds two Guinness World Records: for receiving the most curtain calls — at 165 — and for the best selling classical album (this album is In Concert by The Three Tenors and is thus shared by fellow tenors, Plácido Domingo and José Carreras).
In 2003 he released his final compilation, Ti Adoro, which has Pavarotti singing in more of a "popera" style.
On 13 December 2003 he married his former personal assistant, Nicoletta Mantovani, with whom he already had a daughter, Alice. He started his farewell tour in 2004, at the age of 69, performing one last time in old and new locations, after over four decades on the stage.
Pavarotti gave his last performance in an opera at the New York Metropolitan Opera on March 13, 2004 for which he received a 12-minute standing ovation for his role as the painter Mario Cavaradossi in Giacomo Puccini's Tosca. On December 1, 2004, he announced a 40-city farewell tour to be produced by Harvey Goldsmith.
On February 10, 2006, Pavarotti sang "Nessun Dorma" at the 2006 Winter Olympics Opening Ceremony in Turin, Italy. The final act of the opening ceremony, his performance received the longest and loudest ovation of the night from the international crowd.
Shortly after he was diagnosed with pancreatic cancer.
Pavarotti died on September 6, 2007 at his home in Modena, Italy.