The History of The Tenor Narrated
*Martinelli & Pertile have been combined due to the way the narrative was recorded.
*Martinelli & Pertile have been combined due to the way the narrative was recorded.
The History of Aureliano Pertile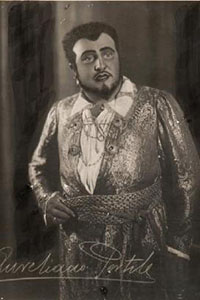 Born: Nov 9, 1885
Died: Jan 11, 1952
Italian tenor.
Narrative 1
The beginnings of Aureliano Pertile are rather more obscure. There does not seem to be anything hereditary about the young singers' musical abilities. His father was a town tradesman, who apprenticed his son to a Goldsmith, at the age of 16.
He certainly sang as a boy choirster and his voice must have been noted, for we find him leaving his apprenticeship, for 4 years at study, with a maestro vettoria orifice, which led to his debut in Martha and Venice in 1911.
After a further period of study, he was engaged for a Dal Verme, singing in L'amore de Treree, Govadez and Francesca de Rimini there, and then at the Regio in Turin, again in Francesca, dogging Martinelli's footsteps at this stage.
In 1915, La Scala, Milan called. And it was here that Pertile began his long reign as principal tenor lasting until the 1936/1937 season. It is interesting to note here, that four celebrated tenors, took a stranglehold on their respective Opera Houses during this period. Hislop at the Royal Stockholm Opera. Picaver at the Vienna state. Martinelli at the Metropolitan and Pertile at La Scala.
During his first nine years at La Scala, he worked continuously with Toscanini, who, as we already know, was setting new standards in the production of Opera there. He was undoubtedly Toscanini's favourite tenor, and it is hardly possible to mention Toscanini's triumphs without including Pertile in the role of honour.
The Pertile nights were sell-outs. What was it we read of Hislop's debut at La Scala. Hard to judge anyone else as Pertile caused such a frenzy there. And that was how it was.
What caused all this frenzy then? Let's find out right now.
Narrative 2
Pertile's first South American venture was in 1918 at the Cologne, in Buenos Aires. Where, amongst others, he sang in the French opera, Louise with Nino Varma, an unusual opera for him. And he appeared there again in seasons 1923, an outstanding Manna Lescaut with Mutzio, 1925, 1926 and 1929.
It was in 1921, that he made his metropolitan debut in Tosca, with the fiery and temperamental Maria Yaretzi. He also sang in Manna Lescaut, Pagliacci, Cavalleria Rusticana, Aida and Louise that season.
For some unaccountable reason, this part did not catch fire, and he never sang there again. Personally, I think that he suffered from the fact of Caruso's death that year, nobody was going to satisfy the New Yorkers just then.
For there it is, Martinelli, one appearance at La Scala, and in only one opera. Pertile one season at the metropolitan and yet both idolised in the respective houses. Stranger the ways of mice and men. Here is a lovely Donna Non Vidi Mie from Manna-Lescaut
Narrative 3
Pertile sang at Covent Garden from 1927 to 1931.
He tackled Aida, Trovatore, Boehme, Tosca, Giaconda, Manna Lescaut, and the Force of Destiny there. We already know that Cline thought him the ideal Monnricco in Il Trovatore.
In Giaconda, with Rosa Ponselle and Giovanni Gillery, Musical Times commented 'Pertile is a fine, robust singer, who could make more effect with his remarkable voice by varying the tone quality for his high fortissimo.
He's evidently very proud of the brazen ring he gets, and very effective it is at times. But he often uses that tone inappropriately.
By other times, he seems to have greatly taken to him and invariably gave him, fine notices.' His last season in London was 1931, when he took part in the sell-out performances of the Force of Destiny with Pertile, Ponselle, Franchi and Ponsello. And it seems, that by that time, his voice was rough and hard, and the gramophone records of this period, confirm this.
His last appearance on stage at Covent Garden was in Tosca on June 15th, 1931.
Narrative 4
Pertile took part in several premieres during his period at La Scala, and strangely, like Martinelli's ventures, non-ever stayed in the repertoire. However, one was the most eagerly awaited event of the operatic world of that time. Toscanini's Scala production of Boito's Nerone, a story about the emperor Nero in May 1924. The opera is now almost forgotten, but I can assure you, that it would take up the whole of this tape, to describe the build-up and secrecy that surrounded the mounting of this production.
Boito had been working on the score for 50 years and was already dead six years in 1924, a great secret masterpiece was supposed to lie in wait, and indeed, as a spectacle, it seems to have been unrivaled. La Scala shut down completely for a month, to allow rehearsals, and even Puccini and Giordano were refused entry to these.
But the music never caught on and production costs, to mount the spectacle, would now be so prohibitive, that we are unlikely to see it, attempted again in our time and less perhaps, as a special amalgamated venture.
There certainly was an outstanding cast, Pertile, Araiza, Journee, Gi Leffe, and Pinza. Pertiles final premiere was again in Nerone, this time a Mascagni version, mounted at La Scala in 1935, even less of a musical success than the Boito Opera.
After this Nero, Pertile's appearances became less frequent.
There was a reappearance in the 1945/1946 season at the Constanza in Rome, where he again sang in Boito's Nerone. His last years were shared between his family life and his teaching at the Milan Conservatoire. He died from a heart attack on January 11th, 1952. So here, just for the record, is a snatch of the Boito Nerone, and then a song sung, as only he can, a la Pertile, Vieni.
As you might expect by now, Pertile and Martinelli went their different ways in the recording studios. Pertile's first records were for Pathe in 1923, by the dreaded, Hill and Dale method. And he made 20 double sided discs for them between 1923 and 1926.
He also started with Odeon Phonotapaya in 1924/25 and went on to record 32 double sides for that amalgamated company. The Trovatore and Nero Arias and the song Vieni, came from that series.
Then from 1927 to 1931, came a series for Colombia, comprising 19 issues plus a complete recording of Carmen. Le Adriana Lecouvreur, Manolesco and Tosca arias, came from this series.
He was signed by HMV in 1928 and made 23 issues for them, plus two complete operas, Aida, and Il Trovatore, between 1928 and 1932. And finally, a lone Telefunken in 1943 of the Othello love duet with Gina Senia. Martinelli's first records were for Edison in 1912, this was 11 years earlier than Pertiles first records.
He made 10 sides for them then. In his famous contract with Victor in 1913, which lasted until 1939.
During this time, over 100 sides were issued. It was an unexpected break in 1929, when he reverted back to Edison for five sides, but it appears that only two were ever issued.
Martinelli had said that there was more, but these have not been traced. The discography also shows various items from films, broadcasts, concerts, lectures, etc A real hotch potch, I can tell you. Mostly made long after the Tenors' prime and dangerous material for untrained ears.
I said his last Victor record was in 1939, well that's not quite true. In 1962 at the age of 77, he made yet another record but that's another story. Would you like to hear it?