The History of Nikolai Figner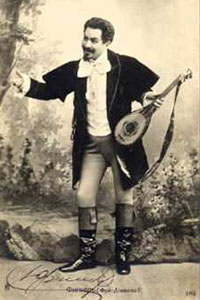 Born:1857
Died:1918
Russian Tenor
Because of his great historical interest Tamango's records were readily available right up to the 1940's. I myself had a complete set of his 78rpm records until the mid 60's.
But when it comes to finding examples of the next singer, it is like searching for the lost gold of the Incas.
The gramophone did arrive at at-least one timely moment, the beginning of the Russian school of singing and tracing the development of this school, is one of the most interesting and fascinating experiences, the gramophone has to offer.
Unfortunately, many of the records of earlier Russian artists are very difficult to find, and indeed, some are great rarities.
So it is, with the first of the great Russian Tenors to have recorded.
Nikolai Figner. Born in 1857, Figner holds a position of great historical importance among recording artists, for he created the leading roles in Eugene Onegin, the Queen of Spades and Iolanthe, all Tchaikovsky. Dombrovskis Bineprasmic and a Francesca de Rimini as well as the numerous other creative roles of operas no longer in the repertoire.
He married a famous Italian singer, Medea May and for over 20 years they appeared together in all the major productions in Saint Petersburg.
His great popularity in Russia, stems mainly from its dramatic, rather than from his vocal ability. However, we can hear him in 1902, aged 45, as Romeo and one can make one's own judgement as to the quality of his voice.
Am Leve Toi Soliel / Romeo / 1902 – Nikolai Figner
And now a rare opportunity to hear the two Figners together, the star team of the 1880's and 90's of the imperial Saint Petersburg Opera and what's more, in a scene from Dupravnik's opera Dubrovsky, which, as I have already said, was a creator role of Nikolai Figners.
French Duet / Dubrovsky / 1902 – Nikolai Figner

The History as it was Recorded