The History of The Tenor Narrated
The History of Georgi Vinogradov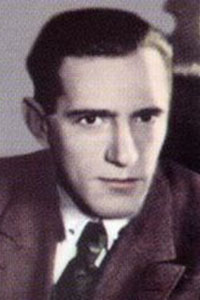 Born: 16 Nov 1908
Died: 11 Nov 1980
Russian tenor.
Georgi Pavlovich Vinogradov was born in the city of Kazan on 16 November 1908. Like many, especially at the beginning of the Soviet period, he first studied engineering, but at the same time pursued the violin and viola at the Kazan School of Music.
Sometime in the '30s, Vinogradov left for Moscow to study at the Military Academy of Communications. While in the capital he took an occasional singing lesson and performed in a few amateur concerts.
At one point he actually broadcast over the All-Union Radio, and there he came to the attention of M.L. Lvov, who changed him into a professional singer, perfecting his diction, his breathing, his flexibility, and most of all, that remarkably temperate emission of sound that would become his trademark.
Later Vinogradov also studied with Valeria Vladimirovna Barsova, at the time a leading Bolshoi soprano with whom he later made recordings.
From then until 1943 Vinogradov remained a radio performer, singing an extremely large repertoire from jazz to opera to art songs to "Soviet lyric songs." At the beginning of World War II he sang with USSR Committee of Defense Model Orchestra, and in 1943 he joined Red Army Song and Dance Ensemble, performing under the direction of Alexander Vasilevich Alexandrov.
He stayed with the Ensemble until 1951. After that he was very rarely heard from, the result of a barroom brawl that deeply embarrassed the Soviet government.
His voice lacked the rather "white" sound heard in so many Russian tenors, but was infused with an indescribably poetic beauty. It did not sound like a large voice, but it was invariably handled with dignity and understanding of his gifts.
He left us a large discography consisting of arias, song cycles, art songs, popular music and those afore-mentioned Soviet lyric songs. He had the ability to make the most banal music listenable with his artistry.
If a comparison were needed, it could be said that his voice slightly resembled that of Tito Schipa.
He died in Moscow on 11 November 1980, five days before his seventy-second birthday.
Written by Larry Friedman