The History of Charles Kullman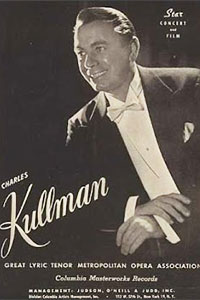 Born: June January the 13th 1903, in Newhaven Connecticut
Died: September 29, 1972 – Potola Valley, California, USA
American Tenor.
Charles Kullman, the other American tenor, was born on January the 13th 1903, in Newhaven Connecticut of German parentage.
Again, like so many other tenors, the church choir was the first sign of a future singing career.
He attended Yale University and graduated in 1924, but not before winning first prize, in an intercollegiate singing contest.
He sang at an audition for the Dullards School of Music, the most prestigious in America. And won a scholarship there for three years.
At the end of that time, he won another scholarship for Fontanblo in France, where he studied under Sulindac.
Back in America in 1928, he did some vocal teaching at Smith College before joining the American opera company in 1929 and making his debut as Pinkerton in Madame Butterfly.
The following year 1930, Kullman went to Berlin for further study.
The great conductor, Otto Klemperer heard him and immediately engaged him for the Kroll Theatre, then under his charge.
Kullman making his debut as Pinkerton on February the 24th 1931.
Now Kullman began his famous German period, which lasted until 1936.
During this time, he transferred to the Berlin state Opera and then to the Vienna State Opera, singing under a variety of outstanding conductors. Klemperer, Brach, Kléber, Furtwangler, Cretz, Krauss, Walter, Vein Gardener and Toscanini.
His partners included some of the greatest singers of the day, Jansen, Fogelman, Lemon, Kern, Mae, Novotna, Grossman, Shauna, Schumann, Konitz, Thornburg, Vidamen, Hoffman and Kipnis. And the tenor competition was stiff, as it included Tauber, Roswagner, Patzak and Demotte.
He was at the Salzburg Festival of 1934/35 and 1936, but of course it was time to leave, the Nazi era had arrived.
Here he is from this period, singing a beautiful Celest Aida
Celeste Aida / Aida / 1931 – Charles Kullman
Kullman made his Covent Garden debut on the 11th of May 1934, in Swonda, the bagpiper, the first English performance.
Krauss conducted and the cast included Shoffla, Ursulak, and Kipnis.
He was back in 1935, for a German Prince Igor, with the all-star cast of Coalman, Rutberg, Branzo, Jansen, and Kipnis. Beecham conducting.
His last appearance at Covent Garden was in 1938.
One person that heard him sing at Covent Garden was Edward Johnson, the metropolitan tenor come Manager. And he offered Kullman a contract which was accepted.
Kullman was to sing at the metropolitan all during Johnson's tenure and continued into the Bing era.
His debut was on the 19th of December 1935, as Faust with Edith Mason, Fornelli and Pinza, followed by Traviata, with Noreena and Tibit, and a Carmen with Ponselle and Pinza.
Here is a famous tenor aria from his metropolitan debut role, Faust. And for once, we shall, even be able to understand the words.
Salve Demora Caste Pura / Faust / 1932 – Charles Kullman
Kullman sang on at the Metropolitan until season 1960/61.
Although by the early 50s, his appearances had become less frequent.
A few highlights of his metropolitan career should be mentioned.
1936/37, saw him in a brilliant Flying Dutchman with Kullman, Flagstad, Thorburg, Shoer and Lizt.
And an equally fine Mastersinger with Kullman, Lottelehman, Schoer, Lizt and Branzal.
1937/38 saw him in a new role, Ranuchio, in Yannes Schiti with Tibet, while in 1938/39 he added Fenton and Falstaff, with Tibet, Brownlee and Camelia.
Two other new parts that year included, Julian in Luiz, with Moore and Pinza, and a much-praised Dimitri in Boris Godunov, with Pinza and Thorburg.
1941 saw Lamore di Trerer with the composer Montemezze conducting. Kullmann, Moore, Bonelli and Pinza.
The same year, saw him perform in the Bartered Bride, with Novotna and Pinza which Culloden thought one of his finest accomplishments.
Some Mozart in 1942 and in 1943 a new part was Degaru with Saijar and Brownlee.
Romeo was new in 1945/46. Pacival in 1948/49.
And a Metropolitan premier in 1950. Kovanskina with Kullman, Stevens, Hinds and Tibet.
1950/51 saw Rudolf Bing takeover as General Manager and begin the famous 'Bing reign'.
One of his first innovations, was the introduction of Strauss' Di Fledermaus to the Metropolitan. A new production in English as a means of gaining time and cash, whilst other works were being refurbished. To the surprise of many, it paid off and was a great success.
Kullman of course, had heard all this before in Berlin and Vienna, and knew the idiom well.
His was a great success.
No Fledermaus, I'm afraid, but how about the Gypsy Baron.
Als Flotter Geist / G-Baron / 1932 – Charles Kullman
When Charles Kullman returned from Europe to the metropolitan, he stayed there for the rest of his career, with exception of 1939, when he was with the Chicago opera for a season.
Of course, he took part in all the regular metropolitan tours, so he was heard all over America.
He was appointed resident tutor of the School of Music at Indiana University, in the late 50s, and that's the last information I have of him.
It will hardly surprise you to learn, that Kullman was an exclusive Colombia recording artists, the two rival American tenors, keeping well apart.
His first recordings were in Europe, in Berlin in 1931. 89 sides were issued in all, before his return to America.
In America, 42 sides were issued plus the complete Di Fledermaus an LP in 1950/51.
We take our leave of him with the Italian Singers Song from Richard Strauss's der Rosenkavalier.
Italian Singers Song / Rosenkavalier /1932 – Charles Kullman

The History as it was Recorded