The History of The Tenor Narrated
The History of Marcel Wittrisch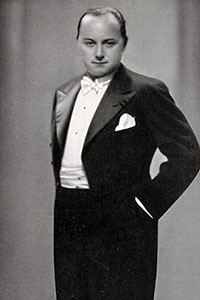 Born: Antwerp, 1 October 1901
Died: Stuttgart, 3 June 1955
German tenor.
Narrative 1
Most collectors know Marcel Wittrisch as a German tenor and quite rightly so. As his career was entirely unreported to the German stage.
But he was in fact, born in Antwerp, Belgium in 1901 of German parents.
The Wittrisch's furrier business, moved to Leipzig, the city of furriers and the fur trade in 1918. Marcell attended the Leipzig commercial college there.
One day, he joined his mother, when seeing a customer, who was a singing teacher. On his mother's request, young Marcell sang a song, despite being terribly embarrassed. The teacher praised his baritone voice.
Fate had taken a hand in the future of young Wittrisch.
Marcell studied singing in Leipzig and Munich, and went for final Polish to Milan, the centre of bel canto tradition.
Late in 1924, he had a trial rehearsal at Dresden, but he was not accepted. Yet the Haler stage director had been present and offered him an engagement at once. And so it was, on the 1st of January 1925 as Conrad in Masani's opera, Hans Healing, that Marcel Wittrisch made his debut.
Next came an engagement at a Branchlick, as Lohengrin and then a real climb up the ladder in 1929, where he was engaged for the Berlin state opera.
Here he is, in one of his most famous records, which he made in 1932 with Margarita Teschamaka, part of the duet from Mierberre's, Les Huguenots.
Narrative 2
His period at the Berlin State Opera, was among the peaks of his career.
He worked under Eric Clever, Willem Blithe and Willem Footganger there. Covent Garden heard him in 1931, Tamino under Walter, and then followed guest appearances in South America under Fritz Busch.
Other operatic highlights included Bioroid in Amsterdam in 1937, and appearances in Paris and Vienna.
Wittrisch was, if anything, even more popular in operetta than he was in opera, and he was in great demand all over Germany and Austria.
In 1940, he had appeared at a special operetta gala at the Salzburg festival conducted by Franz Lehar himself and had a tremendous success.
Thereafter he rarely appeared in opera again. He died on the 2nd of June 1955 in Stuttgart.
So, for our operetta extract, here he is in Johann Strauss's, Night in Venice.
Narrative 3
The number of recordings Wittrisch made is unknown. Some estimates say as many as 1000.
The very first ones made for Vox, are lost, as they were never re-released by Brilliant Spreko, the company that had taken over the Vox material.
Most of his important recordings were made for HMV, in the years following in 1928.
The later years he also recorded for Telefunken and Deca.
We have heard him in opera and operetta, so I'll finish with a song.
Who better than Tosti, the unforgettable 1937 recording of Pour un Baiser, For a Kiss.