The History of The Tenor Narrated
The History of Charles Dalmorès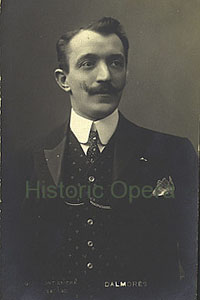 Born: January 1, 1871
Died: December 6, 1939
French Tenor
Narration 1
The last of the three tenors born in 1871 was the Frenchman Charles Dalmores. Who stands fairly and squarely, in terms of voice, between the heroic Paoli and the lyric Labinsky.
He was, I suppose an impresario's dream tenor, in that he had the type of voice, which could sing the mainstream repertoire, both Italian and French, and could certainly undertake some Miebiere and the lighter Wagner.
Such versatility was a tremendous asset to any company, and we should not be surprised to find in his gramophone records, arias from Meyerbeer, Wagner, Verde, Beze, Offenbach, Masne, Sanso and Guano. As well as the Italian and French songs. For he was also a very popular concert artist.
Believe it or not he first studied the horn and in fact, played with both the Cologne and Lamirues orchestra before finally deciding on singing and making his debut in Ruon in October 1899. This proved so successful, that he was offered and accepted a contract at Le Monet, Belgium's great Opera House from 1903.
There in Brussels, he sang Louise and Tosca, to such effect that he was immediately offered a contract for Covent Garden for the 1904 seasons. His first London appearance there, was in Faust, to be followed Masne's Herodias and then the first British performance of Sansom's Opera Helene in which he partnered Melba.
He was engaged for the Covent Garden next season and again in 1905, this time in Romeo as well as Faust, where his partners included Destine, Donelda, and Clarence Whitehill.
And again, another British Premier Leoni's The Oracle with Donelda and Scotti. Let's hear him then, in this season in, from Le Cavatina from Guano's opera Romeo and Juliet
Narration 2
So back now to the battle between the Manhattan and Metropolitan Opera houses in New York, which we have already heard about. Oscar Hammerstein was quick to secure a Dalmores contract after his Covent Garden successes and his first appearance at the Manhattan was in Faust, followed that season with Carmen and the tales of Hoffman.
1907 was spent in Germany with engagements at Hamburg, Cologne, and Berlin, mainly invigorating repertoire. Then back to the Manhattan in 1908 for his most important year there, appearing in two first American performances. Firstly, in Luiz with Mary Garden and Julie Biere and secondly in Masne's Safi with Mary Garden and Margarita Dalvarez.
In addition to singing Herodiad, Samson and Salami, again with Mary Garden who caused a sensation in this role.
He also appeared at Birotte during this year as Lohengrin. Covent Garden recalled him for the 1909 season, where he tackled Radamez in Verde's aida, and also in a superb performance of Carponte's opera Louise with Louisa Edvinas. The other notable appearance this year was at the Vienna opera.
1910 saw him back at Covent Garden for Samson and Delilah and as far as I can trace, that this is his last appearance there. One of his most important roles as we would expect, was as Faust. So, let's hear him now with his compatriot Marcel Journet in a duet from that Oprah
Narration 3
After the collapse of the Manhattan opera company he, and most of the others, simply moved over to the Chicago opera company, which then and indeed, until the present time, have remained the principal American rival of the metropolitan New York.
The history of this company is almost as glittering as that of the diamond horseshoe itself, and the French repertoire in particular was extremely popular there. It is no surprise, to learn therefore, that Dalmores remained a leading member of the company until 1918. After his retiral, he taught singing in New York for a while, before settling in Los Angeles where he died in December 1939 aged 68.
He recorded for Pathe and also made 19 sides for Victor between 1907 and 1912. John Stein talks about him in his book, The Grand Tradition. His, was a heroic voice, although a Lohengrin rather than a Tristan. His aristocratic singing of Ah Si Ben Mio from Il Trovatore, with his beautifully turn trill is famous. Indeed it is, and we shall finish by hearing this particular record of a very fine artist