The History of The Tenor Narrated
The History of Helge Roswaenge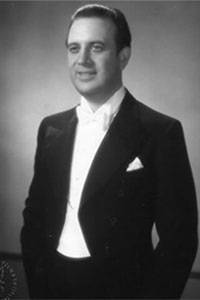 Born: August 29, 1897
Died: June 17, 1972
Danish tenor.
Danish tenor Helge Anton Rosenvinge-Hansen (later Roswaenge, Rosvaenge, Rosvænge) was born in Copenhagen in 1897 and studied Chemistry at the Technical College in his natal city, where he graduated as an engineer with honours.
In voice, he was largely self-taught, but was for a time under the guidance of his wife to be, the hungarian soprano Ilonka Holndonner, whom he met in Schwerin, Germany, where Roswaenge was singing.
She immediately recognized his potential and organized a successful concert performance with herself and the tenor.
Engagements in smaller German theatres followed and his official debut came in Neustrelitz in 1921 as Don Jose in Carmen.
In the years 1924-26 he was engaged by the Opera of Basel, then a member of the Köln Opera in the years 1927-30 and then at the Berlin State Opera during the years 1929-45. From 1930, he appeared regularly at the Wien Staatsoper, where he had made a guest appearance in 1927 as Don José.
Salzburg hired him for the years 1932-39, where he had made his debut in Der Rosenkavalier and he was highly successful in Cairo in 1933 as Radames in Aida. He was also an eminent interpreter of Wagner's operas and sang Parsifal at Bayreuth in 1934 and 1936. The latter year he also made his Covent Garden debut and sang at theatres in Milano, Copenhagen, Stockholm, Brussels, Amsterdam, Munchen, Hamburg and Dresden.
"With a steely voice, brilliant high notes and insistent declamation,"¹ Roswaenge was an impressive Andrea Chenier as well as an acclaimed and exciting Otello. Although he never performed the latter role on stage, he was often heard as the jealous stricken Moor on German radio. He was furthermore known as The Knight of the High D.
Shortly after the 2nd World War, he was abducted in Berlin and deported to Russia. Following his release, he settled down in Wien and established himself as an engineer in the chemical industry. Yet, singing was very much at the core of his heart, and he resumed his career in 1949 at the Volksoper and the Staatsoper in Wien.
In 1951 he received the Gold Ring of the Staatsoper, an honour he only shares with soprano Birgit Nilsson. From 1955 he also sang with the Berlin Staatsoper and was appointed Member of Honour. Roswaenge had a substantial career post-war in both Wien and Berlin, appearing in a wide spectrum of roles ranging from Mozart to Puccini and Verdi and Wagner. At one point he also led a theatre for operetta in Wien, where he himself starred as the Prince Sou Sou-Chong in Lehár's Land des Lächelns.
With the increasing tendency to only perform opera in its original language towards the end of the 1950s, Roswaenge's engagements diminished and among his last successes count the operettas and recialts organized in New York's Carnegie Hall and the Madison Square Garden in 1963 and 1964.
Roswaenge then retired from the stage to dedicate himself to vocal pedagogy in München, where he passed away in 1972, at the age of 75.