The History of Herman Jadlowker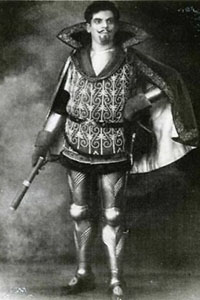 Born: July 17, 1877, Riga
Died: May 13, 1953, Tel Aviv-Jafo
Latvian-born tenor of Russian (later Israeli) nationality tenor.
"A coloratura tenor with a heroic voice might be a fair way to describe the extraordinary voice and art of Herman Yadlowker. One of the centuries greatest singers. But still not sufficiently recognised as such.
The physical excitement of so many of his records, added to the breath of an artistry and repertory, from Massine to Wagner, from Leida to Puccini, mark him out as a talent that occurs perhaps once or twice in a generation".
That is how Alan Blythe, the well-known writer, critic, and broadcaster describes our next subject the Latvian tenor, Herman Jadlowker.
He was born in Riga, Latvia (then Russia) on the 20th of July 1877. And had a difficult time trying to persuade his Jewish parents to allow him to take up singing as a profession. Indeed, at first, he had to run away from home to make his point.
He arrived in Vienna, with nothing more than a letter of recommendation from a musical patron of Riga, but he passed the entrance exam, and for six weeks, studied at Ganzbackaz classes there. The police eventually found him without proper papers, and he was sent back to Riga.
By this time his parents had realised that he meant business, and so he eventually arrived back in Vienna with the necessary documents to continue his studies there.
He made his debut in Cologne, in Kreutzer's now forgotten opera, Nachtlager in Granada in 1897. And it was at his hometown of Riga, that he learned his trade over the next five years, before securing his first important appointment as leading tenor of the royal court opera at Karlsruhe.
He was to become very popular here and use this as his base between 1906 and 1914.
Two other cities, where he became very popular early in his career, were Vienna and Budapest and by 1910, the Metropolitan in New York had turned their attention to him, and he made his first appearance there in Lohengrin, with Fremstad and Homer on February 11th.
Then in Cavalleria Rusticana with Destin and Dangilly.
Other roles that season including Der Freischutz, Pagliacci, Faust and Tosca.
The 1911 season finds him first at Boston singing Tosca and in a very interesting Faust with Jadlowker, Alice Neilson, Baclinov and Sibirriacov. Then straight to the metropolitan for his first encounter with Toscanini in a La bohème with Farrah Scotti.
Other operas included Cavalleria, Butterfly, and Faust.
But the main event is his creating of the prince, in Humperdinck's new opera, Konigskinder. With Farah, Homer and Goertz at the world premiere on December 28, 1910.
Here is a record that he made around this time, a lovely romance from Guna's opera, Romeo and Juliet.
Ah Leve Toi / Romeo / 1910 – Herman Jadlowker
Strangely, it was in New York that he was hired for the next important phase of his career.
The Kaiser had heard him in Karlsruhe and liked him so much that a six-year contract was offered him for Berlin.
So now, the third and last of his seasons at the metropolitan began. He sang in Lohengrin, Faust and La bohème and in two premiers of operas which were failures. However, the most important event was again another world premiere, this time, in Wolf Ferraris Donne Curiose on January the 3rd 1912.
With an all-star cast of Jadlowker, Farrar, Scotti, Didur and Pini Corsi and with Toscanini conducting.
His very last appearance of the Met was in Madame Butterfly with Farrah and Scotti, Toscanini conducting.
Here is a memento from the world premiere of Donne Curiose, the duet Rimprovera La Mia with Geraldine Farrar
Rimprovera w Farrar / Don Curiose / 1912 – Herman Jadlowker
So now, Jadlowker was the Kaisers calmer singer at Berlin. Where he had a most successful career from 1911 to 1919. Although he still retained his contacts with Karlsruhe and sang many performances there during this period.
At Berlin he was the Kaiser's favourite and on one occasion when the Tzar joined the Kaiser in the royal box, for a performance of Lohengrin, the Kaiser boasted that Jadlowker was his tenor.
The Tzar replied "perhaps he may be your tenor, but he is my subject".
Jadlowker never relinquished his Russian nationality.
He continued to make guest appearances at the most important of which was at Stuttgart in 1912, where he created the part of Bacchus in Richard Strauss's new opera Ariadne auf Naxos with Margarethe Siems and Maria Jeritza.
It was at Berlin, that Mozart enters his repertoire and like Slezak, he became a celebrated exponent of that composer.
Here is part of an extract from Mozart's Seraglio.
Ich Baue Ganz / Seralgio / 1908 – Herman Jadlowker
Although Jadlowker left the Berlin opera in 1919, he stayed on in the city, turning his attention to operetta, which was so very popular in those days, in Germany and Austria. And with the war taking its toll, he appeared regularly in charity concerts.
He also did a lot of private charitable work and the number of families supported by him, was not small. The tenor remained faithful to his Jewish religion, never singing on Jewish holidays.
He had married in 1903, the daughter of Orega Merchant, and although not blessed with children, the marriage was a happy one and lasted until the death of his wife in 1940.
In 1929, Jadlowker returned to Riga, to become the chief casme at the great synagogue. The same place where he started his musical career almost 40 years previously. From 1936-1938, he became professor of singing, at Riga Conservatory.
The beginning of the Nazi regime found Jadlowker still in Riga. But more and more, his long-standing desire, to go to Palestine and join his family there, grew insistent. And in 1938 he arrived with his wife in Jerusalem, just in time perhaps.
At first, he joined the Jerusalem Conservatory as professor of singing. But after the death of his wife, he moved to Tel Aviv and opened a singing studio and became involved with the founding of the Palestine opera.
From time to time he appeared in charity concerts and up to the very last day of his life, the 13th of May 1953, he continued to teach. Music had been his whole life; he was buried in Tel Aviv.
Here is one of his most famous records, Ecco Ridente from the Barber of Seville, runs trills and all.
Ecco Ridente / Barbiere / 1912 – Herman Jadlowker
Jadlowker began recording for Odeon in 1907 and made 109 sides for them before moving over to Victor HMV, in 1912.
From 1912 to 1914, he made some 91 sides for them. There is a ten-year gap before a Polydor series in 1924, comprising of 22 acoustics, (pre-electric sides) and 12 electric sides made in 1927. A round total of 235 sides.
Despite this number, his records seldom turned up in the days of 78's. The Odeon's of course suffered from the ravages of two European wars, but all were scarce.
Glance through the titles, reveals that an amazing range of music and character types. Jadlowker, must surely had been one of the most versatile singers of all time. But this indiscriminate selection of roles, led to the early loss of top notes, and the freshness of the voice gradually disappeared. By the time he was recording electrically, his voice, which was a large one with a dark husky quality, almost sounded like a Baritone.
Despite the size of his voice, he possessed the most amazing technique, and a trill equal to any, ever head from a male singer.
He was ideally suited for lyric dramatic roles, particularly like Raule in Les Hugenots which gave scope to his agility.
So, we'll finish with his famous Bianca Al Par from that opera, which he recorded for the gramophone company in 1913 at the age of 36
Bianca Al Par / Hugenots / 1913 – Herman Jadlowker

The History as it was Recorded