The History of The Tenor Narrated
The History of Heddle Nash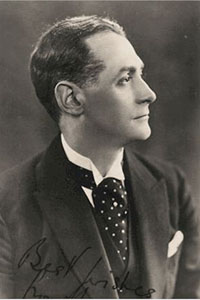 Born: 14 June 1894
Died: 14 August 1961
English tenor.
Heddle Nash was born on 14 June 1894 at Deptford, a suburb of London and was soon detected to sing in the Choir of Westminster Abbey.
In 1914, he won a scholarship at the Blackheath Conservatory but was not able to take it up because Worldwar I intervened. He was wounded, but nursed back to health by the girl whom he was to marry and with whom he was to have two sons (one became a distinguished baritone).
After war he finally studied with Marie Brema at the Blackheath Conservatory. At a time Nash worked with a theatre of marionettes where his voice was only heard from the orchestral pit (!).
The company was based in Rome and the young singer had the opportunity to study with the famous Italian dramatic tenor Giuseppe Borgatti. It was at the Teatro Carcano in Milan where Nash had the opportunity to replace an undisposed tenor in the role as Almaviva.
It was a big success for the young tenor.
Back in London in 1925, he quickly was engaged by the Old Vic Theatre to sing many of the more lyric tenor roles (all in English!).
Engagements with the British National Opera Company followed.
It was in 1929 when he appeared at Covent Garden for the first time. He became a favorite artist there, much acclaimed as Don Ottavio, Tamino, Pedrillo (to Tauber's Belmonte), Rodolfo, David in Die Meistersinger von Nürnberg (one of his finest roles on stage), Duca, Almaviva, Roméo, etc.
Nash was also a very fine interpreter in operettas by J. Strauss and Millöcker. Finally, he was one of the greatest English oratorio and concert singers (Messiah, The Dream of Gerontius (Elgar), Jephta, Serenade to Music (Vaughan Williams).
His partners on the stage included singers such as the wonderful Maggie Teyte, Richard Tauber, Dennis Noble, the superb contralto Muriel Brunskill, Florence Easton , Dennis Noble and Lisa Perli (alias concert soprano Doris Labbette).
Nash's last operatic appearance took place in 1957. He continued to perform on the concert platform, singing in Handel's Messiah only a few months before his death in 1961.