The History of Giulio Crimi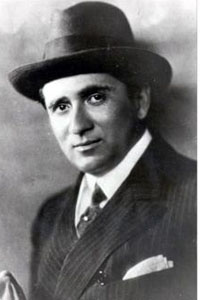 Born: May 10, 1885
Died: October 29, 1939
Italian Tenor.
A Sicilian tenor who had a relatively short career, but which contained its moments of glory, was Giulio Crimi.
He was born near Catania in 1885 and made his debut in Catalan's Lawali in 1910.
His first important successes were in Turin and Bologna, before making a big impression in Paris, at the Theatre Champs Elyssa in 1914.
That same year, saw him at Covent Garden, in the first London production of Montemezze's opera Lamour Dire Te Rei.
He was a success and was well received by the critics. He also sang in Puccini's Manolescu that season.
His La Scala debut was in 1916, when he sang in aida and a Verde rarity, La Battalia de Lugano (The Battle of Nano).
Then off to Buenos Aires, for his debut at the Cologne as Canao in Pagliacci.
This was the beginning of the transatlantic career, the most significant part of his life story.
In the latter part of the year, he embarked upon the first of five seasons with the Chicago lyric opera, where his repertoire embraced some of the newer, less established Italian works, such as Zandeni, Francesco de Rimini and Mascagni's Isaboe at its American premier.
He also appeared there in Traviata with Galli Curzi.
In 1918, he began his 4-year career at the Metropolitan Opera, making his debut as a Radames in Aida, which was enthusiastically received.
Other appearances at the metropolitan, included Tosca, Cavalleria Rusticana, Trovatore, Zatzar, Don Carlo, and Masani's La Navareze.
Most important of all, was his two Puccini creations, Luigi in Il t' Barro and Rinucho in Yannis Kiki, where he had the unusual distinction of playing the lead in both premieres during the same evening. Both of course being one act operas.
Hear he is, in Zatzar, Liam Cavall's opera in the aria O Mio Piccolo Tavoli.
O Mio Tavola / Zaza / 1918 – Giulio Crimi
All during his time in New York and Chicago, he appeared regularly at the Cologne in Buenos Aires.
In 1924, he decided to go back to Italy, making a big success in the theatre of his early triumphs the Regio in Turin in Miebiere's L'Africaine.
Then onto La Scala for Carmen before suddenly retiring in 1926.
He settled down in Rome as a singing teacher, one of his pupils was destined for international fame, Tito Gobi.
Crimi was only 54 when he died in Rome on October the 29th 1939.
Speaking of his records, Eric Rhys comments:
His not too plentiful records leave one in no doubt, that here was a tenor of uncommon natural gifts.
The voice was attractively warm and radiant, with an exciting fullness of the upper end of the scale.
It had the freshness and sunny charm of his native land.
If his style impaired in some of his records by a hint of clumsiness and vocal movement, was not notable for grace and elegance, it was at least firm and musically sound.

Whether Crimi quite made the best of his gifts is not however beyond question, especially when the brevity of his career is borne in mind.
He was only 41 when he left the stage, an artist of such talent may reasonably have been expected to last a great deal longer.
Be that as it may he sang impressively and successfully for a short span, but many fine achievements to his credit, then disappeared. Leaving a small but significant mark upon operatic history and the heritage of attractive recordings for the enjoyment of those who enjoy hearing a warm and radiant voice generously and dramatically deployed.
We take his farewell with a Hill and Dale Vesti La Giubba, beneath the hiss, lies a fine version of this hagride aria.
And then the lovely O Terra Addio from Aida where he's joined by Rosa Raida.
Vesti La Giubba / Pagliacci / 1918 – Giulio Crimi
O Terra Addio W Raisa / Aida / 1918 – ARTIST

The History as it was Recorded