The History of The Tenor Narrated
The History of César Vezzani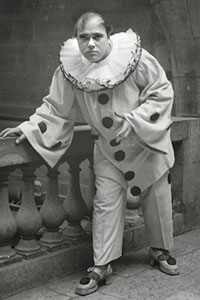 Born: 1886
Died: 1951
Corsican tenor.
He was born in Bastia on Corsica and came to Paris in 1908. He hardly knew how to read and write and speaking a poor French!
His voice was first discovered by the sopranist Agnes Borgo (1879 – 1958). She became his first teacher and sent him to the Conservatoire National de Paris. They married in 1913.
He made his debut in Grétry's Richard Coeur de Lion at the Opéra-Comique in 1912. Thecouple was invited to sing in Boston and Chicago, but World War I broke out and they had to cancel.
A disagreement with the management of the Opéra-Comique arose, after which his career was largely confined to the operas of Nizza, Marseille, Toulon and Toulouse and Brussels.
He never returned to Paris. During World War II he lived in exile and appeared at the opera of Algier, where he was much admired.
In 1947 he signed a contract for three years with the La Monnaie Brussels, but during a rehearsal on stage in Toulon he suffered a stroke which paralysed him completely.