The History of The Tenor Narrated
The History of Vladimir Atlantov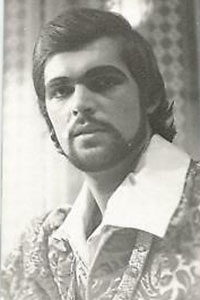 Born: 19 February 1939
Russian Tenor
Born in Leningrad on 19/2/1939. The son of a baritone and a soprano both singing at the Kirov and Maly opera theatres of Leningrad (St. Petersburg), Atlantov was born and raised in the opera theater.
His music studies began at the age of six at the Glinka Choral College while later he was accepted at the Leningrad Conservatory. In 1962, while still a student, he was hired by the Kirov Theater, awarded the silver medal at the Glinka vocal competition and went to Milan to study at the Teatro alla Scala. There, in two years he learned the leading tenor roles of Rigoletto, La bohème, Un ballo in maschera and Tosca.
Upon returning to the USSR, he sang the parts of Don Alvaro in La forza del destino, and Herman in Pique Dame. After winning 1st prize at the Tchaikovsky Competition in Moscow, he was hired by the Bolshoi Theater where he came through as the leading Soviet tenor of the '60s and the '70s. Beginning with La Traviata (Alfredo) and Eugene Onegin (Lenski), he sang 18 different roles and became famous for his performances in the leading role of Verdi's Otello. Atlantov, thanks to his robust voice – especially strong in the highest regions – was able to deliver formidable and emotionally intense interpretations which suited ideally to roles such as those of Herman [Eugene Onegin] and Don José [Carmen].
Awards from competitions in Sofia and Montreal soon followed. In 1988 he left the USSR and commenced his international career in the greatest opera theatres of Europe, where he excelled. From 1977 onward Atlantov sang baritone parts too. He very often sang Herman, Canio [Pagliacci] and Otello. During 1974-1977 he appeared in leading roles at the Greek National Opera in Pique Dame, Eugene Onegin (as Lenski, with his wife Tamara Milashkina as Tatiana) and Tosca (Cavaradossi).