The History of Léon Laffitte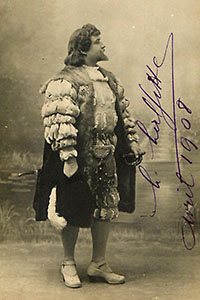 Born:Saint-Geniès: 1875
Died:Paris: 1938
French Tenor
The French tenor, Leon Laffitte, was born in 1875 and after study at the Paris Conservatoire, he made his debut at the opera, in The Mastersingers on the 10th of October 1898.
He became much admired at the opera and was a mainstay at the famous house until 1924.
His appearances ranging from Mozart to Wagner and taking in Les Eugenots, Rigoletto and Aida on the way, in addition to the French repertoire.
He was very popular at the theatre de la Monet in Brussels, where he sang every year from 1899 to 1913.
He also sang at Covent Garden and in Germany, Russia, and South America.
He died in 1938. His records are few and very rare.
Here is a Zonophone of a snatch from Masni's Manon.
Ah Fuyez / Manon / 19xx – Léon Laffitte

The History as it was Recorded