The History of André d'Arkor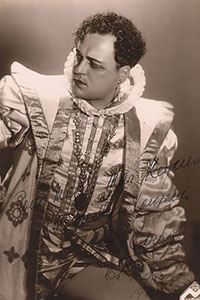 Born: 1901
Died: 1971
Belgian Tenor
The Belgium Tenor, Andre d'Arkor was born in Tilleur near Liege, on February the 23rd 1901. And started studying singing in Liege Conservatoire at the age of 19.
After five years of study, (interrupted by military service) he won first prize in voice and opera.
He made his debut in Liege during the autumn of 1925, in Delibes' opera Lakme.
Other opera's that first year were Boehme, Tais and Hamlet.
So, let's hear him straight away in his debut role of Lakme, Ave Dolla Famme
Fantaisie Aux / Lakme – André d'Arkor
After Liege, Andre d'Arkor was engaged for three seasons at the Royal Opera of Ghent. During which he familiarized himself with the stage and extended his repertoire to include nearly 80 roles.
In 1929, he was engaged at the Theatre de Lyon, and it was here that he met Clara Clairbert, who was to become a famous partner of his at the Monet.
His actual debut at the Monet, was on the 2nd of August 1930 in Guano's Faust. Two days later he was Degree in Masani's Manon.
This was the start of d'Arkor's now celebrated tenor of Belgium's great Opera House in Brussels.
For 10 years, he was idolised by the public, as the leading tenor.
His beautiful lyric voice, his elegance and handsome appearance, won him an army of admirers at that great house.
Here he is, in Italian Opera, Rossini's William Tell. Asil Hereditarian.
O Muto Asil / W-Tell / Lakme – André d'Arkor
D'Arkor did not limit his activities to the Monet only.
In 1931, he sang at the opera comique in Paris and during 1932/1933, he made a long tour of the United States, where he sang in 30 cities.
He also appeared in Netherlands, Germany, Switzerland, and of course all over France.
In Belgium, he was a regular visitor, to his old haunts of Ghent and Liege.
Immediately after the war, he decided to give up his singing career and became director of the opera at Liege, the very same theatre that saw his debut.
He was to manage there for 20 years.
After this, he was artistic advisor at the Monet, the scene of his greatest triumphs.
He died quite unexpectedly in Liege on the 19th of December 1971.
Andre d'Arkor being a lyric tenor, rarely ventured into roles outside his vocal range. And although he recorded arias from William tell under the Huguenots, he never sang these parts on the stage.
This probably was a secret of his vocal fitness.
In 1945, he was still popular in his lyric roles, especially Degree in Manon, and Nadir in the Pearl Fishers, and could undoubtedly have continued singing for many more years. For the pleasure and joy of music lovers, his records have kept the voice of this lovely singer alive forever.
We finish with the romance from Basin's opera, Maître d Pathelin.
Romance De Charlot / Mai – Pathelin – André d'Arkor

The History as it was Recorded