The History of Richard Crooks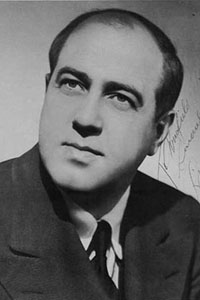 Born: June 26, 1900 – Trento, New Jersey, USA
Died: September 29, 1972 – Potola Valley, California, USA
American tenor.
Richard Crooks was born in New Jersey on the 26th of June 1900, of a Scottish father and an English mother.
He was noticed very early, singing in the local church choir and made his first appearance as a soloist at the age of 10.
The great contralto Ernest Enschumanneinc was on the same platform and predicted a great future for the boy soprano.
Indeed, she took a keen interest in his career ever after.
The first World War found him as a flyer with the American 126 squadron in France, he had lied about his age on enlisting.
He returned to New York after the war, to continue his studies.
During some minor work, he was heard by Walter Damrosch, who was conductor of the New York Symphony Orchestra, and his first important engagements were nine appearances with the orchestra.
These concerts were a tremendous success and led to many offers throughout the country.
These in turn, led to a contract with Asci victor from whom he made his first records in 1924.
In 1925 Crooks went abroad for the first time. He gave concerts in London, Belgium, Holland, and Germany.
His London concerts were poorly attended, and he never bothered to come back.
He was well received in Belgium, but it was in Holland and Germany, that he was given some of the finest receptions of his career.
Back in New York, Toscanini engaged him for the Verde Requiem, with the New York Philharmonic in Carnegie Hall, along with Rittberg, Homer, and Pinza.
From 1927 to 1932, he again traveled to Belgium, Holland and Germany, this time including the Scandinavian countries in his visits.
It was during his second visit to the continent, that he began to combine opera performances with concert recitals.
His operatic debut was in Tosca at Hamburg in 1927 and it was in this opera, that he chose to make his debut at the state opera in Berlin.
It would have been interesting to hear his performance of Faust in Budapest.
Crooks sang in French, Mefistofeles in Angarian and De Margarite in German.
Other European roles included Mastersinger, Lohengrin, Carmen, and Traviata.
So, the first record of him, is from this early period.
Here is a Lohengrin extract, admired by critics, so wide apart in time, as Herman, Cline, and John Steane.
In Fernem Land / Lohengrin / 1928 – Richard Crooks
Richard Crooks, American operatic debut was in Philadelphia in 1930 in Tosca.
In 1932 he was offered the position as the resident singer in the coast-to-coast radio programme, Firestone Hour.
This was one of America's most popular programs, it made Crooks famous overnight with millions of Americans and he remained a program's main artist for the next 13 years.
He realized his greatest ambition on February 25th, 1933, for this was the occasion of his debut at the Metropolitan Opera house.
Manon was the Opera, with Crooks, Bore, DeLuc.
Here is WJ Henderson's report in the New York Sun.
Richard Crooks, the young American tenor, made his Metropolitan Opera house debut on Saturday afternoon as Degaru in Manon, and won the immediate favour of one of the largest audiences of the season.
He had many recalls after each act and after the performance.

Mr Crooks has sung in opera in Europe and Philadelphia, a record sufficient in itself to excite interest.
But he had also made himself popular with the unseen audience, for he has long been one of the celebrities of the airwaves.

His success, however, was not due to what he had done, but to what he did on Saturday. His achievement was one of present merit and much promise.
The new tenor is tall and slender, he has a voice of good quality, warm and persuasive.
This voice proved itself capable of uttering the sentimental portions of Masani's music with feeling, as well as with musical beauty.
The singer revealed a serviceable technique and a good breath control.

Some of his phrases were long, well sustained, and well spun tone.
In action, the newcomer displayed frequently, a boyish gaucherie, quite in-keeping with the role and engaging in itself.
If Mr crooks had had more experience in a great opera house, he will acquire a stage routine of value.
His debut was one of merit, and of real promise.
Pourquoi me Reveiller / Werther / 1939 – Richard Crooks
Richard Crooks appeared 55 times, at the Metropolitan Opera.
And this number would have been higher, had it not been for a serious illness that caused him to retire from opera, during the 1942/43 season.
He sang there in Manon, Traviata, Linde de Chamonix, Faust, Mignon, Tosca, Butterfly, Don Giovanni, and Romeo and Juliet.
Linde de Chamonix of 1934 was a virtual creation at the Metropolitan. As this was the first performance by a resident company.
The cast was Crooks, Fonz, Deluca, and Pinza.
A further honor was the opening of the 1935/36 seasons in Traviata, with Crooks, Bore, and Tibet.
Crooks was one of the most popular artists ever to appear in Australia and South Africa. In his tours of 1936 and 1939.
Marjorie Lawrence mentions these tours in her book, Interrupted Melody, saying he gave performances of glorious music and earned himself a small fortune.
An appreciation of Australia's reaction can be gauged from the fact that on each of the tours, he gave 60 concerts to sold out houses.
Here he is, in one of his most popular metropolitan roles, Romeo
Ah! Leve Toi / Romeo / 1937 – Richard Crooks
Richard Crooks' popularity as a broadcaster was such, that he was in constant demand as a concert artist.
The Australian and South African tours have already been mentioned. And he was equally popular in America and Canada.
During the Second World War, he often organized concerts for the US armed forces.
Owing to his illness, Crooks retired in the summer of 1945.
His final concert was at Tampa FL, in April of that year.
On performance days, his routine rarely varied. He would rise at 8:30, have a good breakfast and vocalise for an hour, before enjoying a substantial lunch.
The afternoon would be spent resting and would have a light meal around 4 o'clock.
He liked to be in the Opera House about two hours before curtain, because this allowed a leisurely change into costume and a careful study of the music.
After performance he liked best, to go straight home and spend the remainder of the evening quietly.
He'd have a light supper before retiring around midnight.
He died of Cancer on September the 29th 1972.
Crooks was an exclusive Victor HMV recording artist; his first records were made in 1924 and his last in 1946.
A total of 174 sides were issued, during this time and there were also 6 sides made for the special music branch, of the US War Department, for the purpose of the Forces entertainment.
In 5 records, made by the so-called light opera company, in 1925/26, the un-named tenor was Richard Crooks.
Je Crois Entendre Encore / P-Fishers / 1939 – Richard Crooks

The History as it was Recorded