The History of The Tenor Narrated
The History of Richard Crooks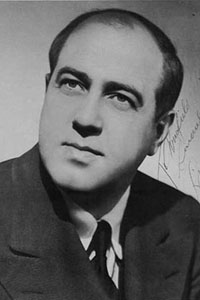 Born: June 26, 1900 – Trento, New Jersey, USA
Died: September 29, 1972 – Potola Valley, California, USA
American tenor.
Richard (Alexander) Crooks, studied with Sidney H. Bourne and Frank LaForge in New York. Richard Crooks first visited Loon Bay, the lake expansion of the Saint Croix River, in 1923. Crooks was a guest of the musical accompanist and arranger Frank La Forge. La Forge had built a studio on his father-in-law's 2700-acre summer estate, and operatic proteges such as Lily Pons and Gladys Swarthout not only honed their talents but also enjoyed camping forays along the river. The grassy knoll overlooking Loon Bay was a favorite camping spot.
After several busy concert seasons as an oratorio and song recital specialist, including participation in the American premiere of Gustav Mahler's Das Lied von der Erde, Richard Crooks traveled to Germany where he made his operatic début in Hamburg as Cavaradossi in 1927. His career took him to the Berlin State Opera, Belgium, and Sweden.
Following appearances in Berlin and other European centers, Richard Crooks returned to the USA, making his American debut in 1930 in Philadelphia as Cavardossi. In February 1933 he made his Metropolitan début in New York as Massenet' s Des Grieux and remained with the company for the next ten years as well as singing in other houses.
Although limited in the upper register, Richard Crooks possessed a voice of uncommon sweetness mixed with virility, and he learned to produce the top notes as cleverly mixed head tones. Max de Shauensee remarked that Crooks was "admired for [his] consistently high standard of tone and [vocal] production. He was a sound musician but an indifferent actor." On this latter point, Peter Davis remarked in The American Opera Singer that "from his photographs at least, Crooks always gave the impression of a friendly insurance salesman. But the voice was by far the most attractive among the American tenors of his generation."
Whenever possible, Richard Crooks stayed at the lodge between performances. He enjoyed canoeing, horseback riding, fishing, gardening, and photographing wildlife. Saturdays often comprised of rehearsals with his wife Mildred accompanying him on the piano. Crooks made his last appearance at the Met in 1943, Crooks gained his greatest fame through his huge number of ballad recordings and hundreds of radio broadcasts, especially as a regular on The Voice of Firestone ("If I could tell you . . .") beginning in 1932.
It was during a 1945 Firestone program that Richard Crooks lost a top note. A degenerative throat condition, muscular support had become increasingly difficult after a series of operations for peritonitis. This and the distance from the homes of his children, Patsy and Richard, were factors in his retirement several years later. In 1942 he retired from the Metropolitan on the advice of his doctor. Crooks cancelled his Victor recording contract in 1945, and in 1950 ceased all professional work. In 1966, Crooks was honored at the Farewell Gala to the Old Met, this proving to be his final public appearance.
He died at the age of 72, leaving behind a massive and rewarding legacy of commercial and radio recordings, some among the finest made by any tenor.