The History of Joseph Hislop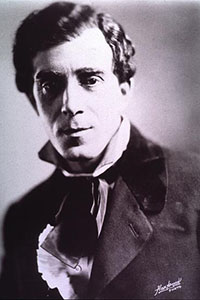 Born: 5th April 1887, Edinburgh
Died: 6th May 1977, Luss / Leven
Scottish Tenor.
So far then, and still not a single singer from the British Isles. It is one of those strange coincidences, that one raised off, from time to time, that the year 1884, should produce all three of the British Isles most famous tenors, and just to show that destiny shows no racial discrimination, you have a Scotsman, an Englishman, and an Irishman. Which is usually the way we start to tell our favorite joke, is it not?
The Scotsman was Joseph Hislop, born in Edinburgh on 5th April 1884. As a youth he sang in the cathedral choir at St Mary's, Edinburgh and after leaving school became an apprentice, as an engraver. He was eventually offered a position at a printing works in Gothenburg in Sweden and arrived there in June 1907.
He joined the local male voice choir and had the good fortune to be heard by a leading tenor of The Royal Opera House in Stockholm, who introduced him to doctor Gilleth Bratt, whose many celebrated pupils included Goata Lundberg, Gertrude Vitterman and Kirsten Flagstaff.
He studied with Bratt for three and a half years, and secured small parts in the Stockholm opera, before making his official debut in September 1914 in Gunoffs House.
He remained there, to growing acclaim for the next five years, before deciding it was time to advance to Italy. Where he secured a contract to sing at Naples at the San Carlo 1919/1920 season. But his rivals included Gigli and Merli.
He made a successful debut there in Lucia de Lammermoor.
How appropriate that a Scotch tenor should star in a Walter Scott story.
Fra Poco A Me Recovero / Lucia / 1923 – Joseph Hislop
Hislop appeared later that season in Rigoletto and Tosca, before moving on to Covent Garden, where he made his debut on May 14th, 1920, in La Bohème With a very interesting cast of Hislop, Russian Soprano, Maria Kuznetsov and the Algerian baritone, Dan Guile, an international cast indeed.
The following day he was introduced to Puccini, who unknown to Hislop had heard him the previous evening, and he made many complimentary remarks about his performance. He also sang in Madam butterfly this season.
The Chicago lyric opera booked him for the 1920/21 season, and he had another successful debut there in Tosca, with Rosa Reza and Georges Baklanov.
The Chicago Tribune reported:
This heralded tenor with the personification of the lively romantically youthful masculine Cava Radomski, Mr. Hislop did his best singing in the first act.
There in, his fore de voice, swiftly certain in attack, without strain of lyric, forcing or dictation, and translucent in its clarity. He is more than a charming personality and skillful singer, he's a thinking musician.
Then came Butterfly with Storchio, Rigoletto with Ruffo, Aida with Raisa and finally in partnership with Galli-Curci in Gounod's Romeo and Juliet.
In 1921/22, he took part in a 6,000-mile tour across United States and Canada, covering 15 cities with a Scotti Grand Opera company. His colleagues including Charles Hackett, Geraldine Farrar, Riccardo Stracciari, Angeles Spartina, Jose Palais and Mario Chalmer as well as Scotti himself.
He made his Renfroe at the royal Stockholm opera later in 1922 in La bohème. The first of 82 appearances, he would make as a guest artist over the next 15 years. He would have the usher hall in Edinburgh on the 18th of April 1922, giving a program of aria songs for an appreciative Scotch audience, with the proceeds going to the Royal Infirmary
The Gray House / Fortunio / 1929 – Joseph Hislop
My Love / Red Rose / Song / 1927 – Joseph Hislop
Afton Water / Song / 1929 – Joseph Hislop
His slip return to the Italian stage as Rodolfo in La Bohème in late 1922 at the Fenice in Venice. Then onto the Regio in Turin before his debut at La Scala in Milan on April 11th, 1923, in Lucia de Lammermoor, with the outstanding cast of Joseph Hislop, Tote Delmonte, Riccardo Stracciari and Ezio Pinza.
He was quite a success, and immediately offered another 45 performances at La Scalla. Unfortunately, this never bore fruit because of an argument over fees, something he regretted ever after.
Here is a review of that debut performance.
Last night's presentation of Lucia de Lammermoor offered a particularly interesting voice in the part of Legarda, which up to now had been taken by Pertl, who has always had the public in such a frenzy, that it was hard to judge another tenor, new to La Scala, Joseph Hislop. He surpassed the difficult assignment in a brilliant manner, he is gifted with a fresh and sweet voice, a really lyrical tonal voice. From the first act, Hislop knew how to captivate of cordial affection of a public, who applauded him warmly.
1923 saw him back at Covent Garden to sing La Bohème and Tosca. La Bohème was a glittering occasion. He sang with Melba, in the presence of the king and queen. An interesting appearance for collectors was his 1924 Covent Garden appearance in Rigoletto with Alvera De Ledaldo and Roberto Hirbano.
His stylish baritone then making his only appearance in London, and later in the season after Stockholm, again in Rigoletto, this time with Maria Evigan and Cesare Formica.
Joseph Hislop's busiest and perhaps most successful season in London, very successful for some Traviata, with Zelma Kurtz in Madame Butterfly Peter Page of the Evening Standard reported:
Hislop has the soundness of tone and flexibility of the Italian school which he understands it so well, his singing brought back memories of Covent Garden in its palmiest days. This was really wonderful singing; he is a musician of exclusive taste.
Dovunque W Gilly& Parnis / Butterfly / 1923 – Joseph Hislop
Now enjoying worldwide fame, his services were in great demand.
1925 saw him at the Cologne in Buenos Aires in Falstaff with Formic, Traviata with Muzzi and De Luca, Romeo with Nino Vallin and Juliette and an all-star La Bohème with Hislop, Alda, De Luca and Pinza.
In 1926 he was at Velecio in Barcelona, brushing shoulders with Miguel Frater, then the idol of Spanish opera goers. And the opera comic in Paris, where he sang in La Bohème, Verta and Tosca. Covent Garden saw him in Tosca, with Lundberg and Stamli, and the times reported:
He has a beautiful voice with plenty of power, where power is needed.
In the first duet with Tosca, in the cries of Vitoria in the second act, then the climax of the last act, where he always used the voice with quality, without effort. His singing was lyrical and easy throughout. Passages in the final duet, showed a feeling for fine phrasing, which is rare.
1927 and 1928 was spent in long tours of Australia, New Zealand, and South Africa. Then back to England to study for Faust, with the great Chaliapin of Covent Garden.
One day a knock comes to the door of his hotel, and in walks his old friend Antonio Scotti, in town for a day or two, with his Saville Row tailor. Over dinner a few evenings later, Hislop, knowing that the Baritones vocal powers were now somewhat diminished, asked the Italian if he intended to sing at the Met, the following season. Oh yes, Scotti replied, Cattie Ciasa he asked me would I like to sing the next season, and I answer him 'as long as I have the arms and legs, I sing'.
In 1930 he appeared in the film The Loves of Robert Burns and in 1931 another tour of Australia, New Zealand and South Africa was completed.
He continued singing until 1937, and of course, his last appearance was at the Royal Opera in Stockholm, where he was appreciated above all others.
He took up teaching there very successfully and his star pupils were none other than Birgit Neilson and Juissi Bjorling. He returned to the Guildhall School of Music to teach in 1952, remaining there until 1964, when he was past 80, among his British pupils were Charles Craig, Alberto Ramidus and Peter Glossop.
He returned to Scotland in 1968 and died in Luss, near Leven on the 6th of May 1977, aged 93.
Today in Scotland, few seem to remember his name, a pity it seems to me that our only tenor of international consequence, should be so neglected and not a single LP or EP of him ever issued by EMI.
Thank goodness for those precious Rubini issues of a few years ago, although even those are now gone.
He recorded 36 acoustic sides for the gramophone Co between 1914 and 1924, some issued as Zonaphones. And 4 acoustic titles for Pathe in 1914, and then 88 sides for the gramophone company by the electrical process between 1925 and 1935, a total of 128 sides in all.
E Lucevan Le Stelle / Tosca / 19xx – Joseph Hislop

The History as it was Recorded