The History of The Tenor Narrated
The History of Joseph Hislop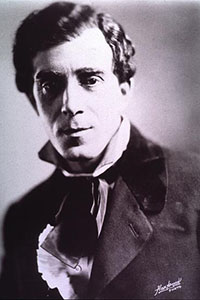 Born: 5th April 1887
Died: 6th May 1977
Scottish tenor.
The son of an Edinburgh housepainter, Joseph Hislop was born at Bowmont Place in the city on 5 April 1884. He was educated briefly at Sciennes Primary School but, as his family moved to the west of Edinburgh, principally at St Mary's Episcopal Cathedral, Palmerston Place, where, as a choirboy, he was taught the rudiments of music and received a free general education.
His voice broke and he left school, going to work as an apprentice photoprocess engraver in Edinburgh and then Glasgow, with advanced training at Bolt Court in London. However, still having a hankering for singing, Hislop went back to Edinburgh and asked his old choirmaster, Dr Thomas Collinson (also the Edinburgh University organist) to audition him. Collinson's considered verdict was 'You have a genius for music but your voice will never take you into the professional ranks' (a judgement which Hislop's future career as an international operatic tenor would show to be very wide of the mark).
Reluctantly, Hislop continued in the photo-engraving business, even being sent over to Gothenburg in Sweden to demonstrate the latest three-colour techniques. However, in his spare time he sang in a local male voice choir and his talent for singing was eventually discovered by a visiting soloist from Stockholm who predicted that Hislop had the potential to achieve a brilliant international career. Hislop gave up photography and went to Stockholm to train for the operatic stage, first with Dr Gillis Bratt (a throat and vocal specialist) and then at the Royal Opera School (almost unheard of for a non-Swede).
In September 1914 Hislop made his debut at the Swedish Royal Opera singing the lead in Gounod's Faust in Swedish. Over the next six years he appeared in many leading roles in Sweden and Norway, also sharing the principal role in Verdi's La traviata at the San Carlo Opera, Naples, with one of Italy's rising young tenors, Beniamino Gigli. Hislop made his Covent Garden debut on 14 May 1920 as Rodolfo in Puccini's La Bohème, conducted by Sir Thomas Beecham in the presence of the composer. Afterwards, Puccini congratulated him, commenting that Hislop was 'My ideal Rodolfo.'
Soon after the Scottish tenor was engaged over the Atlantic by his fellow-countryman, the soprano Mary Garden, then director of the Chicago Opera Association. He sang in Chicago and New York, later also touring the length and breadth of the country to rave reviews. At La Scala, Milan (1923), Hislop became the first British tenor to sing a leading role, going on to appear in Turin and Venice (both 1922), in Paris (Opéra-Comique) and, in 1925, at the Colón in Buenos Aires.
A change of medium followed in 1929 when (directed by Herbert Wilcox) Hislop played a singing poet in The Loves of Robert Burns (1930), one of the earliest British talking films, recorded at Elstree, with the future triple Oscar-winner, Freddie Young, overseeing the camera-work. The film was a financial failure, with a poorly-written script, too Scottish for the English, and too English for the Scots!
The British première of Franz Lehár's Frederica followed at the Palace Theatre, London, with Hislop taking over the role of Goethe created two years previously by Richard Tauber in Berlin. By 1934 Hislop had moved into English light opera, singing Sir Walter Raleigh in 380 performances of Edward German's Merrie England, which also involved a long British tour in 1935. The vocal strain of this long run proved to be damaging for his voice and Hislop retired in 1937.
Almost immediately he began a third new career as a teacher at the Royal Academy, Stockholm where one of his pupils was the soprano Birgit Nilsson and at home near Gothenburg — where he taught Jussi Björling to sing a High C.
By 1947 Hislop had returned to Britain to become an adviser at Covent Garden and then Sadler's Wells, also teaching at the Guildhall School of Music (among others) the baritone Peter Glossop and the soprano Elizabeth Fretwell. He retired to Fife in 1969 but continued to teach, among others, the baritone Donald Maxwell and George Donald, pianist and lyricist with the popular review group 'Scotland the What'.
Joseph Hislop married twice: first Karin Asklund (1915) and then Nancy Fraser Passmore (1940), daughter of the Savoyard Walter Passmore. He made over 180 recordings, and sang 29 operatic roles. For his services to music he was made a Knight of the Vasa (Sweden) and a Knight of the Dannebrog (Denmark).
Joseph Hislop died peacefully in his sleep at home in Fife on 6 May 1977.