The History of The Tenor Narrated
The History of Francesco Merli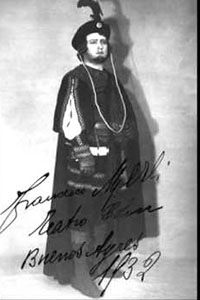 Born: 27 January 1887.
Died: 12 December 1976.
Italian tenor.
Narrative 1
A fine Italian tenor of this period was Francesco Merli, born in Milan on the 27th of January 1887.
He first came to attention in 1914, by winning second prize at the renowned Parma singing competition. The first prize was won by a certain Bennimino Jurlee.
He studied in Milan under Professor Nugrene and Borne, and after appearing in various Italian cities to growing acclaim, was invited to sing at la scala in Milan, making his debut there in 1916, as Alvaro in Spuntini's, now forgotten opera, Fernando Cortes.
He was a success and was invited back the following season to sing in several new productions of the Scala notably in Rossini's Moses in Egypt and Bellinis, Last Tranuera.
Now established, he added the more dramatic roles to his la Scala repertoire over the next few years, singing, Radomez, Andrea Chinae, Don Carlo, Manrico, Canio, Caloff and finally Othello, in which he was a huge success all over Italy.
Here is a sample of his Radamez from Aida. Part of the temple scene, with that splendid Italian base, dan cride passero.
Narrative 2
One of Merli's outstanding attributes, was his ability to learn the most difficult and rarely performed music.
Music certainly not in the general repertoire. Such as Volve Ferrari's Sli, Cataline's de Journee Franketti's Herminia, Gomez's Salvatore Rosa, the prodigal son from Kelly and rubla marketi. And he also took part in some very difficult modern works at that time. Such as Russpedi's Belphegor in 1923, And in Guárico's et mirale de Brielle, in 1924 and Madama de Challa in 1927.
More normal repertoire was included in his frequent and highly successful appearances at the Verona arena, where he appeared in Andrea Chania in 1924. Don Carlo in 1930. William Tell 1931. Trovatore 1933. Norma and Aurelie in 1935 and in Othello 1936. And he could undertake some German roles, also singing in Beethoven's Fidelio and Wagner's Mastersinger.
In 1932 he was engaged to sing at the Metropolitan Opera in New York, but I have not been able to trace any performances there. He continued to sing at la Scala, until 1942. Then in Bologna, Naples and Rome and from 1948.
He retired in 1950 and set up as a teacher in his birthplace Milan.
Narrative 3
Merli recorded for Colombia, many fine solo and concerted items, made during the late 20s and early 30s.
When Pertille moved to HMV in late 20s, Merli was used as the main Colombia challenge in his repertoire.
He recorded three complete operas with the company, Il Travatore, Pagliacci and Turrandot.
I should like to finish, with part of a duet from Othello, his most popular role and it also gives us the opportunity to hear the devine Claudio Mutzi.