The History of The Tenor Narrated
The History of Francesco Merli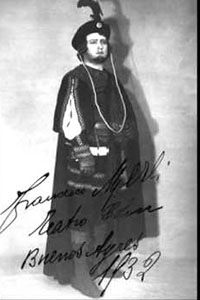 Born: 27 January 1887.
Died: 12 December 1976.
Italian tenor.
Born in Milano on Francesco Merli received his vocal education in his natal city under the pedagogues Negrini and Borghi, and after having come second in a tenor singing contest in Parma in 1914, where the winner was the young Beniamino Gigli, he rose to a certain fame and made his operatic debut the very same year in Milano as Elisero in Rossini's Mosè in Egitto, followed by appearances at the Teatro Colón in Buenos Aires, where he amongst other roles appeared in the world premiere of the Argentinean opera "Huemac" by Pascual de Rogatis, and visited regularly between the years of 1920-32 the house.
His La Scala debut came in 1916 as Alvaro in Spontini's "Fernando Cortez," and he enjoyed particular success with his Walther auf Stolzing in Wagner's "Meistersingern" in 1922. Merli remained with La Scala until 1946 where he was much admired by Toscanini, appearing as Lohengrin, Calaf, Des Grieux, Dimitrij in Mussorgskij's Boris Godunov, Radames, Turiddu, Manrico, Vassilij in "Siberia" by Giordano, Canio, Florestan in Beethoven's "Fidelio" and from 1935 the title hero in "Otello."
In 1926 he was Calaf in the premiere performance of Turandot at the opera of Roma, and at the premiere performance in 1927 at Covent Garden in London. In the years of 1926-27 and 1930 he appeared at the Covent Garden in London as Faust in Boito's "Mefistofele," as Calaf, as Enzo in Ponchielli's "La Gioconda," as Gennaro in "I Gioielli della Madonna" by Wolf Ferrari, as Dimitrij in "Boris Godunov" and as Des Grieux.
Merli also took part in the world premieres of Respighi's "Belfagor" (La Scala, 26 April 1923) and Bruno Barilli's "Emiral" (Teatro Costanzi di Roma, 1924).
1924 and 1930-36 he sang at the festivals of the Arena DI Verona, and in 1928 he participated in a tour of Australia with the Melba Williamson Company, which had engaged the great Prima Donna Nellie Melba. During his short engagement with the Metropolitan Opera in New York, where he made his debut in 1932 as Radames, he sang Edgardo in "Lucia Di Lammermoor," Pinkerton in "Madama Butterfly" and Gabriele Adorno in "Simon Boccanegra." He interupted his engagement with the Met due to acute illness, and returned to Italy only after one month.
In 1935 he performed at the Grand Opira Paris as Pollione in "Norma," followed by appearances at the opera of Köbenhavn [Copenhagen] and at the Thibtre of Champs Ilysies Paris, and toured with the opera company Carro Di Tespi in Belgium.
Francesco Merli was active on stage in Italy until 1950 when he retired from the scene and commenced as a pedagogue in Milano. He died here, on 12 December 1976.