The History of The Tenor Narrated
The History of Titta Ruffo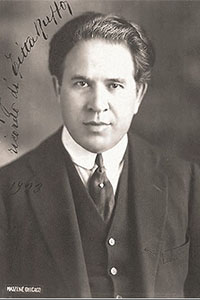 Born: June 9, 1877
Died: July 5, 1953
Italian.
His real name was Ruffo Cafiero Titta. He was born in Pisa, the son of a metal worker, and grew up in poverty. For many years he travelled through Italy until he finally found a master who taught him the trade of an iron worker. Meanwhile his vocal talent had become evident and several mentors enabled him to study at the Academia di Santa Cecilia in Rome.
He became a pupil of the famous Venceslao Persichini for a short time (who was by the way more interested in another of his pupils, Giuseppe de Luca). His debut took not place until 1898 (as the Herald in Lohengrin). In the subsequent years he toured the Italian provinces, singing leading rôles such as Rigoletto, Barnaba, Carlos and Rigoletto. Around the turn of the century his world career was on its way. He preferred to make guest appearances in the most important opera houses. He was triumphantly successful at Covent Garden, Egypt, South America and Imperial Russia.
In 1905 he sang one of his most famous roles, Amleto in Thomas' opera. He sang this role at various opera houses and frequently the opera was staged only for him. He sang several times opposite Enrico Caruso but there are valid suggestions that Caruso used his influence to prevent Ruffo being invited to the Met and this notwithstanding good personal relations between the two singers. Therefore he made a rather late Met début in 1922, a time when his voice was already in decline.
Nevertheless he stayed until 1929. After terminating his career, he lived in Italy, but, as a vehement opponent of the Mussolini regime he was ostracised for many years (his brother-in-law was a socialist and was murdered by the fascists). Only at the end of his life he did enjoy a splendid rehabilitation.