The History of The Tenor Narrated
The History of Giuseppe Borgatti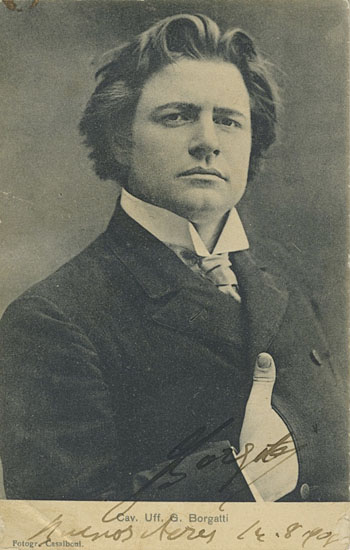 Born: 1871
Died: 1950
Italian Tenor.
He was born in Cento, Ferrara, into an agricultural labouring family. He first worked as a bricklayer before entering into service with the Marquis Plattis where his vocal talents were quickly recognised. A recommendation from the Marquis allowed him to study under Alessandro Busi in Bologna and he made his debut in 1892 as Faust (Gounod).
For the next few years he learned his trade in theatres throughout Italy and the turning point came for him when in 1894, he was a huge success as Puccini's Des Grieux in Venice. Later the same year he sang Wagner's 'Lohengrin' in Milan before singing in Spain and St Petersburg.
He was a huge success in the first performance of 'Andrea Chenier' and from then on his career was one success after another in a number of major opera houses. He was the foremost Italian heldentenor and he went on to sing all the major Wagnerian tenor roles.
In 1907, his eyesight began to fail and in 1914 he was diagnosed with Glaucoma which led to total blindness over the next few years which forced him to retire from the operatic stage although he continued to sing in concert until the end of the 1920's.