The History of Giuseppe Borgatti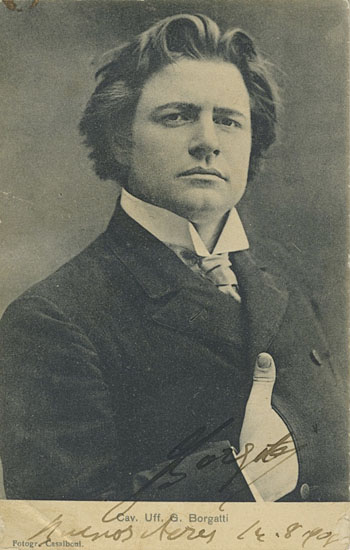 Born:17 March 1871
Died: 18 October 1950
Italian Tenor
Now we must have a look at two very unusual Italian tenors. They were unusual, in that they specialized in the vignarion operatic repertoire, singing the music in their own language.
Now we must realize, that the rivalry between the leading German opera composer Richard Wagner and Italy's hero Giuseppe Verdi is intense.
Not only were the two nationalities involved, all with keen enough at any time, but in addition, each represented an entirely different approach to grand opera.
Wagner's operas had cast off many of the old conventions, particularly the set piece aria and ensemble. Nothing was to be allowed to hold up the unfolding of the drama, and what drama.
Stories of gods and heroes. Mystic tales of man's quest for his destiny, told with thundering orchestras and vast choirs. Magic fire music, forging songs, dragon's blood, a ride through the heavens, hunting calls, funeral marches, and the like. And very effective it can be, I can tell you.
When I first sat through Wagner broadcast ring, during five successive Sundays, when I was in my youth, I couldn't bear to listen to Italian opera for months afterwards. Anyway, the poor singer, usually the centre of attention and admiration, was but a pawn in the vast vortex of orchestral sound and imagination.
Verde on the other hand, the very apex of the old style, wonderful tunes, brilliant vocal writing, superb en songs and with the singer still supreme with his set piece aria. Although he too had begun to discard some of the frills such as trills, runs, roulade's etc We hear none of these in the later Verdi operas.
And so, it took a long time, before most Italians came to appreciate, perhaps tolerate would be a better word, the German vignarian master, but only then, if sung in their own sweet-sounding language. The guttural Germans sounding intolerable to Italian ears.
And if an Italian could be found to sing it, so much the better, then they would show how it should be sung.
And that was how Giuseppe Borgatti came to make his reputation.
He began of course in the usual repertoire. Faust, Don Pasquale, Fradiavalo etc in the provinces.
His first important engagement was at the Dal Verne theatre in Milan as Lohengrin and from there he went to Saint Petersburg, where he added to his growing fame.
For the next two years, he sang mostly in Russia and Spain, but his breakthrough into the big time occurred when he was asked to create the role of Andre Asheneer at La Scala.
Fortunately, the performance was an enormous success and Borgatti was enthusiastically acclaimed by press and public alike.
The reviews made special mention of his declamation in the famous improvisso and the beauty of his mezavoche.
In 1898 he travelled to Buenos Aries, making his debut there in Boito's Mefistofele.
Again, the reviews were ecstatic, and even went so far as to compare him with the great Angelo Massini, who had been a great favourite there in this role.
It is from this period, that his interest in Wagner tended to oust other operas from his repertory, probably helped by Toscanini's influence, as he appeared with a great maestro at La Scala, first as Siegfried in 1899, then Tristan in 1900 and Logue in 1903, and for the next decade he was undisputedly Italy's leading vignarian tenor, appearing each year at la Scala in Milan and the Constanza in Rome.
Here he is in then, in his beloved Wagner, Lohengrin
Di Non T'Incanto / Lohengrin / 1910 – Giuseppe Borgatti
It was in 1913 during a rehearsal of Pacefalle at La Scala, that Borgatti suffered a temporary loss of sight, and had to be led from the stage.
This blindness appeared to clear up after a few days, only to reappear spasmodically thereafter.
He consulted various specialists, who diagnosed glaucoma, without being able to offer help. And by 1914, he was totally blind and was forced to leave the operatic stage. His last years were spent at his Villa, on Lake Majiore, where he died on the 18th of October 1950.
Despite his great popularity, Borgatti made comparatively few records. Four Phonotapayas, three Colombia's and seven Pathes were his total output, and nothing from Andrea Ashine, his greater role.
A strange thing this, it also happened to Caruso, nothing from the girl of the golden West and Tuff Lata, nothing from Turandot, both greater roles for these two great singers.
The first record of Borgatti was from a Pathe original, and to finish, another extract from Lohengrin, this time from a Columbia record
Atmest Du Nicht / Lohengrin / 1912 – Giuseppe Borgatti

The History as it was Recorded