The History of The Tenor Narrated
The History of José Palet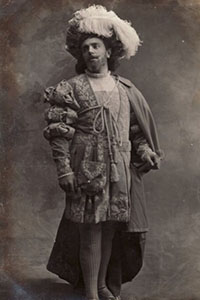 Born: 07.06.1877 Martorell, Barcelona
Died: 01.02.1946 Milan, Italy
He took some lessons in Martorell with Maestro Paredes and then he was introduced to the industrialist Ramón Batlló; This, once Palet's skills were proven, became his protector. He studied singing in Barcelona with Joan Goula , and at the age of 23 he debuted at the Gran Teatro del Liceo with the opera Donizetti's favorite with a remarkable success.
Trajectory
He made an international career for the main theaters in Europe and America . He was applauded in theaters such as the Teatro Real de Madrid , where he sang several seasons. In Italy , where he was an idol while he was active, he toured his most important operatic centers. He lived in Milan for many years and debuted at the Teatro de La Scala in 1911 , which meant his definitive consecration. The same year, Palet married Luisa Erivigio.
He was fundamentally an interpreter of the Italian romantic repertoire and also frequently sang Spanish operas such as Marina , participating in the first performance of this work at the Lyceum.
The key to Palet's success was to have a voice that modulated at will. His diction was very good, the same in the high and high tones, as in the low and cadencious tones; This virtue gave him a personal character and a great interpretive naturalness. In addition, Palet had one of the most extensive operatic repertoires of the time; Someone even said that he knew more than ninety operas. In fact, he triumphed in operas in which other professionals failed, as was the case of Les Huguenots , of Meyerbeer , or The singing masters of Nuremberg , of Wagner .
From 1936 , Palet retired in the city of Milan, where he achieved great popularity. He died suddenly while traveling by tram in 1946 . He left high quality recordings.