The History of Francesco Tamagno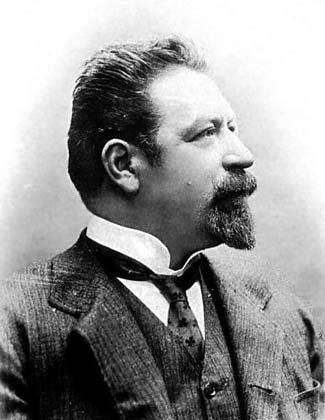 Born: Turin (Kingdom of Piemonte), 28 Dec. 1850
Died: Varese (Kingdom of Italy), 31 Aug. 1905
Italian Tenor
Very few Operatic events in history ever achieved as much interest, excitement, and anticipation as the premier of Verde's Opera Otello at La Scala in 1887. The hand-picked cast included two of the greatest names of the day. Viago was to be Victor Maurel and Otello was to be sung by Francesco Tamagno.
Tamagno, 36 in 1887, was already the greatest tenor de forbeser of the period, a mighty voice, with a most unusual and unique production. Not a Tenor voice but rather a Tamagno voice.'Nothing quite like it, has been heard since'
Henry Pleasance again.
"No-one knew better than Tamagno himself, that he was at his best in scenes of elemental intensity and passionate situations, where he could call upon his immense resources of voice and temperament for the expression of exultation, outrage, fury, resolve or despair."
He had seen Otello played by the great Italian actor Tomasso Salvini and he was sufficiently familiar with the play, to recognize, that the part of a simple, proud, passionate man at the mercy of a brainy, cunning and conniving adversary, was made to his order. That this role would discover more of the best that was in him than anything ever written for a Tenor. He never had the slightest difficulty in fathoming, what it was that Verde was about.
Tamagno retired in 1900. But in 1903 at the age of 53, unwell, with a serious heart condition, (he died two years later) and before the most primitive recording equipment, he made a few precious gramophone records. It is for recordings like Tamagno's, Pate and Lilleymans and other supreme voices caught in the twilight of their lives, that we should perhaps, be most grateful.
For no matter how they sound and in spite, of all the faults and deficiencies, brought on by the weakness of old age, still the frequent moments of grander, the flash here and there, are the only glimpses we have, of that last golden age of singing, that has gone forever. So, we can sit back now and listen to a Otello and indeed to the very original of 1887 over a century ago, Tamagno – Esultate.
Esultate – Francesco Tamagno
Another famous Tamagno role was William tell and Arnolds call to arms of the coream, finds in Tamagno, the ideal voice for this heroic passage, all the high notes are brilliantly taken.  Although the old record demonstrates the unique open, slightly nasal tone.
John Stein remarked that Tamagno was one of the very few singers who could preserve an open uncovered voice from top to bottom and survive.
It was a seamless voice, wonderfully even, in production over a two octave range.
Corriam, Corriamo / William Tell /1903 – Francesco Tamagno
Henry Pleasants has this to say about our last Tamagno record.
"There can hardly be any more illustrated phonograph record than that made in 1904 by Tamagno of Otellos death scene. He was 54 in that year. The voice, no longer fresh, nor always reliable. The production is primitive, and the piano accompaniment is ludicrous but the searing despair of his et tous comice pallada, estanica, emuta, ebella and due how pale you are and spent and silent and beautiful, uttered after Otello's strangled Des Demona is possibly unmatched by anything else in acts.
Niun Mi Tema / Otello / 1904 – Francesco Tamagno
The History of The Tenor as it was Recorded