The History of The Tenor Narrated
The History of Julius Patzak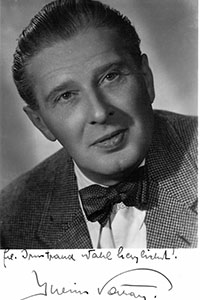 Born: 9 April 1898
Died: 26 January 1974
Austrian tenor.
The distinguished Austrian tenor Julius Patzak's father, grandfather and great-grandfather were all schoolteachers.
He attended school in Vienna, and then completed his military service in what was then Serbia. On the advice of his father, he became a civil servant and worked in the office of the Youth Council of Vienna. At the same time he attended lectures at the University of Vienna with the intention of becoming a conductor.
He studied musicology and conducting under Franz Schmidt, Guido Adler, Grädener, Wellesz, and Mandyczewski.
However, Julius Patzak was destined for a different career. Although he allegedly never took voice lessons, his gift for singing distinguished him during an amateur concert of the Viennese Schubert Society.
He was subsequently offered a contract for what would be his operatic debut at the Reichenberg Theater in Bohemia on 3 April 1926 (or 1923 according to Baker's), in the role of Radames (Aida).
After spending the 1927-1928 season in Brno (Brünn), he joined the Bayerische Staatsoper, Munich, and was their leading tenor from 1928 to 1945.
Julius Patzak's first wife, Hedwig, died soon after his move to Munich. In 1931 he married Maria Walter, grandaughter of the famous operatic singer Gustav Walter. The couple had one daughter.
After World War II, he left Munich and sang with the Vienna State Opera from 1945 until he retired in 1960 (or 1959, according to Baker's). He appeared regularly in the Salzburg Festivals, including the world premieres of Von Einem's Danton's Tod and Martin's Le Vin Herbé. He also taught at the Salzburg Mozarteum from 1962 to 1966 and at the Music Academy in Vienna from 1948 until his death.
He first appeared at London's Covent Garden as Tamino in 1938, returning there with the Vienna State Opera in 1947, and singing there regularly from 1951 to 1954. Patzak only appeared in the USA once; the 1954 Cincinnati May Festival.
Julius Patzak was noted for his roles in Mozart's operas, especially for his interpretations of Mozart's Tamino and Belmonte, but he became best known for his compelling portrayals of Beethoven's Florestan and Pfitzner's Palestrina. He had a repertoire of some 70 roles which ranged from Singspiel and operetta through the lighter Wagner roles and Richard Strauss to Verdi, Puccini and Mussorgsky. He was in great demand as a soloist in oratorios and as a lieder singer.
Late in his career he was still a marvellously subtle and stylish performer of Viennese Heurigen songs and he also took up conducting again.
Julius Patzak was a teacher at the Vienna Academy of Music and the Salzburg Mozarteum. He retired from stage in 1966.