The History of The Tenor Narrated
The History of Julius Patzak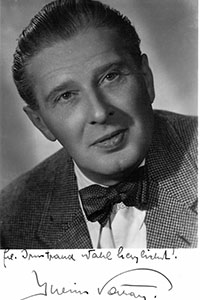 Born: 9 April 1898
Died: 26 January 1974
Austrian tenor.
Narrative 1
Back to Austria for our next subject, the tenor, Julius Patzak, born in Vienna on the 9th of April 1898.
His musical interests showed up early at the Vienna university, under the Vienna Schubert Club.
He wrote music, but his main aim at this time, was to be a conductor.
It was while taking a prominent singing role, at the Schubert Club, that he was heard by Dr Karl Rankle, then director of the state theatre in Rustenburg. And invited to prepare for an operatic debut there. (By the way, this was the same Dr Karl Rankle that I remember so well as conductor, of the Scottish national orchestra in the 1950's) Patzak's debut took place on the 3rd of April 1926, as Radames in Aida.
And believe it or not, the man never had a singing lesson in his life.
In this, he joins his noted predecessor, Karl Erb, whom he is often considered to have succeeded.
Erb had had a few disastrous lessons, which he found were ruining his natural voice, and went back to self-tuition. Both Patzak and Erb were noted for the silvery timbre of their voices.
And were equally successful in opera, auditoria and lida, where Patzak, like Richard Tauber, also became famous in Operetta. For the 1927/28 season, he was at Bruin in Czechoslovakia. And remembers singing in a performance of La Juive, singing Leopold, to Slezak's Evejar.
And exactly two years, after his debut, he was called to Vienna to debutise his Radames, for an indisposed Slezak.
This was on the 3rd of April 1928. Both Slezak and Picaver came to see him in his dressing room, to wish him well.
And indeed, he had a successful debut, in this great house.
But for his first record, a sample of his operetta work.
Narrative 2
Patzak's next contract was at Munich, and it was this city, that was to become his base of operations.
He sang there in 1050 performances, between 1928 and 1945.
His debut was in Verdi's Un Bellion Mascaras, the Mast Ball. And then came Belmonte in Enforo, and then Don Giovanni, Cosa Vantoute, Rheingold, Lohengrin, and Balischena.
Operetta was not forgotten, as he appeared in three, during his first years there. You had to be versatile in Germany, in those days. Clemens Krauss became the driving force at Munich.
This celebrated Viennese conductor, had noted how Mallor had built up the legendary Vienna ensemble at the beginning of the century, and he himself had been director of the Vienna state opera from 1929 to 1934.
Now he applied the same principles to his Munich directorship and built a reputation there, that was to last until the end of World War Two.
The accomplishments of Patzak, as singer and actor were of course, invaluable. He was one of the few tenors, who completely mastered the art of vocal expression and song.
Not only were the words, crystal clear but the tone, fitted the drama. This coupling of vocal intensity with clear diction, made Patzak, one of the finest oratorio singers of his time.
On the stage, his well thought out and never over mannered acting, allied to his vocal ability, made for character portrayals, that were wholly believable figures to the audience.
Although regarded primarily, up to this time, as a lyric Mozart Tenor, he became the leading exponent of the roles of Florestan, in Beethoven's Fidelio, and Palestrina in Fitnah's opera of that name.
To give some idea of the Munich ensemble under Krauss, Patzak's colleagues included, Adele Kern, Hilda Goudan, Karen Branzel, Peter Anders, Tausan Ralph, Hans Hatta, Paul Bednar, Ludvik Veda and Henrick Raikemper.
Here he is, in one of his Mozart's' roles, Fernando's Aria from Cosi Fan Tutte.
Narrative 3
Patzak, sang at the Salzburg Festival most years, from 1938 until 1953, and finally in 1961 and 62.
He was a regular guest artist at the Berlin state opera. He sang, as a guest artist at the Vienna state opera in 1924, 1928/29, 41 and 44, and remained on the roster until pensioned in 1960.
His Covent Garden debut was on the 16th of June 1938, as Tamino.
Tauber was there too, and they became friends. Once, when Patzak was taken ill, in Bao, he was rushed to hospital with appendicitis.
Alone in his room, and feeling very miserable, the door suddenly swung open, and the room began to fill with flowers, brought in by staff, followed by a beaming Tauber, come to cheer up his friend.
A sad occasion was when Patzak was with Tauber on the 27th of September 1947, after his last ever performance as Atalio, that we already know about.
Patzak sang at Covent Garden again in 1947, 1951/52/53 and 54.
As a concert singer, he was famous throughout Europe. Appearing in Switzerland, Holland, and in Edinburgh, in addition to the places already mentioned.
From 1929 to 1938, he recorded 90 sides for the Polydor company in Germany, plus abridged versions of Betel's student in the Barber of Seville.
Then came ten sides for Decca, after the war, plus a complete Freidamouthar goudan, and for Columbia, Beethoven's choral Symphony. On LP records, he took part in 9 Decca sets, 4 Vox sets, 4 Nixa, 1 Odeon, 1 Nonsnitch, 10 Prisca sets, 1 Amadio set, 1 festival LP. Some idea, of the range and scope of his work, may be gauged by the listing of his appearances.
Over 1700 opera performances, about 500 other major works, such as oratorios, masses, cantatas etc 799 leader concerts, several 100 operettas and 179 radio concerts.
He died on the 28th of January 1974, at his home, on the Taegeran Sea on southern Bavaria, only a few 100 yards away from Slezak's wooden castle.
The record to end with, should be his Floristan aria from Beethoven's Fidelio, this was considered to be his finest role, but unfortunately, this is not available, so I've chosen the dream from Manon and an aria from the Tale of Hoffman.
The four records chosen, showing something of his amazing versatility.