The History of The Tenor Narrated
Nigel Douglas on  John Vicars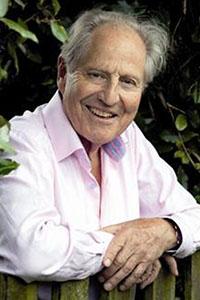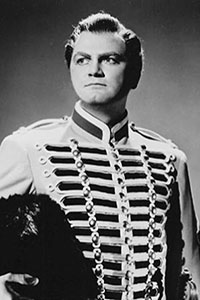 Born: 9 May 1929
English tenor and writer
Nigel Douglas talks about his career of 40-plus years, the joy of Kentish cherries, cricket and Canterburys New Marlowe Theatre
Nigel Douglas Leigh Pemberton was born and brought up at Torry Hill, the middle of three brothers, but has been known by his two Christian names alone ever since he started singing professionally.
Studying in Vienna and starting his career on the continent, it was a great disadvantage in the German-speaking countries to have a name nobody could pronounce.
Agents and theatre managers dont like to ring somebody whose name they cant pronounce, so they would ask Fritz Schmit to sing the role instead of this Nego Like Pimpertoon person, he laughs.
I was advised by the head of classical records at Decca to find a more amenable name and as my second name was Douglas, my fathers Christian name, and the name Douglas is known in all the German-speaking countries, I adopted that and once youve done that its very difficult to exist under two separate names, so we think of ourselves now entirely as Douglas, my wife and I..
We are speaking in the study of his home in Barfreston a room tucked away up a narrow, winding staircase that Nigel, an improbable 81, has literally bounded up.
He recalls a very traditional upbringing and the assumption that he would end up going into the City or to the Bar, but after just 18 months at Lloyds Insurance, that clearly wasnt to be: I absolutely hated every minute of it!
Nigel did, however, adore singing and one of the formative moments in his career came in 1953 when he was President of the Oxford University Opera Club and The Old Stagers in Canterbury offered him the role of Freddie in Pygmalion.
On the last night, Nigel was asked to do a 10-minutes spot for the Epilogue and sang a couple of his favourite Viennese songs, his first performance to a cash-paying public. He was astonished by the audiences reaction: They sort of went wild and I had no idea that I was able to have that effect on people, he says.
Playing the part of Eliza was West End actress Sarah Lawson. It never entered my head that this stellar creature would take any notice of me, but she came up to me after she had heard me sing and said speaking as a professional, you have no right to remain an amateur. And I thought to myself, my word, if I can impress her, theres more in this singing lark than Id realised!
There was indeed and Sarah, who became Sarah Allen when she married the actor Patrick Allen, remains a dear friend and sat next to Nigel at his 80th birthday party last year.
With renewed confidence, Nigel sang as often as he could in amateur productions while up at Oxford reading Classics, initially as a baritone, though always with a feeling that he actually had a tenor voice.
A chance remark to a friend in London Ive got to leave this terrible job and Ive got to study singing, but I must find the right teacher! led him to discover that Alfred Piccaver, the star tenor of the Vienna State Opera from 1910 until Hitlers time, had returned to England and was living in Putney.
My friend played me a record of Alfred singing the tenor solo from the Verdi Requiem and I was just blown out of my seat, he says. I said if the owner of that voice is teaching in Putney, Ive got to get to Putney as fast as I can.
The two met and the training began, but Nigel had only been studying with Piccaver for just over six months when his tutor was invited back to Vienna as the guest of honour at the re-opening of the Vienna State Opera in autumn 1955.
He then wrote to me that he would be staying, and was giving up teaching, but that he would like to go on teaching me and felt that he could get me into the Vienna Music Academy. And I thought this is it this is my Rubicon and I must cross it.
Nigel wasnt to return to England until his marriage to his English wife Alexander (Lexi) in 1973, after spending three and a half years studying at the Vienna Academy, living in Zurich and working his way up the ladder of the German-speaking opera houses (where there were 65 full-time opera companies compared to only two at that time in Great Britain)
The couple were married in the local village church at Frinsted and now have three grown-up children and two grandchildren, but moved from their family home of 25 years four years ago when six and a half acres of garden became too much to manage.
Although he continued singing internationally, when Nigel reached the age of 50 he decided to spread things out a bit and started directing Viennese operettas at Sadlers Wells.
It was an open door for me because I had sung many of them abroad and was and still am the only British tenor ever to have sung the leading role in The Merry Widow in Vienna, he says.
Nigel had made his British debut at Sadlers Wells in a Viennese operetta, The Gypsy Baron by Johann Strauss, playing the title role. Taught to be able to act and dance as well as sing, it was no difficulty for Nigel to drift from the one to the other without any nasty breaks, but it was a different matter when he went on to direct.
It became a teaching job too, because you are faced with a cast of opera singers who are superb singers and wonderful to work with, but who have never been asked to take equally seriously the singing, the speaking and the dancing. For some it was a considerable struggle, but so rewarding when you see the results.
Nigel himself stopped singing in 2001 at the age of 72 with a farewell performance at Glyndebourne in Jančeks The Makropoulos Case and admits: I had an incredible amount of luck in my career, in my whole life in general certain operas became popular at the right moment for me. The Janček operas, in particular, tended to contain wonderful roles for mad old men, so I became the worlds favourite mad old man!
I did not have one of the great voices, like Pavarotti or Domingo, but I was able to move out of the big tenor romantic roles into the character roles and for the last 15 years of my career I was singing a completely different repertoire from the roles Id been singing at the start.
The truly great opera singers with the world-class voices cant do that, people dont want to hear Pavarotti singing the part of the mad old man. Whatever he may look like an immobile elephant in the middle of the stage they still want him to sing the young lover because of that glorious voice he had.
Nigels favourite romantic lead roles were Rodolfo in La bohme and Lionel in Martha, but his great passion was the Benjamin Britten operas.
The greatest excitement in my career was working with Benjamin Britten, he says. He cast me in the role of the young tenor in Owen Wingrave, the opera he wrote for TV. We did it on television in 1971 and on stage at Covent Garden in 1973, when I first came back to London.
The composer first heard Nigel sing when he took over the title role of Peter Grimes in the Edinburgh Festival of 1968 at about three hours notice, despite the fact that he had never sung it in English before, only in German.
I knew I was solid in the role musically, and that attracted a lot of attention of course, but luckily nobody told me Benjamin Britten was in the audience or I wouldnt have dared perform it! he admits. For me, it was like meeting Mozart or Puccini or Verdi.
He came up on stage at the end of the performance and shook my hand and a lot of people said to me afterwards, what did he say to you? And what he said, word for word, was jolly well done old thing, jolly well done! He was just a lovely, lovely man and terribly kind to me. H e He
e was my absolute hero because there was no such a thing as British opera until Benjamin Britten came along.
Nigel Douglas "The Joy of Opera"