The History of The Tenor Narrated
The History of Amedeo Bassi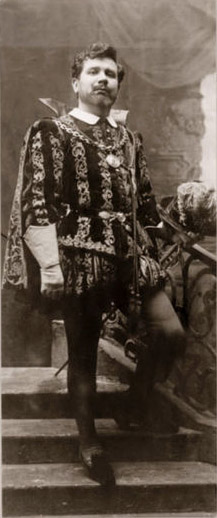 Bassi, Amedeo
Born: 26th of July of 1872
Died: 1949
Italian Tenor
Amedeo Bassi was born in Montespertoli (near Florence) on the 26th of July of 18721, studied singing with the Marchese Corrado Pavesi2, and made his debut in Castelfiorentino in the opera "Ruy Blas" by Filippo Marchetti (1897).
The month of his debut must be either October or early November. In November he sang at the Arena (Florence) in "Rigoletto" and "Lucrezia Borgia".
In 1898 and 1899 he sang mostly in the "provinces," mostly in lyric roles such as Des Grieux in "Manon," "Faust," the Duke in "Rigoletto" and Rodolfo in "La Boheme". He was heard in Ravenna, Firenze, Livorno, Bologna, Pisa and Lecce. Two rather unusual titles were the local première of "Nemea" (by Coop) and "La Resurrezione di Lazaro" (by Lorenzo Perosi), both at the Teatro Pagliano in Firenze.
Conductor/composer Luigi Mancinelli was so pleased with his performances that he chose him for the local première of his opera "Ero e Leandro" at the San Carlo in Naples (1900, March 9). The world première had been in Madrid in 1897). He also appeared in "La Boheme" (4 March) with Lina Cavalieri.
Like Caruso he was one of the first performers of the rol of Cavaradossi in "Tosca". In Genoa (Politeama, October 1900) he had to sing five times the third act aria (E lucevan le stelle). He also sang in "La Boheme" and in the world première of "Medio Evo Latino" (November 17) an opera by the Argentinian composer/conductor Ettore Panizza.