The History of The Tenor Narrated
The History of Costa Milona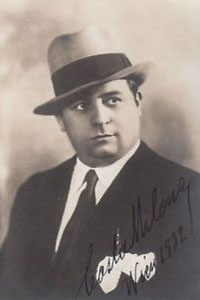 Born: 3rd of February 1897
Died: 27 of March of 1949
Greek tenor.
Konstantinos (Kostas) Mylonas was born in Keratea (an area just east of Athens, Greece) on the 3rd of February 1897.
His father Stamatis and his mother Eugenia were illiterate and very poor farmers. His father died while Kostas was still a child and so Kostas was sent to work for a French mining company in Plaka, outside nearby Lavrion. A man named Kiriakidi heard him singing and sent him to the Athens Conservatory, paying also for his board and lodging. He remained in the Conservatory from 1908 to 1918, studying Byzantine Church Music, singing and drama.
Mylonas made his first stage appearance not as a singer but as an actor in two plays produced by the Drama School of the Conservatory, in March 1917, "Medea" and "Gynecomachia" by playwright Legouvé. One month after, in april 1917, he started appearing in student concerts, in some of them accompanied by Dimitri Mitropoulos at the piano.
He graduated in June 1920 with "excellent" grades both in "singing" and "history of music". Before the year was over he left Greece forever. He never came back to his home country.
He went to Italy, most probably directly to Milan. It was there that he studied with maestro Giuseppe Borghi. It was in Milan too that his problems started as he had a love affair with Eugenia Montrasio, the wife of a hard-drinking and cruel Italian. Kostas and Eugenia had three children: Mariuzza, Constantino and Eugenia.
About 1922/3 Mylonas established himself in Berlin, where he made all his records for German companies such as Parlophon, Homocord, Vox, Kristal and Reklame, from 1922 to 1945.
Very little is known of his artistic career. In February 1923 he appeared at the Grand-Théâtre in Montecarlo, singing in "Tristan und Isolde" the role of a sailor (as "Costa") and the role of the shepherd (as "Milonas"). After that there is a nine years gap without any information on his artistic activities.
There are unconfirmed appearances at the Vienna Staatsoper in 1932.
There is another two-year gap and then we have in 1934 a concert for K.R.O. radio station in Holland with the Amsterdam Symphony Orchestra conducted by Henri van Goudoever.
It seems that he also worked in Berlin as teacher of singing from 1935 to 1937.
On June 24 and 26 of 1938 there are two "guest" performances at the Deutsches Oper in Berlin, as Rodolfo in "La Boheme", and on June 29 another guest appearance as Canio in "Pagliacci".
There are unconfirmed performances in Frankfurt am Oder during the period 1937/1942.
On 20 july 1944 there was a recital in Strasbourg and from 1944/5 recording sessions of spoken records for The Grammophone Co. that remained unpublished. His last artistic activities seem to have been some concerts in Berlin, in 1946.
In June 1946 he notified the Berlin police that he was going to leave the country. He was penniless and received some money from a certain Mrs. Young, a fairly rich, elderly lady who had lived in Berlin and had been Mylona's close friend and confident for 13 years but now was living in London.
On June 8, 1946 the Greek tenor started for London where he met Mrs. Young. All his possessions were packed in a single old and torn suitcase. In spite of Mrs Young's generosity his condition did not improve. In April 1948 he wrote to an old Greek friend Giorgios Lambrou who lived in Tucson (Arizona): "I have been brought to ruin by the war". But his own nature was also to blame for his ruin. Mrs. Young later told his daughter Eugenia: "if he made 500 marks, he would send 200 to his children and 200 to his mother". Mr. Lambrou sent him 500 dollars, which were found in an English bank account to his name, after Milona's death.
He was so poor that Mrs. Young ordered a suit and a coat for him, but he did not live long enough to wear them. On the 27 of March of 1949, Costa Milona died of heart disease and was buried at the Hendon Park Cemetery-Crematorium, London, grave N° 62.259. The 500 dollars covered only part of the funeral expenses. Mrs. Young paid the rest.
Originally published in www.fasolt.gr